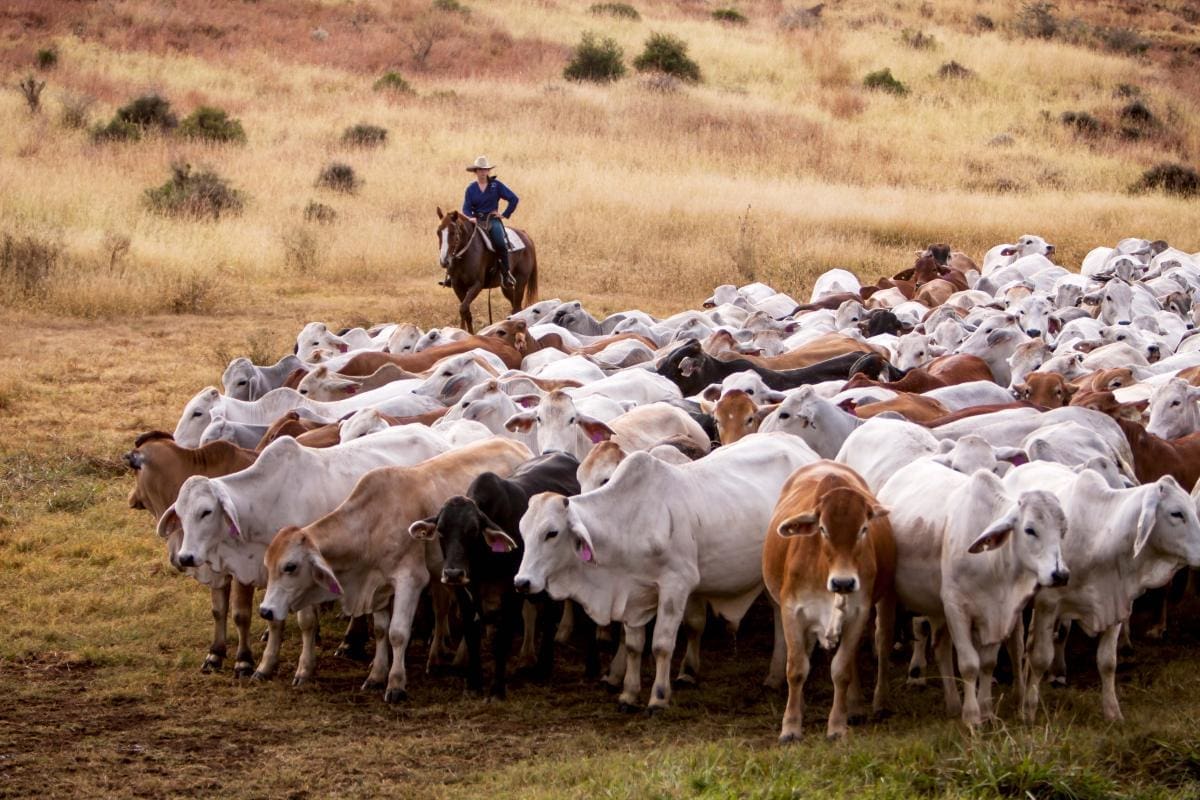 EARLIER this month many of the farming groups which make up the membership of the National Farmers Federation voted in favour of the peak farm body publicly backing an Australian economy-wide target of net carbon zero emissions by 2050.
However a notable abstainer from the vote was one of the NFF's largest member organisations, Queensland state farm organisation AgForce.
Explaining AgForce's decision, CEO Mike Guerin told Beef Central this week that it is impossible to set such a target without first having clear baseline data for Australian agriculture in place.
"You can't start any journey until you know where you are starting from, and where you are trying to head," he said.
Before Australian agriculture should commit to any target, the 15 rural development corporations needed to genuinely collaborate and prioritise research to establish accurate baseline data specifically for Australian agriculture – work "that should have been done years ago" Mr Guerin said.
"We have become on behalf of landholders increasingly frustrated by the inability or unwillingness, not sure which it is, of the research and development industry in Australia to do the comprehensive base lining piece required for agriculture to one, tell its story, and two, restore its confidence," Mr Guerin said.
AgForce was not against a target per se, he said, but to commit to achieving targets by 2030 or 2050 without first having clear and accurate baseline data was "crazy".
He said agriculture had been villainised for years by the broader community for being vandals, and at the same time producers were being promised rewards for their environmental services.
Without comprehensive base line data Australian agriculture could not properly tell its story or be rewarded under environmental stewardship programs.
"Various R&D corporations do little bits of work for various commodities but they sit in their silos, they won't collaborate fully.
"We're really saying here is a chance to get bipartisan support through the NFF, who are the federal representative of all landholders, to say we insist that without compromise and without question we must prioritise absolutely the baselining piece that should have been done years ago so we can tell our story and we can move ahead with confidence."
Comprehensive research was needed to allow all farmers, and particularly the many who produce more than one commodity, to be able to demonstrate if their overall enterprises are net emitters or net sequesters and to clearly identify the drivers of that, he said.
"You have got MLA who have done this work so that the red meat industry can be carbon neutral by 2030, you have got the GRDC people who have done a little bit of work around grains, but we have no comprehensive baseline for Australian agriculture.
"We have got 15 R&D bodies, we want them to prioritise this work and genuinely collaborate, no more of this silo stuff."
"The issue from a landholder perspective is in my landscape, in my business, am I a net sequester or a net emitter? What are the elements to that, where do I go for best bang for buck in supporting the target, how do I know when I have got there? We don't have that."
In announcing its support for an economy-wide carbon neutral target by 2050 the NFF said Australia's farm sector continues to be a leader in reducing greenhouse gas emissions.
It said its policy contained "strict caveats regarding fair implementation and economic viability".
NFF president Fiona Simson said the goal would require equipping farmers with far better tools for evaluating and reporting on individual business emissions.
"This will require new investment in research and development, so we have more robust baseline information, new pathways to reduce emissions, and fewer barriers to participation in carbon markets," Ms Simson said.
Groups including Farmers for Climate Action (FCA) and Veterinarians for Climate Action released statements commending the NFF for backing a carbon neutral Australian economy by 2050.
FCA CEO Wendy Cohen said climate change, caused by human activity, was already costing Australian farmers money and posed a serious threat to the future of agriculture across much of the country, and the 2050 target was an "encouraging first step towards bringing the agricultural sector into line with other Australian industries".
"The policy lays the foundation for the National Farmers Federation to advocate for support for farmers who want to reduce their own carbon footprints and manage the climate risks they face."
"The National Farmers Federation can also play a role in pushing for action on climate change by Australian governments, on behalf of their members."
"Now that the carbon neutral policy has been established, we're looking forward to working towards more ambitious targets for the Australian agricultural sector, so farmers can benefit from the global shift towards a low-emissions future."
The group added that the science on climate change showed that carbon neutral by 2050 was "not ambitious enough".
'Blindly setting a course without a strategy'
However the Liberal-Nationals Coalition has publicly refused to support the NFF 2050 target, saying it the peak farming body has not identified any quantifiable pathway to achieve it practically.
"Every effort is being made to reduce emissions across the economy, but blindly setting a course to achieve such a goal without a clear strategy could have serious implications not just on farmers but the entire nations," Agriculture Minister David Littleproud said, as reported by the ABC.

The Cattle Council of Australia, the peak industry body representing cattle producers, has been stepping up calls in recent months for a full scientific assessment of the current science that is used to measure livestock methane emissions.
A growing number of international climate scientists are drawing attention to flaws in the existing GWP100 (Global Warming Potential 100) model used to underpin global methane policy, voicing concerns it may overstate the impact of agricultural emissions.
The GWP* ('Global Warming Potential star') model published by Oxford University researchers in 2018 has been proposed as a fairer model for measuring livestock emissions.
Cattle Council says a full scientific assessment is needed to make sure the system is fair and that policy makers are basing their decisions on the best science.
In response to questions about whether it supports the NFF's Carbon Neutral 2050 target, the Cattle Council of Australia said in a statement it remains committed to the red meat sector's goal to be carbon neutral by 2030.
"Cattle Council welcomes any contribution that will help our industry achieve this goal," the statement said.