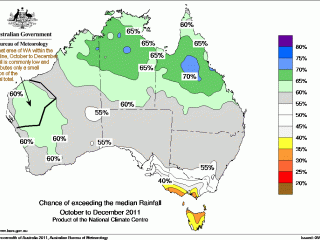 Large parts of northern Australia can look forward to a wetter than normal season for the rest of 2011, while southern coastal parts of Victoria and most of Tasmania are likely to experience drier than normal conditions, according to the Bureau of Meteorology's latest three-monthly outlook.
The national outlook for October to December is based on the persistence of above average temperatures across the central to southeastern Indian Ocean, according to the Bureau
The chances of receiving above median rainfall during the October to December period are between 60 and 75pc over most of the NT, the northern half of Queensland and western and northern parts of WA (see map).
Such odds mean that for every ten years with similar ocean patterns to those currently observed, about six or seven October to December periods would be expected to be wetter than average over these areas, while about three or four would be drier.
In contrast, the chances of receiving above normal rainfall is between 30 and 40pc over Tasmania and southern parts of Victoria. In other words, the chances of below normal rainfall range from 60 to 70pc.
Over the rest of the country, the chances of a drier or wetter October to December are roughly equal.