James Cook University scientists are testing a weed-killing robot they hope will eliminate invasive plant species.
Alex Olsen is tackling the challenge as part of his PhD in Engineering and Related Technologies at JCU. His aim is to develop a robot that will be able to differentiate weeds from other plant life using an algorithm to detect a range of variables including colour, shape and texture.
"We try to think of it as what we do when we first see it with our own eyes," Mr Olsen said.
"We can identify green straight away, then determine the shape of the plant, then the leaves, and then we strip that down to a point where we can grab small texture windows for a feature comparison to find out if it matches what we're looking for."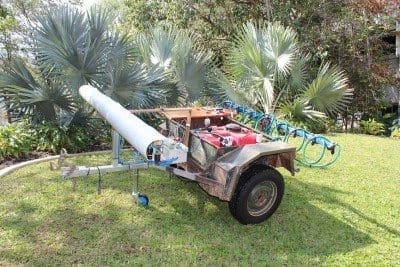 The machine will have a series of cameras on the front and herbicide sprayers on the back, which will work together through a series of processes to determine precisely when to spray the weed.
Invasive plant species pose a serious threat to Australia's natural environment and account for around 15 per cent of flora across the country.
They displace native species, reduce productivity and cost the agricultural industry an estimated $4 billion per year, with their cost to the environment estimated to be even higher.
Mr Olsen said the scale of the invasive weed problem is such that there is no chance of it being solved by manual weed spraying alone. The machine was recently trialled at Hidden Valley on the western slope of the Paluma Range in north Queensland, and the team was encouraged by the early performance of their prototype.
Environmental weeds are the starting point for the technology but it also has scope for use in agriculture or plant classification.
"It's not just for weed removal, it could be for helping to identify which species of plant are located in a national park," Mr Olsen said. "The algorithms are for image processing, if you have a knowledge of this it can apply to anything."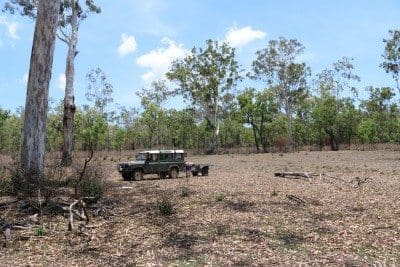 He said the team envisaged the device being towed by, or fitted to, existing agricultural vehicles in the short-term, but the possibility existed that it could be fully autonomous in the future.
Mr Olsen's work on weed-killing robots has been recognised in Canon Australia's Extreme Imaging competition, an initiative by the company's research and development arm, Canon Information Systems Research Australia Pty Ltd (CiSRA).
Mr Olsen and supervisor, Professor Peter Ridd received the runner-up prize in the Digital Image Computing: Techniques and Applications (DICTA) category.
Source: JCU. Click on images below to view more pictures.