GLOBAL financial service provider StoneX will host an online workshop on Thursday, looking at the importance of price risk management in the Australian beef industry and opportunities to improve access to risk management tools.
The company's project will be driven by the development of an Australian feeder cattle index.
The webinar will take place from 8am (Sydney and Melbourne time, 7am in Queensland) this Thursday, 21 October.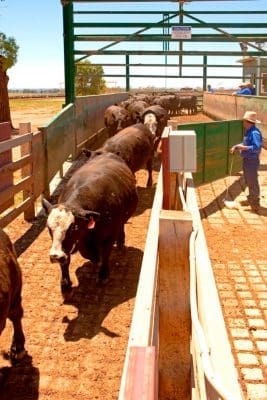 Main topics to be covered will include backgrounds on the importance of price-risk management, an overview of basis, an introduction to hedging using practical examples, and an explanation of the new Australian Feeder Cattle Index. The program will also include a US livestock risk management case study.
Speakers will include StoneX Financial's Asia Pacific vice president Nick Orssich, risk management consultant Adam Stout, and Richard Jelinek from StoneX's global education department. See webinar access details below.
Mr Orssich said the initiative behind the webinar came about with a handful of existing customers looking for a relevant index to provide more transparency in the cattle market, and secondly, to have the tools to help manage their risk.
"We were already working closely with price reporting agency Argus Media in other areas when the opportunity arose to have them create an Australian feeder cattle index, and thus allow us to provide a derivative product settling against this," Mr Orssich said.
There have been two past attempts to establish beef risk management tools in Australia in the past 25 years, in the form of a futures contract, but both failed to gain traction and ultimately were discontinued.
"In our research we spent a lot of time discussing with market participants what the ideal Australian contract would look like, and why contracts in the past have failed," Mr Orssich said.
"We needed to create something with more relevance and tighter specs, so that people knew what they are actually hedging with. In the past everything has been too broad which meant firstly people didn't know what they were actually hedging their physical against, and secondly, the correlation broke down."
The other hurdle which the group found was that contracts had been listed without a lot of educational support around how to use these contracts to hedge.
"This is why we have set up our first educational webinar to run through the very basics of risk management in the Australian cattle market, Mr Orssich said.
Thursday's initial webinar would be the first of many available to the industry. Future workshops will also be tailored for specific groups or companies – or simply people who wanted to 'talk through the concept on the phone'.
StoneX has recruited a new team member to help build the initiative with industry stakeholders and provide the expertise on the risk management side.
Trial index
As part of the development, the project has created a 'trial' index based on feeders 380-480kg, milk and two-tooth, 50pc or less tropical breed content, delivered Darling Downs.
The trial index is now up to week eight, with the latest index entry including data from 20 participants. Already almost 30 stakeholders have indicated their willingness to participate, in providing pricing information, ranging from large producers to backgrounders, lotfeeders and processors.
"The interest in the swap has been just as positive, with multiple participants looking to use it as a risk management tool," Mr Orssich said.
The next step is the creation of the derivative risk management tool, which StoneX is currently building.
"Thursday's virtual risk management workshop to provide strategies and applications using proven risk-management concepts including futures, basis, swaps and options to help stakeholders manage the uncertainty in the market, while protecting their profit margins," Mr Orssich said.
Beef industry stakeholders wishing to participate in Thursday's risk management webinar can register here.   
About StoneX
StoneX (formerly known as INTL FCStone) is a global financial services giant connecting companies, organisations, traders and investors to the global markets ecosystem through a blend of digital platforms, end-to-end clearing and execution services, high-touch service and deep expertise.
The company provides institutional access to 39 derivatives exchanges, 175 foreign exchange markets, nearly every global securities marketplace and a number of bi-lateral liquidity venues, as well as retail market access via Forex.com and City Index, among other platforms.