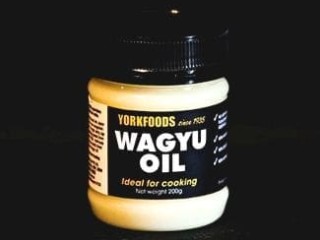 A rendered Wagyu cooking oil product which can be used as a beef-based substitute for expensive duck fat in cooking has scored a major award at the nation's largest food industry exhibition.
Goulburn-based producer of rendered food products, York Foods, won best new retail product at the Fine Foods Australia Expo being held in Sydney this week.
The win came against a large catalogue of contenders from a wide range of food and beverage fields designed for consumer purchase on display at the show.
The company's screw-top jar-packaged Wagyu Oil is a unique oil extracted from fatty Wagyu beef trim under export-quality guidelines at York Foods' premises in the NSW Southern Highlands.
The company says the resultant product is a 100 percent natural, high quality, cream-coloured cooking oil, which is finely textured and has a satin-like appearance. Its low melting-point around 33c contributes to a desirable mouth-feel and flavour. It is not chemically modified and contains no artificial additives, preservatives or anti-oxidants.
Wagyu oil's unique properties make it suitable for use in a wide variety of cooking applications, York Foods says. It is suitable for many traditional solid fat applications, such as bakery and pastry products, confectionery, and baking and frying.
The low melting point also makes it suitable in applications using oils, such as salads and stir-fries. Its mild flavour only enhances its versatility.
Many top restaurant chefs use Wagyu fat as a flavourful substitute for duck fat when cooking baked potatoes, for example.
The product packaging emphasises the unique qualities of Wagyu fat, which carry a higher proportion of unsaturated to saturated fatty acids. It says Wagyu oil provides a balanced source of energy, while providing high levels of mono unsaturated fatty acids (51pc) including oleic acid (44.6pc). It also provides a source of Omega 6 (2pc) and Omega 3 (0.2pc).
Fine Food Australia is Australia's largest gathering of international food, drink and equipment exhibitors for the retail, foodservice and hospitality industries.