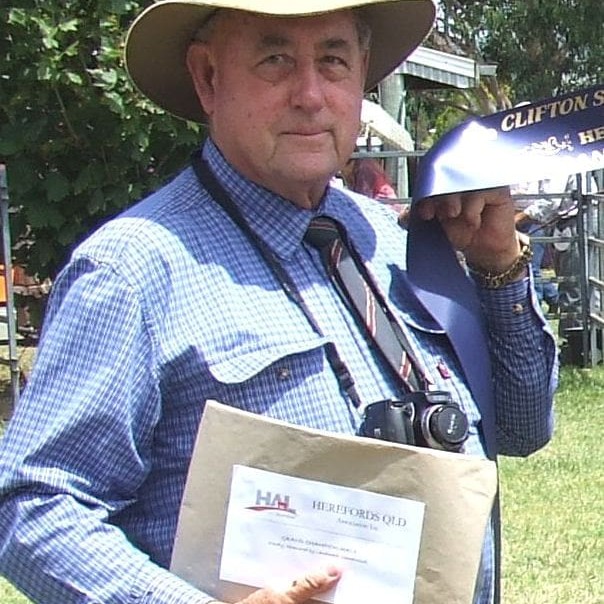 Agricultural publishing legend RM (Malcolm) McCosker died yesterday, aged 73.
Throughout his 50 year career in rural media, Malcolm became a household name across the Australian farming sector and the beef industry in particular, for his honest, accurate and incisive reporting and his fierce advocacy for industry.
The 'By Malcolm McCosker' by-line that appeared on tens of thousands of articles since the early 1960s was a stamp of integrity, deep knowledge of the subject at hand, and a respect for the individuals engaged in farming pursuits and the challenges they faced on a daily basis.
During his watch Malcolm covered all the seismic turning points in the Australian farm sector's history.
He was there during the booms and busts of the wool industry, leading the rural media's coverage during the collapse of the wool floor price scheme. He was there during the great Beef Slump of 1974, and the recovery process three years later – all the time reporting with sensitivity, honesty and vision.
While Malcolm spent decades during a critical stage in the industry's development as an editor, rather than as a reporter, he always led by example, engaging in the debate and the reporting process first-hand.
Raised on farms at Mapleton and Beerwah north of Brisbane, Malcolm joined Queensland Country Life as a trainee journalist on 11 November 1961.
After regional postings in Townsville and Toowoomba during the early 1960s, he returned to the Brisbane head office as assistant to then QCL editor, Wallace Skelsey.
In May 1972 he was appointed as editor of NSW Country Life, a then sister paper to Queensland Country Life, established during a period of acrimonious state-based agripolitical rivalry to take on the long-established NSW farm paper, The Land. Over the next three years he enjoyed great success in building support for NSW Country Life before the two factions called a truce, and the papers merged.
In 1975 Malcolm returned to Brisbane to succeed Wallace Skelsey as editor of Queensland Country Life.
After QCL's amalgamation into the Rural Press network in 1978, he served in a variety of editorial and management positions including associate editor and livestock editor. He also drove new projects in regional areas including the establishment of successful mastheads in North Queensland and the Northern Territory, later merged with the North Queensland Register following that paper's purchase from Murdoch.
Malcolm was a natural and instinctive QCL editor, sensing the mood of the industry and helping lead the debate when the occasion required. He guided the paper through its halcyon broadsheet days, commanding a large network of head-office and regional reporting staff. At times the QCL regional network of reporters numbered eight or nine, with offices at Longreach, Townsville, Cairns, Mackay, Emerald, Rockhampton, Wide Bay, Toowoomba, Roma and Lismore.
During its heyday, QCL would produce Beef Annuals each September numbering 100 broadsheet pages. Not a bull breeder in Queensland or NSW worth their salt would dare miss an ad opportunity in the Beef Annual.
Over the years Malcolm attracted the trust and respect of agriculture's great leaders. He became well acquainted with and respected by key figures like Sir William Gunn, Keith Lawson and Colonel MacArthur, head of the Australian Meat Board.
He also championed many of the reforms of the era, being asked to participate in the advisory process behind the transition from the antiquated Australian Meat Board era into the Australian Meat and Livestock Corporation.
While there are those who felt his prodigious talent and expertise was perhaps underutilised in the modern Rural Press era, Malcolm continued to write for Queensland Country Life until recent months, when ill-health forced his permanent retirement.
A gifted and natural communicator, even to his last working weeks he continued to represent the company in speaking engagements, opening shows and sales and hosting and comparing industry events. Some of his endearing passions remained the Royal Flying Doctor Service, the Country Womens' Association, the now defunct Rural Youth organisation of which he was a former State President, and the Queensland Country Life Miss Showgirl and Young Judges competitions centred each year on Brisbane Show.
Malcolm took great pride in telling people that 2011 was to be his 50th consecutive Brisbane Show coverage. Unfortunately he was unable to bookend his half-century of Ekkas due to ill-health, but he retained a deep affection of the country traditions of showing cattle at Brisbane until the end.
A true man of the people, Malcolm was equally comfortable speaking with board chairmen about results from a company's annual report, as he was talking to a ringer about how fencing work was going after flood damage. He retained a sense of humility, natural curiosity about the subject at hand, and respect in his dealings with his fellow man that was a fine example for all around him to follow.
Demonstrating his wonderful versatility, Malcolm easily made the transition from hot-metal typesetting days to the modern computer-based newspaper publishing era, barely skipping a beat as he shelved his old Hermes Media Special typewriter in favour of the computer keyboard.
In November last year Malcolm became the inaugural inductee into the Rural Journalism Hall of Fame, in recognition of his lifetime of service to rural media. The Hall of Fame inductees will be acknowledged in a permanent display in the Longreach Stockman's Hall of Fame.
Malcolm's contribution to rural journalism was also recognised with a Queen's Jubilee Medal in 1974 and a Medal of the Order of Australia (OAM) in the 1988 New Year's honours.
He is survived by his second wife, Chrissy; daughters Gabrielle and Danielle, son Malcolm and stepchildren Rory and Christina McLeod.
Funeral arrangements were still being put in place as Beef Central was uploaded this morning. Details will be published as they come to hand.