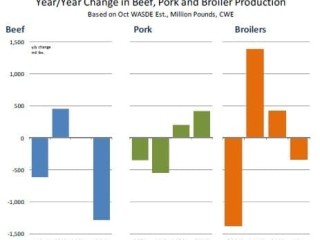 The US could reduce its already low chilled and frozen beef imports next year by a further 13 percent, respected analysts have suggested this morning.
Early interpretations of the important US Department of Agriculture World Agricultural Supply and Demand (WASDE) estimates included some significant revisions to projections for US beef and poultry supplies in 2012, driven largely by drought, herd liquidation and grain prices.
USDA currently expects a significant reduction in domestic beef and chicken production for 2012 and only modest increases in pork output.
Changes in trade flows are expected to further amplify the impact of the lower production levels and lead to significant declines in implied per capita disappearance, Len Steiner from the Chicago Mercantile Exchange's Daily Livestock report said this morning.
Ground beef price tipped to rise
"While often seen as a measure of demand, the per capita disappearance (consumption) essentially is a measure of product availability in the domestic market," Mr Steiner said.
"Two things are worth highlighting in this regard: the decline in domestic per capita disappearance will continue to underpin the outlook for higher US protein prices in 2012; and the likelihood of even more significant price inflation for items like ground beef as consumers shift to lower priced protein items."
The latest USDA projections suggest total US beef production for 2012 to reach 11.42 million tonnes, almost 5pc lower than the 2011 year. That's about 15,000t lower than the previous estimate, as the impact of drought across Texas and nearby southern US states continued to accumulate.
The biggest change in the US beef balance sheet for next year concerned expectations for trade flows, Mr Steiner said. USDA reduced its forecast for US beef imports in 2012 by a whopping 145,000t or 13.2pc.
As a result, instead of a 15pc increase in beef exports that was projected in September, USDA now thinks US beef imports in 2012 will be only marginally higher than in 2010 and about 727,000t lower than their peak in 2004. Beef export estimates for 2012 were raised by 81,000t and USDA expects total US beef shipments in 2012 to reach 1.252mt about 1pc higher than 2011 levels.
"The shift in trade patterns has turned the US into a net beef exporter," Mr Steiner said.
"In 2011, the US is projected to have a net positive beef trade balance of 331,000t and for 2012 the beef trade balance is expected to be a net positive 302,000t."
The US has traditionally been a net importer of beef, reaching a high beef trade deficit of 1.45mt in 2004. Combined with lower production levels, USDA now projects per capita beef disappearance in 2012 (retail equivalent) 5.9pc lower than in 2011, when the country recorded record beef prices, and 12.9pc lower than in 2007, prior to the economic recession.
In other proteins, USDA now forecasts US chicken production to be down a further 1pc next year due to drastic production declines. This forecast may still be too optimistic, considering the poor margins implied by current feed prices, Mr Steiner said.
Click on the image here for a clearer view of CME's graph of USDA's WASDE forecasts.