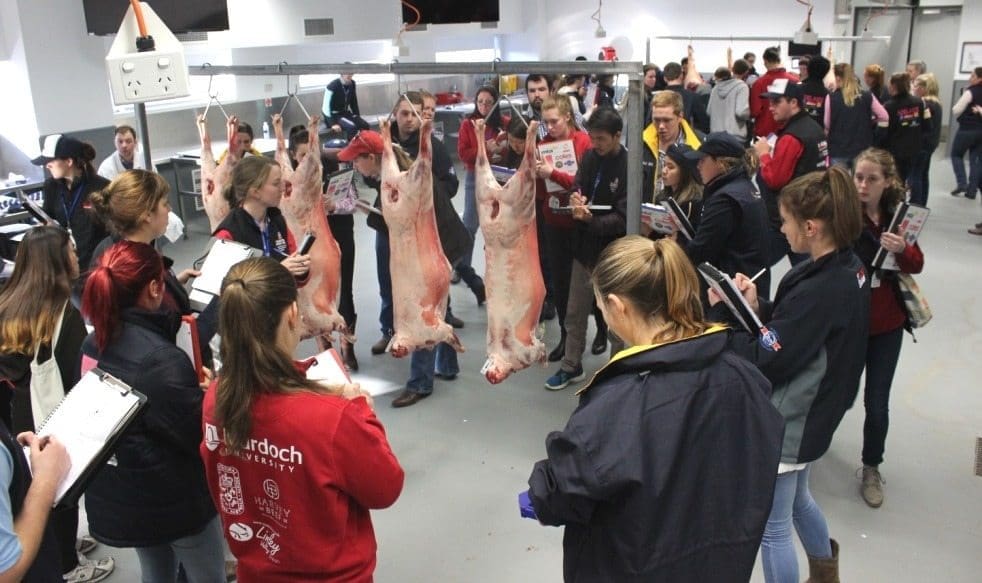 THE Oklahoma State University team was the overall champion in the 26th Australian Intercollegiate Meat Judging competition hosted by Charles Sturt University in Wagga Wagga last week.
More than 130 students from 11 Australian Universities and four international teams from the US, Japan, South Korea and Indonesia competed for the Roy McDonald shield sponsored by Meat & Livestock Australia. The students were supported by 35 coaches accompanying the various teams.
Australian Country Choice chief executive and deputy chairman of AMPC, David Foote, presented the individual champion award. Collecting the AMPC Founders Buckle was Chandler Steele from the Oklahoma State University team, from  close runner-up Emily Jones from La Trobe University.
Mr Foote told this year's participants that the ICMJ program formed an important role in increasing the capability within the meat industry and it was a program AMPC in which was proud to invest and support.
Under the competition, students are required to judge beef, lamb and pork carcases and primals, along with identifying a range of beef primals and beef, lamb and pork retail cuts. Judging of carcases and primals is based around yield, muscling and quality to evaluate their retail value.
The beef contest was hosted by Teys Australia while Rivalea Australia and JBS supported the small stock contest held at the CSU campus. Prizes for the various categories were widely spread amongst the Universities, creating an awards evening full of suspense to the very end.
Beyond the contest itself, this year's conference program, opened by AMPC's Doug McNichol, attracted an impressive lineup of industry presenters. The seventeen industry speakers throughout the week provide inspiring and eye-opening insights into opportunities for graduates in the meat and livestock industry spanning areas of production, genetics, processing, and new technologies.
Participants of the intuitive program received a unique insight into the meat and livestock supply chains through addresses from key industry figures. Key presenters included Lambpro director Tom Bull, JBS marketing and brands manager Brad de Luca and Kerwee Lotfeeders' Steven Martin.
"This year's program really exemplified the growth of ICMJ over the past 26 years, and showed the professionalism of the students that the program has produced over this time," said recently appointed ICMJ president Dr Peter McGilchrist.
"The calibre of this year's participants showed the passion that young people have for the meat and livestock industry and the enthusiasm that they have for driving the industry forward into the future," he said.
"The international contingent allowed students to interact and learn from some of Australia's major trading partners, building networks for the future," Dr McGilchrist said.
The objective of ICMJ is to lay strong foundations for agricultural industries by educating and injecting enthusiastic graduates into a range of diversified careers in the meat and livestock sector.  Dr McGilchrist said the industry had a bright future with these students entering on a professional level over the coming years. The success of ICMJ would not occur without the continued support of major sponsors including MLA, AMPC, APL, Teys Australia and Coles.
Ten students were also selected from the competition to undertake a five day Meat Standards Australia (MSA) training course in Brisbane later this year, where they will receive a comprehensive introduction to the Australian meat processing sector. Included were Tamara Biffin, Georgia Clark, Simon Kenist and Anna White (University of Sydney), Rebecca Clapperton (UNE), Emily Jones (La Trobe University), Jess McGrath and Nikita Roberts (CSU Wagga), Monica Stipinovich and Rueben Welke (Murdoch University).
Taking part in the 2015 ICMJ competition were Murdoch University, U of New England, Tocal Agricultural College, U of Melbourne, U of Adelaide, Charles Sturt U Wagga Wagga, Charles Sturt U Orange, La Trobe U, U of Sydney, U of Queensland, Marcus Oldham, All American team, Japanese National team, South Korean National Team, Bogor Agricultural College Indonesia and Indonesian industry representatives.
Click here to view full list of team and individual award winners from ICMJ.