The current fascination in consumer-land with all things food and cooking will turn the spotlight squarely on meat protein when one of Australia's best known butchers hosts a new cable TV series being aired from early next year.
Anthony Puharich has become something of a celebrity in his own right as the head of Vic's Meats, and its flagship Sydney retail butchery outlet, Victor Churchill's.
In its feature article on Victor Churchill's last year (click here to view), Beef Central posed the question, "Is this the world's best butcher shop?"
Anthony is currently up to his neck in filming segments for an eight-part series called "Ask the Butcher" to be aired on Foxtel's Lifestyle Food channel premiering on January 15.
During the series, he will guide viewers through a fascinating tour across the length and breadth of the meat industry, what makes it tick; and what makes it special.
See a short video preview of the program here
The epic journey of discovery to "learn everything there is to know about meat" includes segments filmed in Tasmania, South Australia, Western Australia, NSW, and Kobe in Japan, where Anthony seeks to de-mystify Wagyu beef. Along the way he will demonstrate and discuss "all the tips, tricks and techniques associated with the craft of butchery."
All this will be supported by cooking demonstrations and recipes from a host of Australia's best-known celebrity chefs, including Neil Perry.
Ask the Butcher is one of only two food shows Foxtel has commissioned for the 2013 season.
Additional to Foxtel's Ask the Butcher project, Anthony has recently participated in an episode of the highly popular MasterChef TV program, filming a full MasterClass episode with the last six remaining contestants on the topic of beef. The segment includes scrutiny of topics like wet versus dry-aged, grass versus grain and other attributes of interest to foodies.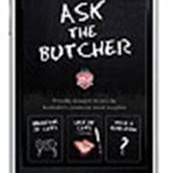 "It is a huge plug for the beef industry and was a great episode," Anthony told Beef Central.
An "Ask the Butcher" I-phone App is available here
Beef Central will alert readers when it is about to go to air, as well as Foxtel's "Ask the Butcher" series.