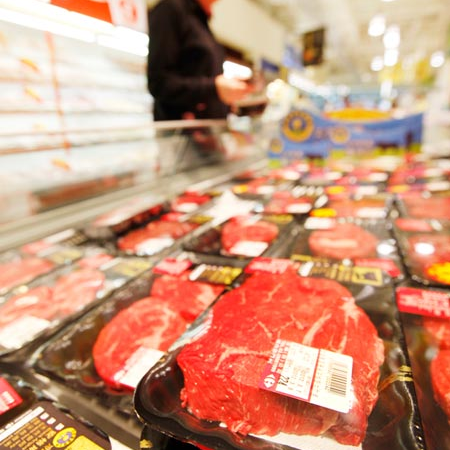 The Australian Food and Grocery Council's annual economic snapshot commissioned from KPMG underlines the difficult economic challenges facing the food and grocery manufacturing sector.
The AFGC's State of the Industry 2012 report based on the most recent ABS data found that the total industry output contracted by 4.5 percent in 2010-11 while total industry employment declined by 2.2pc or almost 7000 people in the 2011-12 financial year.
AFGC chief executive Gary Dawson said the food and grocery manufacturing sector's contraction reflected the cumulative impact of both economy-wide and sector-specific factors.
"The findings of State of the Industry 2012 serve as a warning to policy makers at all levels of government that the Australian food and grocery manufacturing sector – Australia's largest manufacturing sector – is facing an environment where input costs are rising on everything from commodities to labour to energy," Mr Dawson said.
Retail price deflation caused by supermarket price wars continued to cut margins, placing the sector under increasing pressure.
"This report demonstrates that the sector's growth, competitiveness and ability to create jobs are under threat. Food manufacturing makes a large contribution to rural and regional Australia economies, with almost half the total persons employed outside metropolitan areas," Mr Dawson said.
The detailed State of the Industry 2012 report – examining fresh and processed food, beverage and grocery industries – showed the complex industry was made up of 22,668 businesses in the 2011-12 (335 fewer than 2010-11, spent about $466.7 million on R&D and accounted for $49.2 billion of international trade (an increase of 4.3pc).
The food, beverage and grocery sectors employed approximately 296,300 people a decrease of 2.2pc.
The report defined the Australian food and grocery manufacturing industry as "those industries that value-add to agriculture, food and other products for the purpose of producing everyday fresh and processed food, beverages and grocery products consumed and used by Australians."
While the industry has shown some decline in the last couple of years, KPMG food and beverage director Valentina Tripp said it was still well-positioned to improve its competitiveness through investment in R&D and innovation.
"Capital expenditure and R&D investment have slowly increased over the past few years, however, significantly more needs to be invested to capitalise on Australia's comparative advantage in food and groceries," she said.
"A continued focus on R&D and innovation is one of the key factors to long-term industry growth."
"The industry is still in an enviable position to take advantage of rapidly growing middle class consumption demands in Asia. Australia has a strong country brand that is high quality, clean and safe, and these are qualities that food and grocery organisations can dovetail into their marketing strategies," she said.
Over recent years, the AFGC has reinforced the view that regulatory reform to ease the compliance costs faced by Australia's food and grocery sector is becoming increasingly urgent as the financial squeeze tightens on many food and grocery processing and manufacturing companies, Mr Dawson said.
"Governments have key roles to play in setting regulatory settings that encourage innovation, R&D and business operations. Certainly any additional regulation or impost that increases costs runs the risk of driving more production and jobs offshore," he said.
"Innovation is at the heart of the industry's vision for a competitive future and it maintains a huge potential for growth into Asia. Governments must back the innovative capacity of Australian manufacturers through R&D tax incentives and accelerated capital depreciation to maintain and enhance the industry's competitiveness."
"It is imperative that regulatory reform in this sector be re-energised and deliver real results that improve the competitiveness and sustainability of the food and grocery manufacturing industry," he said.
Priorities for regulatory reform in the food processing and manufacturing sector should include:
A recommitment to harmonisation of food standards across all Australian states and territories and New Zealand;
An urgent review of the mandatory reporting system introduced in 2010, which has added significant costs to industry with little or no improvement in food safety;
Clarification that standards and labelling relating to food composition and safety are administered by Food Standards Australia New Zealand and all other consumer related labelling requirements should be in consumer law;
A requirement that any food regulation aimed at achieving preventive health outcomes be subject to a rigorous cost benefit analysis and be evidence based;
Streamlining and removal of duplication in energy efficiency and water usage reporting requirements; and
Clarification that food regulation is an inefficient and inappropriate mechanism for addressing lifestyle associated risk-factors for non-communicable diseases.