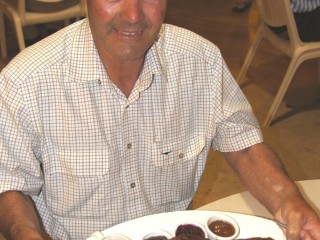 Three options to restructure the Cattle Council of Australia – including one that proposes to overhaul the entire red meat industry – will be thrashed out at a key meeting in Brisbane next week.
The full board of Cattle Council of Australia and a cross-section of industry stakeholders will use the meeting to attempt to reach consensus on a restructure framework to guide the industry forward.
Three restructure models have been developed by an industry writing group, based on industry feedback gained from the recent four-month long consultation process conducted by Cattle Council of Australia.
The first model is based on a board made up of directly elected board members representing southern, northern and western regions.
The second uses a board containing a mix of State Farm Organisation-appointed and directly elected board members from each region.
The third involves a board of directly elected members but goes much further to include an overhaul of the entire red meat industry, and a replacement structure that would bring all policy-development and policy delivery bodies, including Meat & Livestock Australia and Cattle Council of Australia, into one single body.
An internal document seen by Beef Central details the three restructure models that will go to next week's meeting for consideration. Each is outlined in more detail below.
Funding challenge
Each option is based on the assumption that the restructured entity will be able to receive funding from a percentage of the $3.66 marketing component of the $5/head levy cattle producers pay on cattle transactions.
Cattle Council of Australia is seeking to use an "opt-out" clause to give levy payers control over whether to direct part of their statutory levy contributions towards industry representation. If they opt-out, that portion of their levies would go to MLA for marketing.
The restructure documents appear to favour a levy diversion of 0.30c per head, which would generate $3.5 million in funding for the restructured entity that replaces the existing Cattle Council of Australia.
That would bring Cattle Council of Australia's primary fundng base to $4m per year when combined with the annual $500,000 disbursement it receives the Red Meat Advisory Council-administered red meat industry fund.Cattle Council currently operates on an annual budget of $1.3m, made up primarily of the RMAC contribution and producer membership fees paid via State Farm Organisations (SFOs).
One key technicality is that while that levy-funds would generate a significant boost to the organisation's resources, it could still not use funds derived from statutory levies for advocacy purposes.
This means the new organisation must also continue to generate revenue from other sources – such as fees from direct memberships, SFOs and/or associate memberships – to fund those activities.
"If no income is sourced from non-levies, the organisation would not be able to perform its most critical function, lobbying," the draft restructure document issued to participants of next week's meeting states.
'Aim for consensus'
Cattle Council of Australia president Andrew Ogilvie told Beef Central last night he is hopeful next week's meeting will achieve consensus on which model should be adopted, and how it should be financed.
"At the end of the day it is the (Cattle Council of Australia) board's responsibility to make a final decision, but it will be strongly influenced by the consensus view that is reached on the 17th, if that is possible to reach," Mr Ogilvie said.
"That is the ultimate aim to put together something we can all be comfortable with."
While Cattle Council of Australia has conducted earlier consultation with industry on broader issues of concern, the fact that the wider industry will not be consulted on the final three restructure models developed via that consultation process is also likely to spur criticism.
A group called the United Stockowners Association, which says it formed to represent "independent and non-aligned livestock producers", has already expressed concern at the lack of public disclosure surrounding the models, and has voiced concern that its submission for restructure was not progressed to the discussion round.
Proof of industry support
Mr Ogilvie said the Cattle Council of Australia would need to demonstrate broad industry support for the use of levy funds if it is to convince the Federal Government to allow statutory levy revenue to be used to fund industry representation.
He said that a strong consensus at next week's meeting would allow Cattle Council to go to Government with a good case to say it has broad industry support for both a preferred restructure model and the ability to access levies to partially fund it.
A key way to demonstrate industry support would be for CCA to lodge a resolution to the Meat & Livestock Australia AGM calling for members to vote on whether they support the use of levy funds for that purpose, and to vote on a percentage that should be allocated.
Mr Ogilvie said he believed that would have to happen eventually, but it was premature for next month's MLA AGM in Fremantle.
"We don't want to rush the process, we said right from the start we want to get it right," he said.
"It would have been really ideal if we could have had something ready to go, but we're not at a position where we can do that."
The recent development of a Beef Industry Strategic Plan, the final draft of which is open for consultation until this Sunday, October 14, was also seen a necessary step for the industry to undertake before it could put a case to Government to access statutory levy funding.
The Cattle Council of Australia has stated that it will pursue other funding models only if and when the option of diverting the levy is completely exhausted.
Restructure models
The writing group has submitted three restructure models for considerations at next week's meeting, which are outlined in diagrams which can be viewed by clicking on the thumbnails at the bottom of this article.
The first two options are similar in almost every way, with the key difference being that the first option uses a board comprising solely directly elected members, while the second uses a board with a mix of State Farm Organisation appointed and directly elected board members.
The third option adopts a board structure made up of directly elected board members similar to option A, but represents a far more significant change to the greater red meat industry structure. It would require the involvement and agreement of the grainfed beef industry (ALFA) and sheep meat industry (SCA) to merge Meat & Livestock Australia with the national peak council for beef producers.
All three board options utilise committees to enable producers to have input into the work of the organisation.
The Cattle Council of Australia document says the following elements are common to Options A and B:
• The directors will elect the chairman/president of the board;
• The chairman/president will be elected each year, with a maximum term of 3 years;
• There will be 16 directors, including a chairman/president;
• All options have some directors directly elected from producers, and not nominated by state farming organisations;
• The board to be regionally representative ie a portion from the north, south and west;
• Only a portion of the directors will be replaced each year to retain corporate knowledge and stability within the organisation;
• That a membership category be created to allow producers to join directly (direct membership);
• Votes allocated to direct members should be based on levies paid with a sliding scale as per the MLA system;
• That state farming organisations remain involved in the organisation. (The document notes there is still debate around the level of involvement, such as the member rights of state farming organisations);
• Other groups or organisations will be able to become associate members. The board must have the ability to determine the eligibility criteria and membership rights of associate members. "This category is designed for breed societies, beef producer groups such as the Australian Beef Association or other organisations that would like some access to the organisation and its information but do not have a great capacity to pay."
• The policy development process will be managed through a system of policy committees.
• Policy committees would make recommendations to the board and would be required to consult widely with producers on a regular basis as part of their policy development process. This would involve the SFO networks, producer forums, online policy development and regular briefings from industry stakeholders.
• The make-up of the committees is a mixture of SFO nominees, direct producer applicants and skills based board appointments.
• The policy committees would come together with the board annually for a national policy forum at which strategic issues would be debated and an AGM would be held to report on performance to the members.
• Based on the priorities identified in Beef 2015 and beyond, and estimating the cost to run a structure with the attributes outlined here it is estimated that between $4m and $5m is required.
• Producers would be given the option to opt-out of having a % of the $3.66 marketing levy redirected from MLA to the peak council for grassfed beef producers. If producers opt-out the money will go to MLA for marketing.
• 8% or $0.30 of the marketing levy is estimated to raise approximately $3,500,000, the RMAC Fund would continue to provide over $500,000 annually creating a $4m budget.
• Direct income from members e.g. SFO and Associate Membership must be part of any model. This money will be quarantined to fund advocacy work, which is not able to be undertaken using levy or RMAC funds. This income is estimated at $100,000-$250,000 depending on what value the SFO and associate members see in being a member of the new organisation.
• One off campaign-based contributions from all membership categories would bolster advocacy income, although this is unlikely to be a significant amount.
• The constitution of the organisation will ensure the appropriate restrictions and reporting requirements are placed on the organisation to ensure levy funds are only used for their nominated purpose and are not used inappropriately, specifically for political activity.
The document provides less written detail on Option C, which involves forming a single national organisation that would effectively merge Meat & Livestock Australia with peak red meat industry councils such as Cattle Council of Australia and the Australian Lot Feeders Association.
All marketing and research & development levy money is managed by the organisation, which undertakes the roles and functions of Meat & Livestock Australia and Cattle Council of Australia.
Flow charts outlining the three restructure models can be viewed below (The image at left is option A, centre is option B and at right is option C).