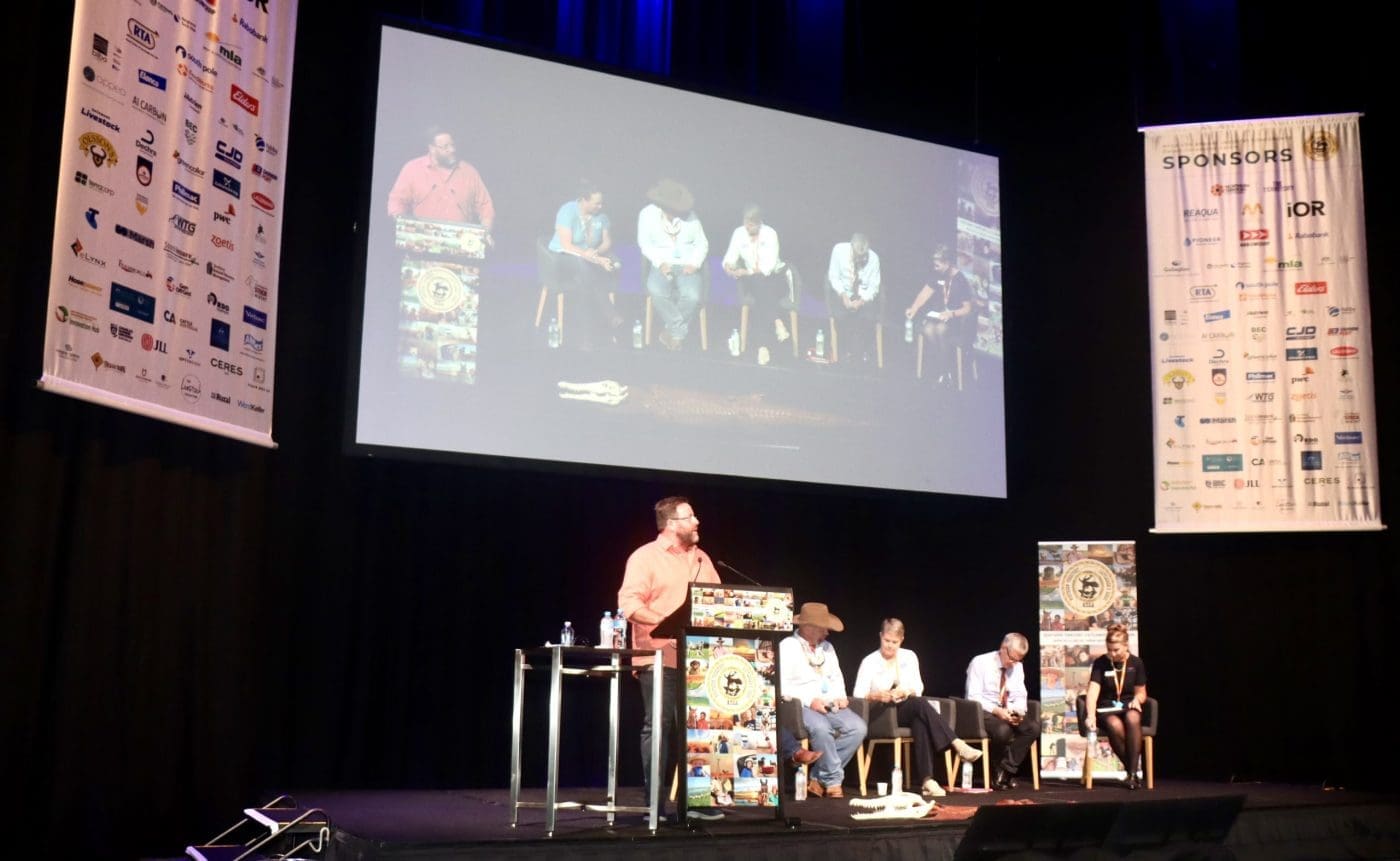 TWO hard-hitting sessions which shone a rare spotlight on the critically important but often overlooked human side of the cattle industry closed out the NTCA conference on Friday.
If the day started with Lumpy Skin Disease, it ended with plenty of lumps in throats as confronting stories of friends and families lost to alcohol addiction, bullying, mental health or physical ailments diagnosed too late took centre stage.
It's often said that people are the most important part of our industry.
Yet, despite taking great care of their animals, their land or their machinery, many farmers and people in agriculture all too often fail to take care of their own health or welfare. There's  always a "more important" job to be done.
With compelling speeches and clear, heartfelt messages about what people in the bush can do to look after themleves and the people they love and care about, it was a conference session where the price of admission may just end up saving the life of someone present, or someone they love, as moderator, comedian and men's health advocate Shane Jacobson, noted in his closing remarks (more below).
A silent, deadly problem we're turning a blind eye to
We lose someone in Australia every 90 minutes to alcohol.
Shanna Whan was one nearly one of those statistics.
Connecting with someone who was brave enough to share their story about alcohol addiction saved her life.
Shanna has since made the courageous decision to share her own story far and wide in the hope of connecting with others who may  be struggling with their relationship with alcohol.
This problem is big and it is real, yet it is one we regularly turn a blind eye to in the bush.
At conferences and rural gatherings all over Australia Shanna says she always asks the same question:
"Is there anyone here today who has never ever known of someone they love or care about who has been negatively impacted by grog in some way?"
The answer is always the same. There never is. She has yet to see a hand go up when she asks that question.
"So this is the thing – we all know it, we all have someone who has experienced it, but we will not talk about it front on, because it is too scary.
'we all have someone who has experienced it, but we will not talk about it front on'
"The truth is alcohol use and abuse is a pandemic that we're not talking about and we need to."
When someone in a bush community gets a broken leg or cancer or is knocked down and laid up by something, friends and family always rally and get behind them.
But when someone gets the disease of addiction, "we tell them to bugger off and go be anonymous and deal with it quietly, and I don't think that is okay."
"I think rural communities can do a whole hell of a lot better than that."
"it's okay to say no"
Sober in the Country 's simple message is that it is "okay to say no".
It was not "anti-alcohol" or "prohibitionist" as some mistakenly viewed it.
If someone wants to have a beer, that's great, she said.
"The mission of sober in the country is simple," Shanna said.
"We are asking that you work on being a good mate.
"Respect someone else's choice to say no thank you or not today to the beers."
'No one plans on becoming a suicidal alcoholic'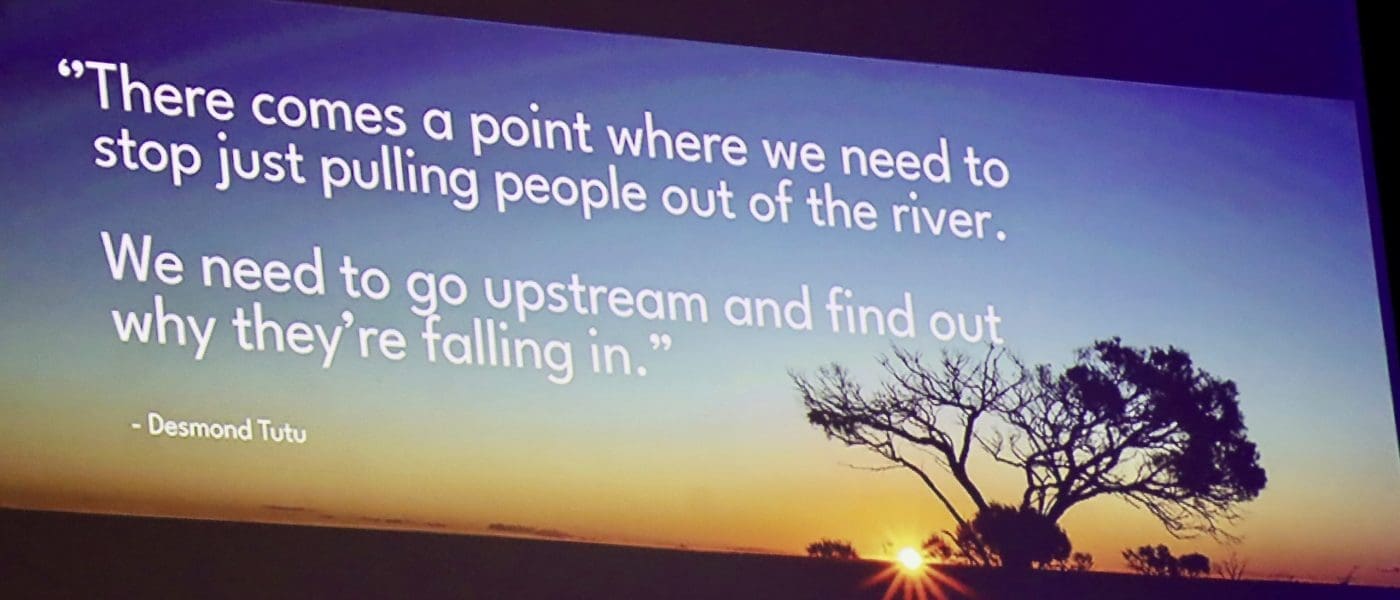 No one plans to become a suicidal alcoholic by the time they're 40, she said.
We can all think of a mate who does the crazy thing when they drink, she points out.
"And it is all fun and games while you're 18, 19, 20, even up to 25 or 30 maybe.
"But we've also all got a Shana who is around the age of 40, and is in the grip of chronic alcoholism, and isn't going to make it.
"It happens, and it happens over time, and it happens gradually, and it usually happens very silently."
She is leading calls for Governments to step up and fund support services for people in the bush so help is there when they ask for it.
"My call to arms is really simple: step up and be the leaders this space needs.
"Above all else guys, just look after each other.
"We are a finite resource. And you're all so bloody important, and you're all so bloody amazing."
You can read all about her story and the stories of others on her website Sober in the Country.
Matthew Tonkin's story shared in the short video below helps to explain the life-changing outcomes the Sober in the Country charity is helping to enable.
Speak, even if your voice shakes
Kate and Tick Everett shared the heart wrenching story of their loss of their 14 year old daughter Dolly after bullying four years ago.
They have since created the Dolly's Dream foundation which is committed to addressing the impact of bullying, anxiety, depression and youth suicide through education and direct support to young people and families – for more about their story and extensive support resources  including changes to keep an eye out for in people you care about, you can visit their website here.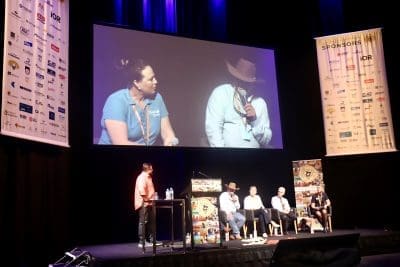 Tick said his approach was to "bury his head in the sand", hoping problems will fix themselves.
"Well, the hard lesson for us was, it doesn't."
Their panel session continually reinforced the importance of speaking up, sharing stories, and asking if people are okay.
Kate explained the powerful response when Tick spoke at an international men's day a few years ago, which she was not able to attend in person.
Immediately after his speech the organiser called her to tell her that Tick's speech had "stopped the room", and he had "just given 300 men the confidence to reach out and ask for help".
The power of shining a light was further reinforced when Kate received a letter from a little girl.
It simply said: "I just want you to know I am still here because of you sharing your story."
"I guess that is what keeps us going," Kate said.
Listen
The biggest problem with mental health, Tick said, is that you can't see it.
"There is not a lump, there is a not a spot, there is not a rash, it is completely invisible."
A quote that has stuck with him was one his father told him when he was young: "you have two ears and one mouth – so listen".
"When you ask 'are you okay', it is a cue for you to sit there and not to talk, but to wait until they're ready to answer you, until they feel confident.
"As a dad I wish I had have done that, I wish I had have done that a lot more."
Never be afraid to help a friend
He said some of his mates may now wish he would stop asking if they're okay, but he urged people never to be afraid to help a friend.
"It is much easier to be annoying and ask a question, than never be able to ask the question."
Everybody knows someone who is 'struggle streeting', Kate added.
"Please don't leave it another day and wish you'd had that conversation," she said.
"Speak even if your voice shakes."
Why 'don't worry about it' doesn't cut it
Shane Jacobs0n shared with the audience that after he fronted a television campaign urging people to wear masks at the start of the COVID pandemic, he received reams of online abuse and even death threats from hundreds of people.
A tough guy who had been through plenty at the age of 52, he brushed it off.
But, he said, as the messages of abuse mounted, it started to have an affect.
He said in those cases, everyone tends to respond by saying "don't worry about it".
But that response isn't enough.
"My message would be, if it is happening to kids, when you say look 'don't worry about that', they do worry.
"Unfortunately, that is not the answer that will fix it, it isn't enough."
Early diagnosis is everything with Prostate Cancer
Prostate cancer is the most commonly diagnosed cancer in men in Australia, causing the death of nine men in Australia every day.
Ruth Logan from It's a bloke thing said diagnosis at an early stage is vital.
The stats are worse for men in the bush, with 24 percent worse outcomes for men who get prostate cancer living in rural and regional Australia.
Many men who have been diagnosed had no idea they had it.
But the critical point is that if diagnosed early, it is "extremely treatable.
"With prostate cancer, it is up to each individual man to start that conversation with their doctor," she said. "Please have that conversation."
Why COVID has been a "perfect storm" for men's health
One of the worst things about the COVID pandemic is that it has stopped people from visiting doctors and seeking help, which is leading to many problems potentially going undiagnosed.
"I think you will see with all cancers there has been a big reduction in the number of people diagnosed over COVID," Ruth Logan said.
"And the consequence of that from a health perspective including prostate cancer is that we will now be at risk of seeing people with an advanced stage of the disease, and that means the treatment options are less effective potentially and the outcomes can be worse.
"Men are typically very good at finding a reason not to go to the doctor. And Covid provided the perfect storm."
How to self-check? You've got two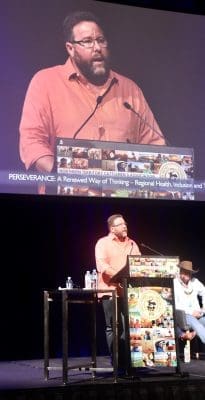 If you're self-checking for things like testicular cancer or breast cancer, what do you look for?
Shane Jacobson said he had once been offered this bit of useful advice from a doctor:
"He said it is the same for women and men. You have got two – you have got two breasts, you have two testicles, you actually have something to compare to the other.
"If there is something different, if one is different to the other, then go and get it checked."
Statistically, someone here will have something
Shane Jacobson ended the session by urging everyone in the room to get checked.
"Horribly, statistically, there is going to be a story out of this room about someone getting saved.
'Statistically, I can guarantee you that this time next year, one of you might be sitting here going, you saved my life."
"Statistically we will guarantee you that one of your children is finding it tough, a husband or a wife is finding it tough, something is growing inside you that is not supposed to be there, something is occurring in side you haven't' noticed yet, but a doctor or specialist can notice it just like that.
"So if we can just all promise to do that, find a moment to get checked."