TWO ABC television shows highlighting the unique skills of livestock producers are set to kick off in the next fortnight.
The popular Outback Ringer series is about to start its third season and a new four part series called Muster Dogs is showcasing the skills of working dog trainers.
Muster Dogs is set to debut this Sunday, with five trainers from Western Australia's Pilbara region to Clermont in Queensland and Edenhope in Victoria competing for Champion Muster Dog.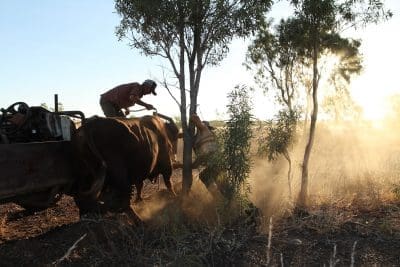 Under the watchful eye of respected expert trainer Neil McDonald, five puppies and the contestants will be expected to hit training milestones, before meeting again in twelve months' time for the ultimate working dog challenge.
A statement by the ABC said the show was aiming to highlight the importance of working dogs in the livestock industry.
"This series explores the unique bond producers have with their best mate – their muster dog – revealing the underlying emotional, economic, and environmental benefits of using dogs rather than machines to muster," the statement said.
While Muster Dogs is a new show for viewers, the popular Outback Ringer series will be back on the screen on February 1.
The season will include the same characters as season, except for contractor Lach McClymont. An ABC spokesperson said the situation had changed for most of the characters.
"Cattle king and deal-maker Kurt Hammer is now joined by his sons, Kodi and Jesse," the spokesperson said.
"Liz and Willie Cook have more than doubled the size of their operation since we last saw them, fuelled by a supersized bank-debt. Sparks continue to fly in their team when things don't go to plan.
"And Clarry Shadforth, alongside teenage son Francis, continues his hope of striking it rich, by finding feral bulls in far flung places no one else is looking."
The spokesperson said the past season of filming was filled with more optimism than previous series.
"It's a once in a lifetime season for bull catchers, as prices are at record highs and feral cattle have been fattened by an almighty wet season," the spokesperson said.
"In this once-in-a-lifetime season, of sky-high cattle prices, everyone is racing to make "bank". From dusk-till-dawn, in 45-degree heat, far from hospitals, supermarkets, mechanics or any form of assistance, they rely on their wits, ingenuity, and sheer determination."