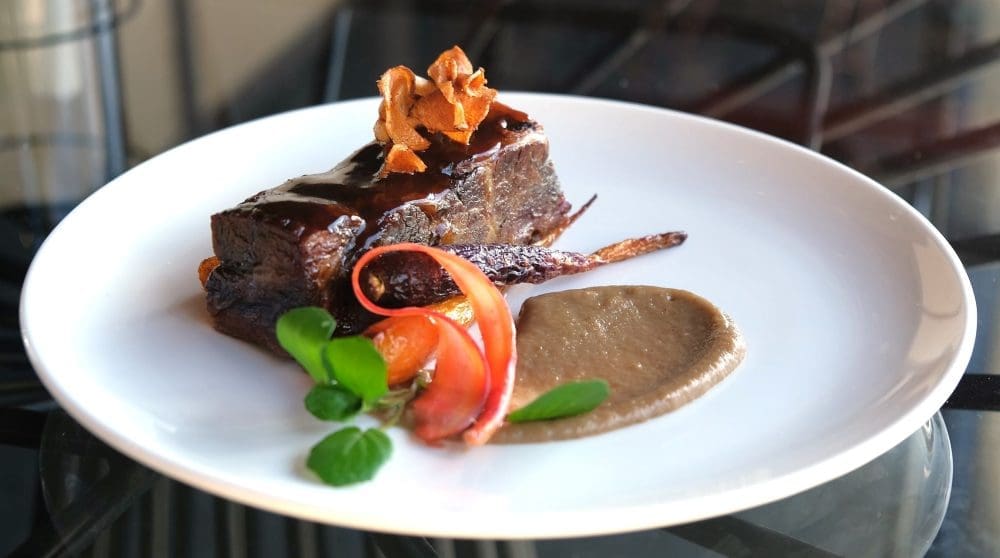 SUSTAINABLE grazing practices were the finishing seasoning on the outstanding cuts served at the launch of the Australian Beef Sustainability Framework's annual update in Sydney today, where the two-course offering complemented discussion of the nation's growing role as a global leader in sustainable food production.
The annual update serves as a yearly score card for industry by reporting against key indicators spanning environmental stewardship, animal care and wellbeing, economic resilience, and people and the community. This year's report marked the fifth of its type since the launch of the ABSF in 2017 to identify success, opportunity and areas for improvement in the sustainable production of beef.
During the launch, renowned Australian chef and well-known food industry leader, Glenn Flood, served beef sourced from Casino Food Co-Op, Australia's largest farmer-owned meat processing enterprise, and a prime example of how best management practice grounded in sustainability creates a sought-after product with premium eating quality.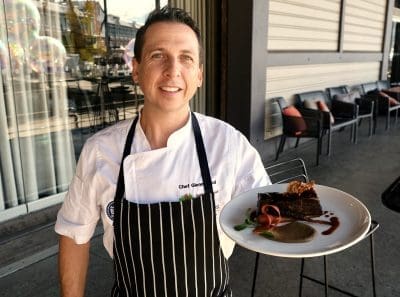 The menu starred a beef bresaola accompanied with a hazelnut dukkah, shaved pecorino cheese and salsa verde entree, and a main course of 12-hour slow cooked beef short rib, Jerusalem artichokes, heirloom carrots and liquorish glaze.
Mr Flood, pictured left, said Australian consumers had a growing hunger to understand the journey of the food they eat – and this was being prioritised by the beef industry.
"Consumers want to know provenance, they want to know the story behind where their beef has come from and are eager to know how it was produced," Mr Flood said.
"It's now vital to provide consumers with confidence the product they're eating has been produced by an industry which is doing all it can to look after the environment and animals, while supporting local communities and economies.
"What we have done today is showcase some beautiful Northern Rivers beef, which you can tell from its great taste, champions the dedication of the farmers who produced it."
Key findings from this year's ABSF Annual Update (see separate report) included:
79.6pc Natural Resource Management (NRM) regions achieved healthy groundcover thresholds in 2021
2.39 million tonnes of food waste was recovered and diverted from landfill along the beef value chain
Producers using pain relief for animal husbandry procedures increased to 35pc, five years after becoming commercially available
CO2e emissions have reduced 58.21pc since 2005.
Joseph Leven, Casino Food Co-Op Member Service Officer and supplying producer, said Mr Flood's culinary talent highlighted the unique and delicious flavour of beef that has been grown and processed with sustainability as a priority.
"From a farming perspective, grazing sustainably is fundamental as producers rely on a healthy environment for their business – without this, we simply would not have an industry," Mr Leven said.
A dedicated cattle producer, Mr Leven describes himself as an "ecologist at heart" and said improving the health of his land, from the soil up, was at the core of operations across his 283ha breeding property at Doubtful Creek.
He said a focus on time-controlled grazing methods and working to improve biodiversity had not only resulted in greater sustainability outcomes but has also grown the carrying capacity of his land.
"An animal that is on a stable rising plane of nutrition has absolutely no growth setbacks," he said.
"Not only does this mean the animal has a heavier weight for age, there is a positive impact on eating quality as well as a reduction in carbon emissions."
Mr Leven is among more than 500 producers who supply the Casino Food Co-Op and align with the business's philosophy of adopting sustainable practice to meet the expectations of the community, consumers and customers around the world.
However, he said Australia's beef sector was adopting the practices in a proactive stance, as it made good business sense and guaranteed the long-term prosperity of the Australian beef industry.
"To ensure our industry has a future, we must first ensure our ecosystem has a viable future," he said.
Source: ABSF