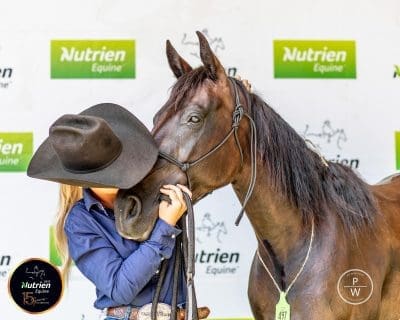 A THREE-YEAR-OLD mare has smashed an Australasian stock horse record, selling for $550,000 at the Nutrien Classic sale in Tamworth on the weekend.
Bad In Black was bred locally by 25-year-old Holly Clayden, who owns Loomberah Lodge Performance Horses, which breeds and imports for the campdraft and cutting industries.
The horse has come from the record-breaking American stallion Metallic Cat – who has sired $49 million worth of horses. Bad In Black was sired by Metallic Cat's son Stevie Rey Von and its dam is Spinies Bad Girl from breeder Maggie Mason in Braxton, NSW – where Ms Clayden purchased the horse. Another Metallic Cat descendant made $260,000 in selling earlier last week.
"I have been wanting to get a foot in the door at the Nutrien Classic so I thought I'd bring my best one here to showcase what I have," Ms Clayden said.
"She was super easy to start and sweet natured. Once nominations opened, I thought, I have this special mare – this is the one to take to the sale. The result is incredible, it's surreal and hasn't really sunk in yet."
Bad in Black was marketed as serious competitor for the 2022 National Cutting Horse Association circuit and top class broodmare in the future. She was purchased Willinga Park, a performance horse breeding centre on the south coast of NSW. Troy Palmer, who was representing Willinga Park and Terry Snow, said the sale was a success.
"It was very exciting during the auction and also exciting for Willinga Park. We wanted to expand our breeding mare group, and she is perfect for the job," Mr Palmer said.
"Terry is also very pleased – he knows quality when he sees it and he trusted us  to get the mare. It's very exciting and great for the industry."
With a new vet centre being set up at Willinga Park, the mare will head straight to the breeding barn, but the Willinga Park team indicated she will definitely be back for the 2023 Nutrien Classic.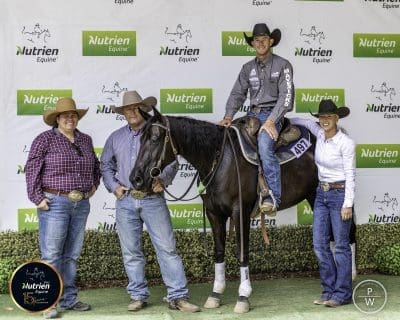 The open draft was won by Muttaburra's Ben Hall for the second year running.
Record predictions come through
Many were predicting the sale to break records before the auction, with record cattle prices inspiring producers fork out on horses. (Read previous Beef Central story here)
The sale finished as the expensive in its 15-year history, grossing $17 million with an average price of $27,113.92 and a clearance of 92.13 percent.
Nutrien's Dane Pearce said the sale reflected how far the campdrafting industry had come over the years.
"It's been an outstanding week and it's one of those sale that has been a real turning point," Mr Pierce said.
"Everyone will remember what has taken place this week and over the past 10 days at the classic."
Mr Pierce said prize money was starting to catch up in the campdrafting industry, with a draft in September expected offer $200,000.
"It's breaking new ground in the campdraft world when you are talking that sort of prize money, I expect a lot of people will come to that," he said.