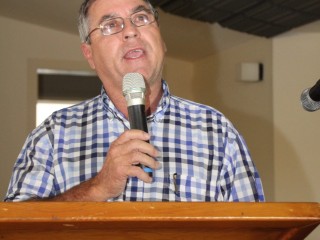 Hundreds of landholders took time out from demanding drought-feeding schedules on Saturday to share their thoughts with Government ministers and industry leaders on what they believe is needed to keep rural Queensland in business.
Here's what some of the producers who attended and speakers at the event had to say:
"People are running on empty"
Balonne Shire mayor Donna Stewart:
"The situation in our region has deteriorated really rapidly in the past two to three weeks.
"People are just running on empty, they're financially, physically and emotionally out of gas.
"The message is that we need immediate assistance, we need money immediately to put food on the table for some of these families."
"Long-term structural reform crucial"
Forum chair and Goondiwindi primary producer Peter Mailler:
"It is important to note that it is a crisis in front of us and immediate support is needed, but the reality is there is an underlying issue of resilience here and without some structural reform, this is going to keep happening, so we need to talk in the long term as well as the short term. (The short term crisis) is really a symptom of a longer term underlying structural issue in that our resilience has been undermined over a long period of time, our margins are tight, so it is not a case of farming better, there is more to it than that."
"DAFF must help us to supply the data"
– Peter Mailler:
(In a statement directly addressing Barnaby Joyce🙂 "One of the things that happens in Canberra  is you turn up and say we've got a problem, and we've got this great machine of DAFF with 7000 odd people working in it, and they will look at you and say where is your data, we don't want this anecdotal stuff, we don't need you to come and tell us you've got a problem, where is your evidence, where is your proof?
"I'd issue a challenge to you minister and say perhaps the department needs to do some of that quantifying as well and help us to come up with the data, because we've got a room full of people here and that is little more than just anecdotal, we need a commitment from the department that they actually put some resources into defining this to helping us to help you to change the mind of the other people in your cabinet. I'd really appreciate that."
"This is a rolling crisis"
– chair of the Rural Finance Roundtable Working Group, and Condamine farmer Rowell Walton:
"This is a rolling crisis right around our country. If you're thinking that you're the only one, the fact is there are thousands and thousands of us in this awkward circumstance.
"We've come up with an idea that is in process now, the Australian Reconstruction and Development Board within the RBA, and we think it is a very good start.
"But right now we have this human tragedy unfolding here right in the drought where our capacity to survive has been severely damaged and some of our people are in real trouble.
"So can I ask you when you go home, think about your neighbours and pick up the phone and see that they're okay, and if they need a hand, then give them a hand please. Don't let the stories that I've heard people tell me in the last couple of days go on."
"Focus now on people welfare"
– Queensland Minister for agriculture John McVeigh
"What I'll be feeding into cabinet on Monday morning will be outcomes from this meeting.
"December 12 months ago we were saying to ourselves, what if these guys miss out on a decent wet season. Well they did, and now here they are staring down the barrel of another failed wet season.
"12 months ago this was all very much about animal welfare, and increasingly it is switching most importantly as I'm sure Derek (Tuffield from Lifeline) and Barry (Sheehan from Centacare) and others would agree to people welfare."
"ARDB needs support"
– Northern Gulf Grazing Group and Northern Beef Crisis Committee chair Barry Hughes, Georgetown:
"The ARDB is a positive initiative to instill confidence that is sadly lacking and to put some trust back into the industry that is financially, physically and emotionally (stressed), and I would urge (Minister Joyce) that this ARDB issue get pushed to the top of the list.  It deserves the urgency for your government to take it up and get it to your colleagues and give it the exposure it requires."
"Women the forgotten partners"
– Barry Hughes:
"The state of mental health across this great industry is at a sinister level.
"The women of the land seem to be the ones who are being overlooked in the whole impact of what we're facing. I'd say to each and every one of the male counterparts that are in the room here today in St George, don't overlook the strength that you have in your female companions and partners, because they are going through the same issues, exactly what each and every one of us male counterparts are going through.
"This whole issue of mental health is one of the most prevalent and it is also one of the hardest to identify and to broach. I have asked Barnaby Joyce and John McVeigh repeatedly to put money up to get psychological well being counsellors on the ground right across the agriculture sector.
"They are non-existent in our case, we're seeing marriage breakdowns, we're seeing family implosions, and we're seeking public aggression like we've never ever seen it before."
"The industry is basically unprofitable"
– Australian Beef Association chairman Brad Bellinger:
"Consider there are 12 million cattle in Queensland. The average producer in normal years would turn off about a quarter, so about three million a year are turned off.
"Average debt in the Queensland cattle industry has gone from $1.5 to $9billion the last 12 years.
"So what that means is that for every beast sold there is a $3000 debt attached to that beast. If you look at a 7pc interest rate, and you look at a commitment to the banks for every beast that is sold of $210 a head.
"The average price at the Roma Saleyards in 2012 was about $650 a head, last year about $450 a head, so we've had a $200 hit at the biggest selling centre in Queensland.
"So if you're selling cattle for $450, which is now a great price, almost half of that is going to pay the banks.
"So the cattle industry on broad figures on the back of the envelope, it as an industry is basically unprofitable."
"Processors should be paying more"
– Dulacca cattle producer and veterinarian Lee McNicholl:
"In New Zealand at the moment 600kg grassfed bullocks are worth $350 a head more than we're getting in Australia. $400 and $500/head more in the US. It is about farmgate profits.
"We are being driven into poverty by our declining terms of trade, and a ridiculously and disastrously low price for cattle at the moment, and I call on the processors to pay us a decent price so that we can afford to buy fodder to keep our breeders alive.
"Otherwise the processors will pay down the road by not having any cattle to kill, and then they will set about destroying the live cattle export industry again to provide cattle for domestic consumption. Processors should be paying us more money at the moment and they can."