NATIONAL Australia Bank price forecasts now point to all major farm commodities making gains in 2015-16 on average compared with the last financial year, reflecting strong protein prices and a lower A$ protecting against international weakness in grains.
According the NAB Agribusiness's September Rural Commodities Wrap released today, a key driver in price gains across the board has been the A$, which at around US70c is 20 percent weaker than a year ago.
NAB Agribusiness general manager Khan Horne said the A$ was still tracking downwards, which continues to provide support to rural commodity prices. NAB's forecast that the currency will bottom-out in early 2016 at around US68c is unchanged.
"We have adjusted our price forecasts for beef upwards, with signs that declining rates of cattle slaughter is likely to continue owing to a shortage of stock," Mr Horne said. "We're now forecasting that cattle prices in 2015-16 will average 43 percent above last financial year, compared to last month's forecast of 40pc," Mr Horne said.
The Eastern Young Cattle Indicator continued its run well into record territory, and is approaching 600c/kg. Overall, the indicator was up 4.6pc in August.
The downward trend in slaughter that began mid-year is continuing and exports have now begun to slow. August exports were down 10pc to the US, 15.1pc to Japan and 20.1pc to Korea.
While Australia US 90CL manufacturing beef export prices remain elevated, NAB warned that there were signs that US domestic beef prices are beginning to moderate (see Beef Central's extensive report on this topic posted earlier today.)
Feedgrain outlook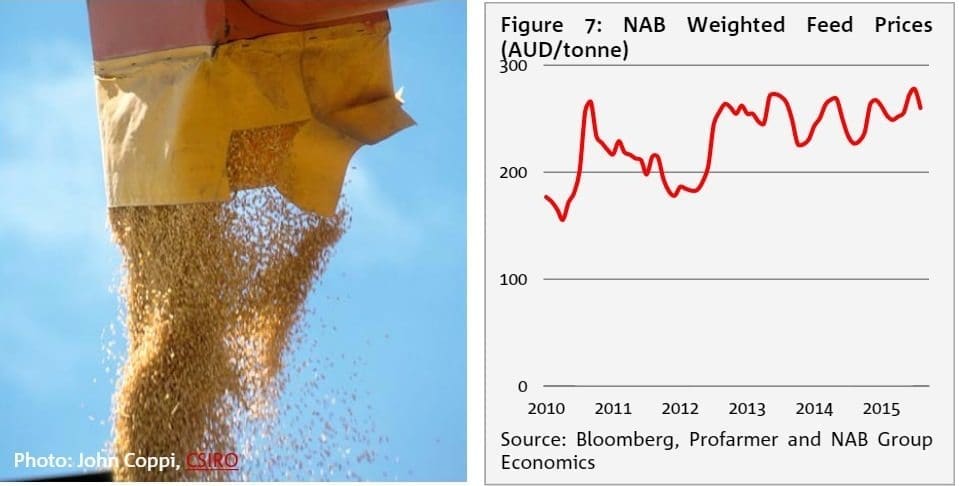 Weighted feed grain prices fell in August (down 6.3pc), the first monthly price drop since March 2015.
This reflected generally lower prices among major feedgrains in domestic markets, as a result of buoyant international supply, the monthly commodity wrap said.
The prospect of strong El Niño conditions coming into summer could see elevated domestic feed grain demand as graziers look for additional supplementary feed.
NAB's weighted feedgrain price indicator includes feed wheat, barley, oats and sorghum. Three quarters of the indicator is made up of feed wheat and barley.
Better outlook for grain
The outlook for the 2015-16 wheat crop continued to improve, boosted by solid and timely rainfall in Western Australia and NSW, NAB's monthly commodity wrap said.
"As such, we have revised our production forecast to be 1.4pc higher than last year, as the risk of El Niño is pushed back towards summer," Mr Horne said.
The Bureau of Meteorology's declaration of El Niño earlier this year clouded the production outlook, particularly coming into summer.
"While we have previously highlighted the risk of El Niño to Australia's wheat crop, solid rainfall in WA and NSW led us to boost our outlook for the 2015-16 harvest. With the impact of El Niño now likely to appear later in spring and into summer, the major climatic risk is for graziers and summer crops," NAB said.
On interest rates, global financial market ructions and a slower China suggested the risks to the Australian economic forecast and the RBA cash rate were tilted to the downside in the near term.
"However, the case for further easing of the rate on purely domestic grounds is limited in our view, and the forecast for the remainder of 2015 is unchanged at 2pc," Mr Horne said.
The NAB Rural Commodities Index* for August was flat in A$ terms, and moderately lower in US$ terms (down 2pc).
* NAB's Rural Commodities Index includes 28 commodities (beef, wheat, barley, sorghum, rice, oats, oilseeds and pulses, wool, cotton, sugar, wine grapes, lamb, pork, poultry, dairy and fruit and veg). The index is weighted annually according to the gross value of production of each industry in Australia.