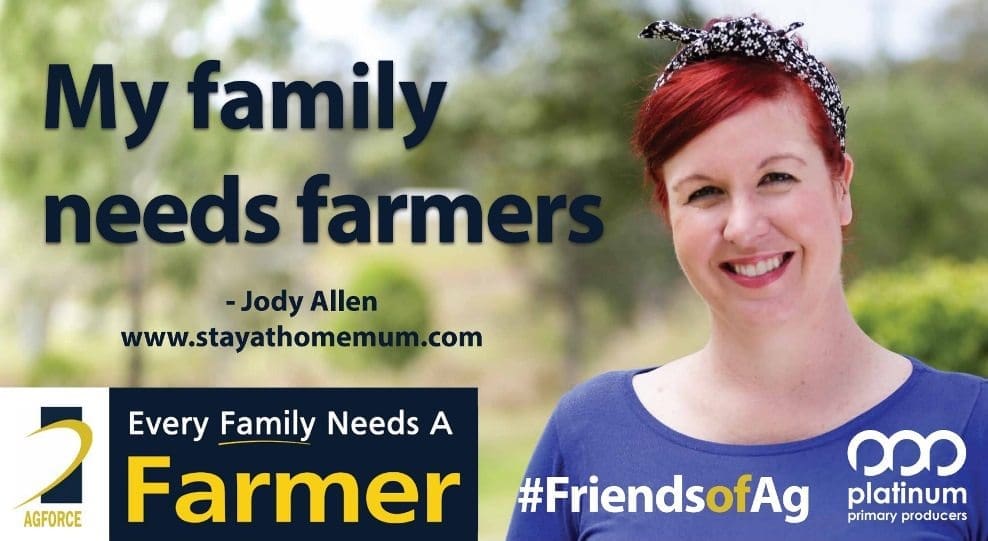 BUSINESSWOMAN and social media creative genius Jody Allen knows one important thing about farmers – every family needs one.
The Gympie-based mother of two boys, who turned an idea to bring mothers together, into one of Australia's most influential social media businesses, has joined AgForce Queensland as an ambassador and the face of the latest #FriendsofAg campaign.
Her business Stay At Home Mum (www.stayathomemum.com) has attracted almost 500,000 followers, making it the largest mothers' blog in Australia.
"Mothers talk about such a wide range of issues, but sometime it's easy to forget just how important farming is for the health of our children and families," Jody said.
"Like most mums, I know what I'm looking for when I'm at the butcher's or the market, but rarely get an insight into the work that goes into getting it there.
"I'm looking forward to meeting producers around Cloncurry during the AgForce state conference over the next two days, and meeting AgForce members in other parts of the state in coming months and hearing about the trials and triumphs they are experiencing."
Jody started Stay At Home Mum in 2011, after finding herself unemployed with one child and pregnant with a second. Living on a $50 a week grocery spend, she turned to social media, set up a business, wrote two books and amassed a massive loyal social media following.
"Over the coming months she will speak to AgForce members about modern consumers.
"Jody's also keen to learn more about Queensland broadacre farming and discuss her findings with her loyal followers," said AgForce vice-president Georgie Somerset.
Jody will be the face of the popular Every Family Needs a Farmer billboard campaign (see image above) during November and December.
WHAT: AgForce Cloncurry State Conference
WHEN: Friday, October 30, 9am-3.30pm
WHERE: Cloncurry Shire Hall, Daintree St.
Click here for conference program.
Source: AgForce.