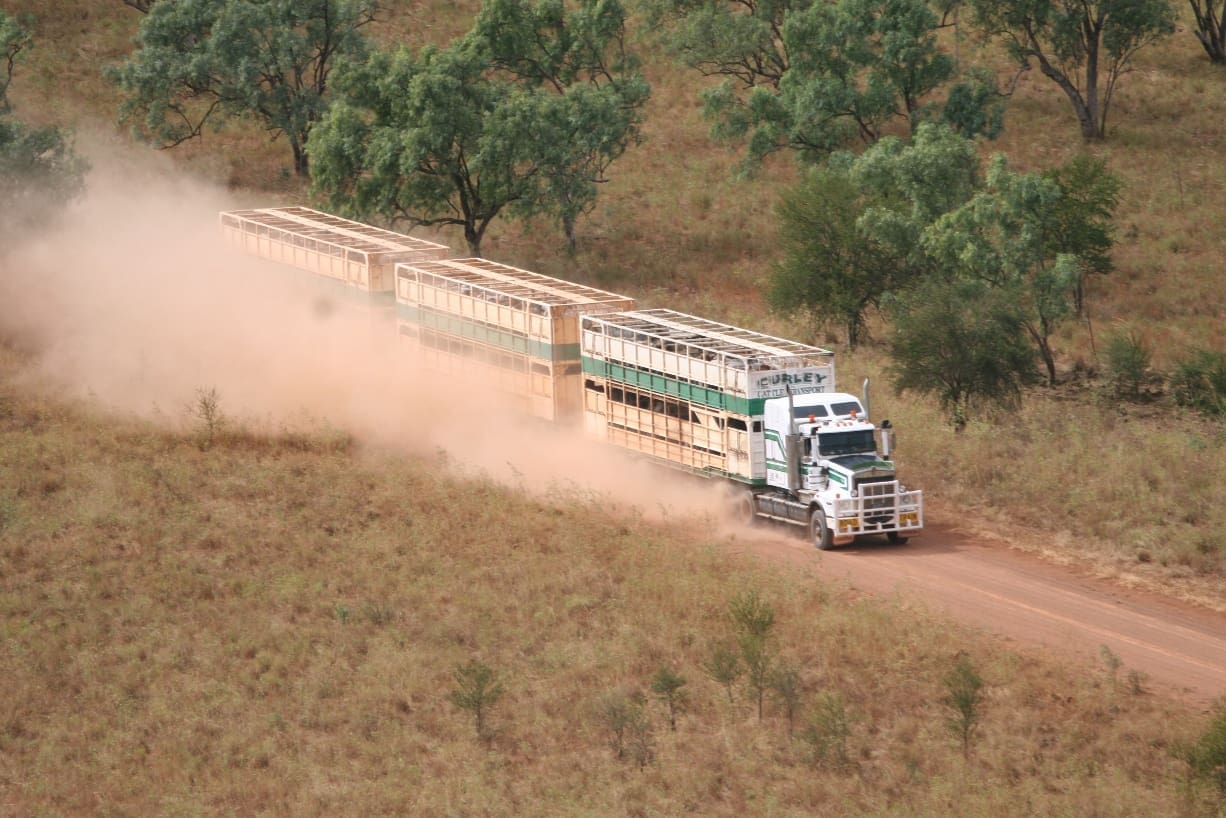 CENTRAL and North Queensland beef producers and processors will benefit from a Department of Transport decision announced on Friday allowing road train stock transport configurations to directly service both major beef processing plants near Rockhampton, from July 1.
Up to now, type-one road trains (two 40-foot trailers) arriving from western cattle centres had to drop a trailer at Gracemere, west of Rockhampton, and do two single-trailer runs into the Teys Lakes Creek or JBS Rocky plant. The alternative was to cross-load cattle into B-Doubles at Gracemere for the final leg.
Both options added considerable time (up to two hours per load), labour and cost to the process of consigning western and northern Queensland cattle to slaughter.
More than 500,000 cattle typically transit through to Rockhampton's two major beef plants each year, requiring thousands of cattle freight movements. Type-One road trains accounted for 46pc of all such movements, a review found.
While the latest approval does not affect coastal cattle travelling north or south to Rockhampton via the Bruce Highway (where transport is limited to B-doubles), it will greatly improve efficiency, animal welfare and product outcomes on cattle drawn from western and northern areas. The number of overall transport movements will also decrease.
The approval also has workplace health and safety implications, as the practice of cross-loading is considered one of the most dangerous activities in the cattle transport supply chain. Cross-loading sees operators position trailers together, and, with the use of sliding gates, push cattle from one trailer deck to another.
The access project has required infrastructure upgrades through Rockhampton, including access roads leading into abattoirs.
"There is certainly a cost benefit to the producer in those areas where road trains can now operate, meaning his or her freight will no longer be charged at a different rate to account for the restrictions from Gracemere," a processor livestock buyer told Beef Central this morning.
The implications for some producers could be substantial, and not just in reduced freight cost, less risk of bruising and dark cutting and other issues.
"Because up to now they have only ever been able to get three-deck units (B-doubles) into the Rockhampton plants, some producers have only stocked paddocks in three-deck unit lots – effectively multiples of 60 head – to account for the bottleneck in delivering stock for slaughter. That might mean 180 bullocks in a paddock that could realistically take 210.  But that may now change," the contact said.
"The people who are going to benefit from this are those producers who already send road-trains," he said.
A range of rules, regulations and curfew times will apply to the new process, which transport operators will have to familiarise themselves with.
The Department of Transport and Main Roads has contacted the National Heavy Vehicle Regulator (NHVR) to arrange pre-approval consent for the commencement of Type 1 road train access from CQLX Gracemere to Rockhampton abattoirs from 1 July.
Livestock transport operators can now apply for a permit from the NHVR.
Click this link to access a DoT fact sheet about Type 1 road train access into Rockhampton.
Click here to view Beef Central's earlier Top 25 Livestock Transporters feature