BUOYED by strong rainfall across eastern Australia since the start of the year, cattle restocker demand has seen the Eastern Young Cattle Indicator surge to 755c/kg, breaking its August 2016 record of 726c/kg.
While the pace of the EYCI's 58 percent jump in less than two months is unprecedented in the modern Australian cattle market, NAB's Beef in Focus Report suggests the cattle market faces two substantial risks.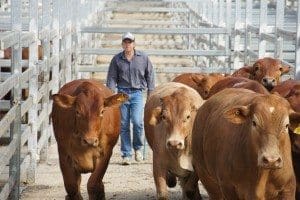 Firstly, the strength in the restocker market comes after only two months of rain in limited production areas, following severe and protracted drought.
Secondly, three of Australia's largest beef export markets (China, Japan and South Korea) are facing serious coronavirus outbreaks, which have the potential to negatively impact on demand fundamentals.
NAB Agribusiness Economist, Phin Ziebell, said the three-month rainfall (relative to average) experienced during the current price rally is very different to 2016.
"Since January, many – but not all – areas have seen excellent rainfall and soil moisture levels across northern New South Wales, the Darling Downs and central Queensland have led to spirited activity in the cattle restocker market," Mr Ziebell said.
"Conversely, the 2016 rally occurred during some of the best seasonal conditions in living memory."
"While some areas now have enough moisture to see them through, many still need a full season of above average rainfall to recover and this is a risk for prices."
Export fundamentals were strong in 2019, and NAB Agribusiness Customer Executive, Khan Horne, said the impact of coronavirus on premium protein demand across east and south-east Asia could pose challenges for the market.
"So far, Chinese domestic wholesale prices have held up despite coronavirus," Mr Horne said.
"With African Swine Fever decimating the Chinese pork industry, protein demand remains very strong with Meat & Livestock Australia reporting Chinese beef import volumes up 60 per cent in 2019."
"Beyond China, South Korea and Japan are dealing with major coronavirus outbreaks, and US preparedness to manage the virus remains unclear."
"The extent to which Australian beef exports will be impacted remains to be seen, particularly given the uncertain effect on supply chains if the pandemic stage is reached. Overall, it's a risk that requires careful monitoring."
While 2019 marked a liquidation phase for the Australian cattle herd, with an all-time high female slaughter share of 56 per cent and overall slaughter up eight per cent, 2020 is showing a marked improvement.
"Although strong international demand for Australian beef and drought meant finished cattle prices never saw the same unwinding as young cattle in the 2017-19 period, national over the hooks indicators are essentially back to their Q3 2016 peak," Mr Horne said.
"Our price outlook for 2020 depends heavily on rainfall, and with many areas still needing an excellent season to recover from drought, if anything there is more downside than upside for the EYCI at present."
Coronavirus has driven the Australian dollar lower to the mid-US60c range, but this alone is unlikely to offset impacts on the cattle market.
Source: NAB