THE eating quality of Australian beef has been audited and benchmarked to help producers optimise the potential of their cattle and compare their performance with other like-minded producers.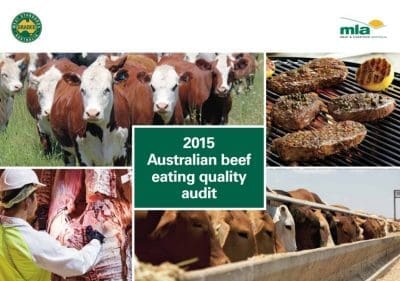 In an industry first, the inaugural Australian Beef Eating Quality Audit Report produced by Meat & Livestock Australia is based on Meat Standards Australia grading results using the MSA Index scores of more than three million cattle processed in the 2014-15 financial year.
MSA operations manager Sarah Strachan said the report would help to improve understanding of the drivers of MSA compliance and the factors impacting on eating quality performance.
"This will not only benefit consumers but will be valuable in potentially increasing farm gate returns for cattle producers," Ms Strachan said.
This is the first time such a benchmarking exercise has been conducted in Australia, and over 57 million pieces of information were collected on carcases during the MSA grading process. Going forward, eating quality audit reports will occur biennially.
The results confirmed that MSA beef producers had the opportunity to make further improvements to their herds to help boost eating quality, Ms Strachan said.
"The national average MSA Index in 2014-15 was 57.61, on a scale of 30 to 80. This is an improvement of 0.86 points or 1.7 per cent since 2010-11. Our objective is to improve the MSA Index by two points by 2020," she said.
The MSA Index is calculated using only attributes influenced by pre-slaughter production, such as on-farm genetic, environmental and management factors.
"It is a consistent benchmark that can be used across all processors and geographic regions and over time," Ms Strachan said.
"The improvement of the MSA Index and subsequent eating quality potential of carcases is largely under the control of the producer."
The report examines compliance and eating quality performance by various production categories including feed types, the use of Hormonal Growth Promotants and gender.
State-based benchmarking a first
Additionally, the report includes state-based benchmarking, which is a first for delivering MSA performance reviews.
"By segregating the information by categories and states, we feel it becomes more meaningful to producers. They should be able to easily find where their results fit within this report and benchmark their performance," Ms Strachan said.
Several key carcase traits were identified as having 'high importance' in changing the MSA Index, including marbling and ossification. HGP status was also rated as being 'very high' in importance in its ability to change the MSA Index, due to its direct impact on eating quality in addition to its impact on traits such as ossification.
Ossification is a measure of the physiological maturity of the beef carcase, and eating quality declines as ossification increases.
The audit found that grassfed cattle had a national average MSA Index of 58.31, compared to an average MSA Index of 56.83 for grainfed cattle. Producers can find their own average MSA Index results using the myMSA feedback system at www.mymsa.com.au
Since its commercial implementation in 1999, the MSA program has experienced significant growth with 3.22 million cattle presented for MSA grading in 2014-15, representing 34 percent of all adult cattle slaughter.
In that year, young cattle which met MSA and company requirements received an additional 33c/kg over-the-hooks compared to non-MSA counterparts. Assuming a weight of 277kg (the 2014-15 average of MSA grassfed carcases), this provides an additional $91.41 per head in producer income.
The program involves over 43,000 producers, 42 MSA-licensed beef processors, 3676 end-users and 135 MSA-licensed beef brands.
MSA was developed by the Australian red meat industry to improve the eating quality consistency of beef. The system is based on more than 700,000 consumer taste tests by over 100,000 consumers from nine countries and takes into account all factors that affect the eating quality of the 169 cuts and cooking combinations within a beef carcase.
To download a copy of the Australian Beef Eating Quality Audit Report, click here.
 To watch a video explanation of the report at a recent series of eating quality forums, click the link below
Source: MLA