A softer Australian economy is putting pressure on household budgets, but despite higher prices sales of premium red meat products are holding up, a domestic market forum at Red Meat 2019 heard this morning.
The domestic market remains Australia's single largest market by a factor of almost two, close to double the size of the largest export market – currently a tie between China and the US, with Japan very close behind.
Australian consumers spend more than $400 per person on red meat each year, and data shows 93 percent of Australians consider purchasing beef every time they enter a supermarket.
The domestic market is growing but also rapidly diversifying, with the population becoming more urban based, now comprising 50pc of people who were either born overseas or who have at least one parent who was born overseas, and with households that are becoming smaller, with units and apartments representing 50pc of all new residential construction. All of these factors contribute to a food consumption landscape that is changing just as rapidly.
MLA research presented this morning showed that as economic pressures grow consumers are prioritising where they are spending money, but sales data shows they are still prepared to buy premium items and the things that matter to them.
It's no secret that beef and lamb are priced at significantly higher levels than competing proteins as the below chart shows – retail prices for lamb have risen by 155 percent since 2000 and beef by 94pc. Pork prices have risen by 55pc and chicken by only 15pc.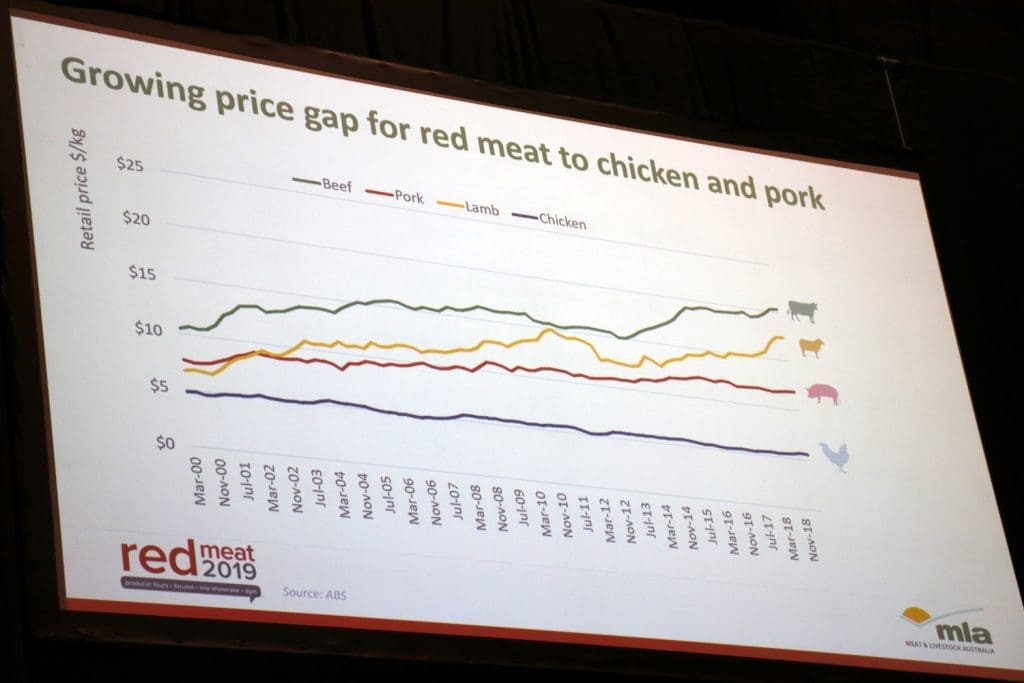 "The challenge for us while our price is rising is to make sure we're delivering consumers more reason for the price they're paying, to make sure they understand the value they're getting," MLA domestic marketing manager Graham Yardy said.
MLA market intelligence manager Scott Tolmie said that came down to three key points: quality, ease and variety.
In a strong positve for the domestic red meat sector, meat and seafood top the list of categories for which consumers are prepared to pay a premium (see chart below).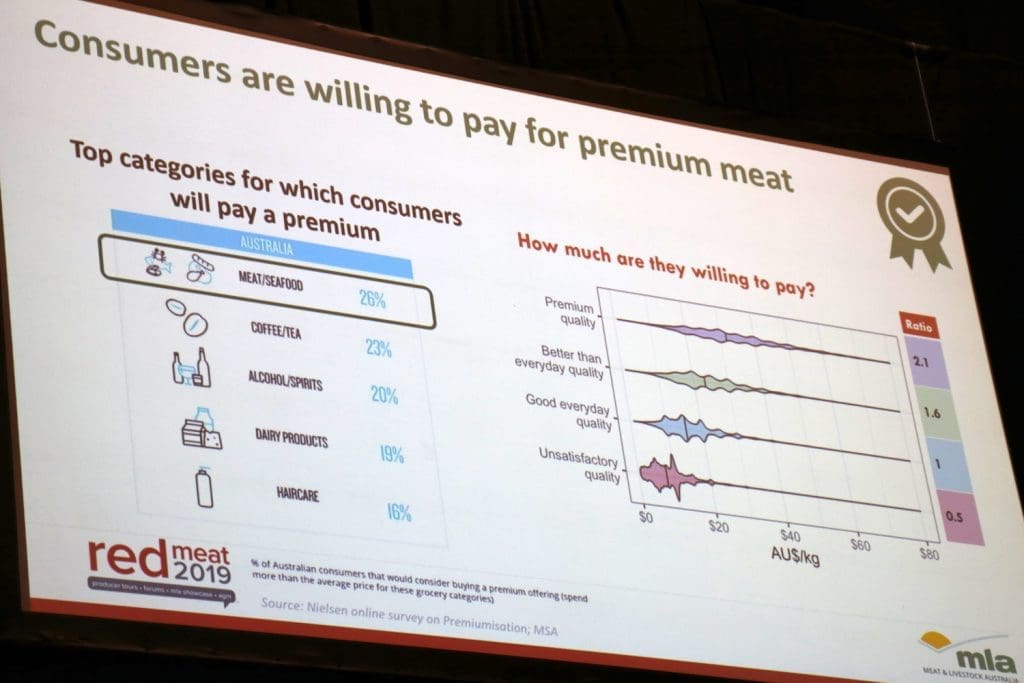 Mr Tolmie said that despite household budgetary pressures, retail sales of prime steak have actually risen by 5 percent, and premium mince sales by 24pc.
Time pressures mean most consumers are looking for short cuts. A recent study by MLA showed that on Mondays to Thursdays, a primary concern for households is to get dinner on the table as quickly as possible, within 30 minutes or less.
This trend had fuelled a 20 percent increase in pre-packaged salads and vegetables and pre-cooked meals that only require reheating.
It was also contributing to an acceleration in the amount of meals being delivered from restaurants and cafes to homes via delivery services such as uber eats, Deliveroo and Menulog.
MLA is working directly with supermarkets, pre-prepared meal retailers and food service chefs to keep red meat 'front of mind' within these changing meal dynamics, Mr Yardy said.
MLA's sponsorship of the 2020 Australian Olympic team provided a fantastic opportunity in the next year to talk about the role Australian beef plays in a healthy diet.
Sydney-based Sports nutritionist Peta Carige told an industry breakfast this morning that health professions know red meat is an essential part of a healthy diet, but many members of the public hear conflicting information.
Mr Yardy said a key focus of MLA's marketing activities this year will be based around the Olympics with media and social campaigns featuring athletes and health professionals talking about the importance of Australian beef from a health and nutritional perspective.