Latest listings on Jobs Central recruitment page:
Assistant farm manager – South Australian position
Station Positions 2017 – Davenport Downs (Paraway)
Head Stockperson – Babbilora (Australian Country Choice)
Production and Shipping Trainee – Beef (Mort & Co)
Bull breeding unit manager – Carrum Station (AA Co)
Station manager – Pier Pier (Paraway Pastoral Co)
Livestock Operations Compliance manager (Austrex)
Feedlot staff – Livestock hand (Gundamain feedlot)
Territory Representative – entry level/graduate (Ridley)
Manager – Magowra Station (Western Grazing)
Head Stockperson – Minderoo Station (Minderoo)
Assistant Manager-Newcastle Waters (CPC)
Cattle Stud Manager – Sthn Highlands NSW (McLachlan Group)
Operations Manager – Meat Standards Australia (MLA)
Click here to access these and other exciting meat and livestock supply chain jobs currently listed on Jobs Central.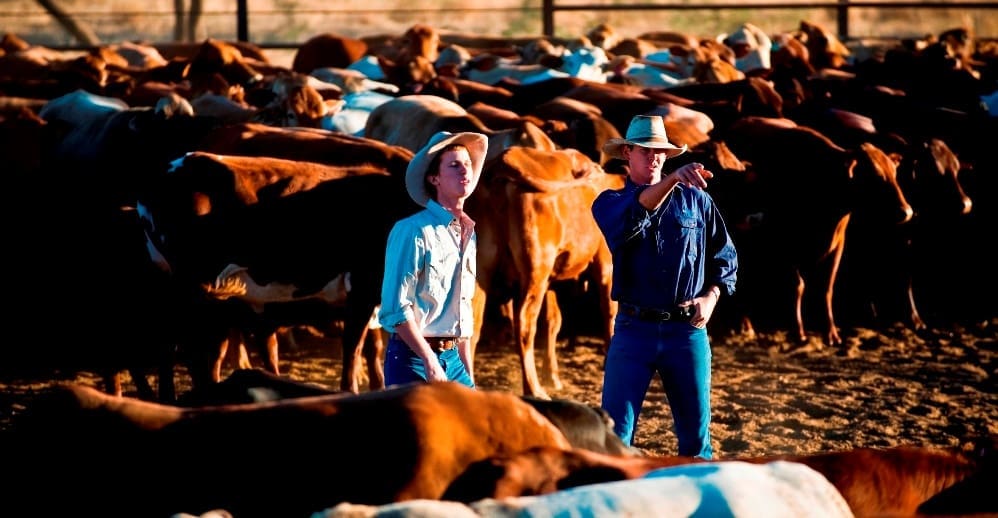 This week's article moves out of our conventional recruitment/HR subject matter into an area equally important to many family-scale red meat industry businesses – succession planning. Agri/family business consultant David Harland* presented this address at the Young Beef Producers  Forum at Roma last Friday….
AUSTRALIA'S family farms have a problem with succession planning.
Not all of them — in fact, some are very proactive and consistently make good decisions that will help their business survive well into the future.
By and large, however, current ownership have fumbled or ignored proper succession strategies. This is a shame, because the inability to build healthy, multi-generational family businesses has coincided with (and, in some cases, contributed to) lopsided balance sheets, a rising skills gap among upcoming family farmers, and an aging class of farming leaders unprepared to gracefully exit their farms and businesses.
I'm not suggesting that succession planning is the only obstacle or even the biggest obstacle in front of today's family farmers. But the scope of succession planning is such that, when a family addresses it seriously and systematically, you tend to address a lot of other issues along the way.
As a way of introducing the problem, consider the following infographics: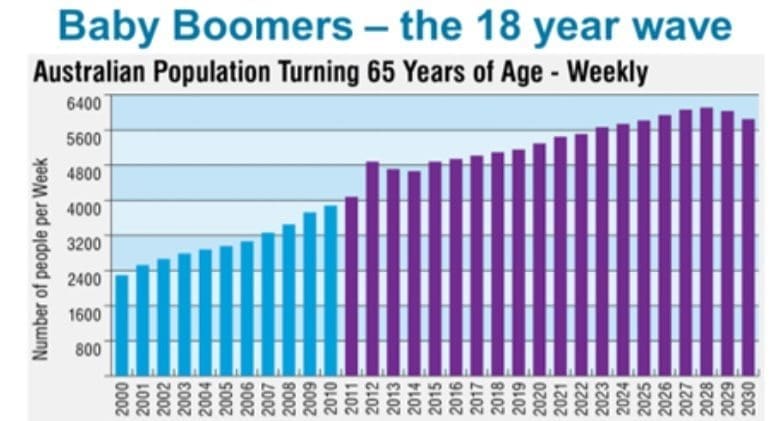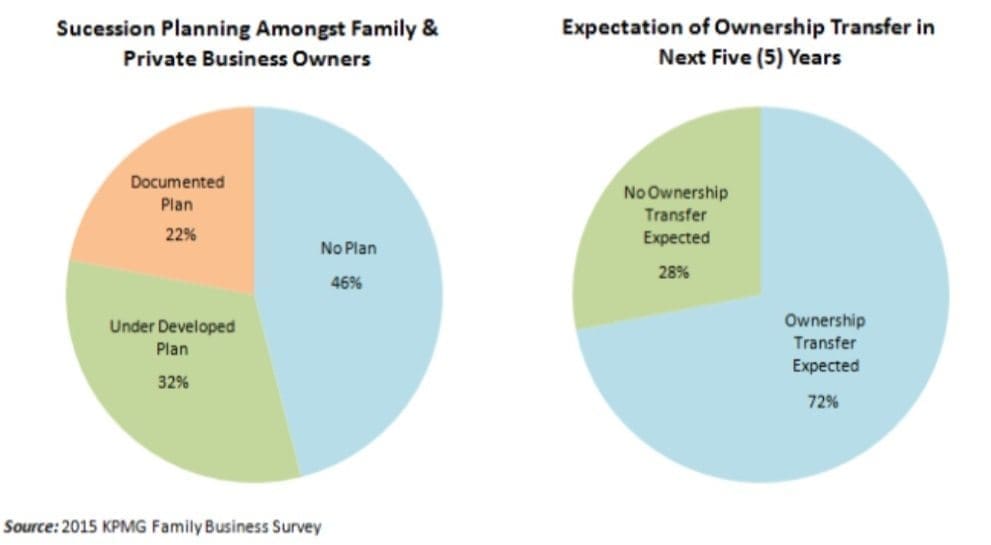 So there is an imbalance here. Widespread demographic aging — a trend that is not expected to reverse until 2028 — is occurring at the same time that private business owners are ill-equipped to handle succession.
Indeed, the agribusiness sector is more representative of this imbalance than any other industry. As Deloitte points out, 99pc of Australia's 130,000+ farm businesses are family owned and operated.
When older farmers are confronted with incomplete transition prospects, many decide it's simply best to keep on working. The Deloitte Access Economics team reports that farmers are five times more likely to be work over the age of 65 than workers in other sectors.
We spoke to four well-known family businesses in the agribusiness sector. Here is a brief summary of their thoughts:
There Is a Skills Gap
"The skill gap to effectively run an agricultural business needs to be filled," according to Brett Antonio (Managing Director of BEC Feed Solutions & BEC Biotech, and third generation family member of McLeans Farms). "The next generation shouldn't look at the family farm just as a farm, but as a business — that requires the right people, capital and processes to run it more effectively and efficiently, for greater profitability and, in time, free cash flow and financial freedom."
Successful farmers need a wide range of skills — business management, financial literacy, IT, crop management, animal husbandry, and on and on. Innovation in the field is exciting, but it can create gaps in the necessary skills farmers need to compete.
Jennie Acton (Co-owner, Acton Land and Cattle Co, in its fourth generation of family ownership) argues that some of this can be explained by cultural and industry transition, leaving a "skilled staff shortage" as people "move away from the agricultural industry."
All four families agreed that another major concern is that the next generation lacks financial literacy. Unless families get out in front of their children's business training (exactly the kind of conversation that comes up through proper succession planning), the next generation will have to reinvent the wheel when it comes to raising capital, financing operations, and understanding the role of debt, among many other issues.
Competition from the Outside Is Increasing
Ben Chandler (third generation cattle farmer from "Gregory Park," Barcaldine) told us that the next generation faces increased "competition from JV's, foreign investment, and established property owners looking to expand," which has the effect of "over-inflating land prices and making serviceability difficult for smaller operators."
Imagine a 65-year old farm owner handed his business over to three children in 2016. What kind of market is going to greet the new leadership?
Commodity prices at or near all-time highs for farmland and livestock.
If they drive across the Australian farmlands, there is a greater than one-in-10 chance they will be looking at foreign-owned land. Foreign-owned agribusiness is the big new competitive threat on the block.
"With the large capital required for technology and automation of farming practices, the next generation have a huge challenge in running a family 'business', not just the family 'farm'," Brett Antonio commented.
Or consider what John Chandler (second gen cattle farmer of "Kyneton", Barcaldine and father of Ben) expressed to us about non-business competition: "A major challenge will be dealing with well-organised & well-funded global groups of environmentalists, animal welfare activists, & climate change politics," not to mention that "dealing with climate change & extreme weather" is going to be tough on its own.
Understood in light of the skills challenges facing the next generation of family farmers, it seems evident that the current training processes leave future farmers ill-equipped to maintain success in a high-priced, high-competition and potentially high regulation marketplace.
There Is a Problem With Exits, Retirement, and Dividing Assets
Many family farms do not have logical structures in place to deal with succession. In fact, many family farmers do not even have logical conversations about succession. Ben Chandler commented that older generations struggle with their "exit, setting up for retirement / next phase in life," and that the biggest issue is families wrongly perceive "this is too hard, so avoid it."
Unfortunately, I think Mr Chandler is correct. At FINH, we have seen first-hand how misperceptions or misguided assumptions about the "challenges" of succession planning can lead to personal and professional inaction.
"Farmers do not talk about succession planning," notes Jennie Acton. "I think it is fear of the Unknown."
She's right too. Research from the GRDC shows that up to 42pc of farmers have not even discussed succession with their spouse. That figure rises to 63pc when you look at farmers who haven't discussed succession with their children.
John Chandler, who has managed to successfully incorporate his children into the business, stresses that "what is, and what is not, negotiable for the generation that owns the assets needs to be clear." This kind of approach is still uncommon.
Jennie Acton believes that a lack of communication "creates much frustration and angst in families," which is ironically the exact outcome families want to avoid by not talking about succession issues.
What it all means:
The point is not that Australia's family farms do not have a bright future or that succession obstacles are too difficult to overcome. What I do hope to highlight is how critical it is for the industry to come to terms with a major issue and to deal with it in a systematic, realistic manner.
A succession plan is the process of strategising what you will do when you transfer ownership, sell, or close your family business.
In family businesses, succession involves management, ownership, and leadership development.
Here are four reasons that the modern Australian family farm business should really look at succession planning as an opportunity:
Intrapeneurship — It provides an opportunity for the next generation to use family capital and innovate within the traditional family business. The rising generation develops the ability to lead new ventures, and the senior generation prepares to actively encourage and mentor innovation and change within the business.
Increased opportunity for sustainability and legacy — There is a significantly reduced risk associated with a loss of experienced leadership. If you take the time develop leadership the business outcomes improve significantly.
A broader range of options – The more you talk about succession and include relevant stakeholders, the more opportunities will be uncovered.
Harmony — A formal succession process ensures that all family members are kept informed and there is a forum for everyone to have a voice. This ensures that all are aligned and committed to the success of the process and the business.
* David Harland is managing director of Brisbane based financial and human capital specialist, FINH.