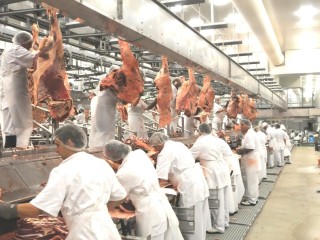 Comments made in an opinion column appearing on Beef Central earlier this week suggesting that Australia's beef processing establishments today are primarily manned by foreign labour have raised the hackles of several exporters.
In his July 15 column entitled, "RCS: Beefing about beef", Resource Consulting Services founder Terry McCosker claims that "discussion about live exports putting Australians out of work in meatworks is rubbish, as few Australians now work in them and a large percentage of the labour is imported."
The statement attracted almost immediate reaction from a number of processing industry stakeholders, who presented statistical evidence to the contrary.
Beef Central collected employment data from five large export-licensed processing plants, located from Central Queensland to southern NSW. Collectively, the five plants employed 3010 permanent staff. Of those, just 176 were imported labour, representing 5.84 percent. Individually, the proportions of foreign labour at each site ranged from 12.9 percent to zero.
Latest Department of Immigration statistics also illustrate this another way.
Of the 4730 457 visas granted in Queensland during 2010-11, just 130 (1.5pc) were made under the skilled meatworker category. Nationwide, the total number of 457 visa holders under the entire agriculture, forestry and fishing category is only 2.5pc.
To be fair to Terry McCosker, his perceptions of the staffing arrangements at major abattoirs, while perhaps ill-informed, may well be representative of broader assumptions within the beef industry and the community at large.
There has been a lot written about 457 visas and labour shortages in processing due to wage competition from the mining sector over the past five or six years, and many may simply 'assume' that foreign labour now represents the core of the Australian processing workforce.
Cameron Dart, a director of AWX, one of the largest recruitment service providers to the processing industry, says the employment landscape within the Australian food processing and manufacturing industries generally has changed dramatically over the last decade.
"Whilst it might seem at face value that there is a large percentage of foreign workers employed in meatworks and related industries, it is really predominantly a change of cultures that is being seen," Mr Dart said.
"At last count, our business was employing people from 23 different nationalities, but 99 percent of these are Australian citizens, mostly new to manufacturing-type employment," he said.
While there was now a strong ethnic origin bias evident in many abattoirs, the key point is most of these employees are Australian citizens, not from overseas.
"This is a real paradigm and culture change for any industry and its employers," Mr Dart said.
He suggested 457 visa holders currently had only a "small influence in the employment stakes."
"We would estimate 457 visa holders would currently represent somewhere between 5 and 10 percent of all food processing and manufacturing employees in Australia. Having said that, we see a large shortage of labour at all levels now and into the future," Mr Dart said.
Australian Meat Industry Council executive director Steve Martyn said the availability of skilled labour had always been a problem to the processing industry, however to suggest that the majority of labour at any given plant was sourced from overseas was certainly untrue.
"As an industry, meat processing has probably sourced foreign labour more than most, especially given the sometimes transient nature of the workforce, but Australian-sourced labour continues to make up the overwhelming majority of the workforce," he said.
The Australian Meat Industry Council says there is between 35,000 and 50,000 employees working in the Australian processing industry, depending on which categories are factored-in.
That rates processing as one of, if not the most significant source of regional employment in the nation.
Asked whether the processing industry was under renewed labour pressure, given the resurgent nature of the mining sector at present, Mr Martyn said his sector was 'always challenged by the mining industry, given its capacity to offer higher remuneration', but the supply of labour did not seem to be quite the issue it was some years ago, when the debate over 457 visas was in full flight.
"Some of the former 457 visa holders have used the program to help make the transition into Australian citizenship, and they are considered outstanding members of the workforce in many abattoirs."
The biggest user, by far, of the 457 visa system was the health industry, and many hospitals admit they would basically fail to function without the nursing support of imported labour.