Impossible Foods has been blocked from selling its plant-based "chicken nuggets" in Australia after they were found to contain a banned substance.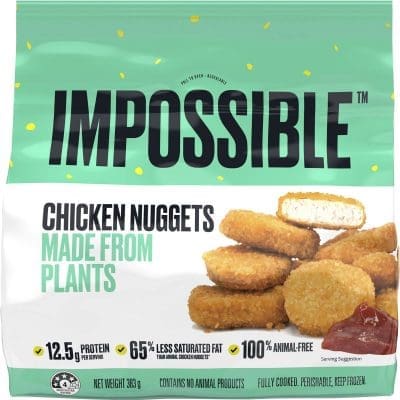 A random inspection by Department of Agriculture, Fisheries and Forestry staff in January detected calcium pantothenate in the wheat and soy based imitation meat product, a substance which is not permitted under Australian food safety rules.
The Department has announced that all future shipments of the food will be held and inspected for the ingredient.
NSW Farmers Poultry Manager Dave Banham says reports of synthetic chicken nuggets failing to meet food standards are cause for concern.
As a father of two, Mr Banham said it was concerning to hear synthetic versions of popular childrens' foods were not meeting food safety standards.
"You want to be sure that the food you're giving your kids is safe to eat, and this sort of case shakes confidence in synthetic food products," Mr Banham said.
"We understand synthetic or plant-based proteins are growing in popularity.
"But until we know those processed products are 100 per cent safe, my family will be sticking with natural foods like real chicken."
The issue of 'fake' food labelling was the subject of a recent Senate inquiry, but while consumption of synthetic, lab-grown or plant-based alternatives to meat was slowly growing, Mr Banham said it was important to separate the fact from fiction.
"As farmers, we grow the plants that make up these plant-based proteins, but what's really concerning is that healthy, natural foods are being demonised by the marketing department of food processors," Mr Banham said.
"Impossible Foods may like to spruik the 'healthy' credentials of their synthetic nuggets, but this case of failing food standards has to be a blow for them.
"Synthetic or natural, the product needs to be safe, and we know animal-based proteins are safe."