Beef Central publishes occasional lists of appointments, departures or achievements occurring across the red meat supply chain, both private sector and government. Details for submissions for future listings are provided at the bottom of this article….
Jake wins Qld Young Auctioneer's crown
Team Aussie prepares for Tri-Nations Butchers Challenge
Hugh Wirth steps down after 43 years with RSPCA
Australian connection through new Cargill Meat chief
Young butcher will sharpen skills on European visit
AMPC chair walking for a great cause
Casino plant's microbiologist wins award
Investing in next gen generation of ag leaders
BDO appoints new national Food and Agribusiness leader
New agribusiness head for Colliers
NSW Farmers award scholarships
Jake wins Qld Young Auctioneer's crown
Young Central Queensland stock agent Jake Passfield was judged Queensland's Young Auctioneer of the Year at the Brisbane Ekka on Friday. He won the competition, organised by the Australian Livestock and Property Agents Association, from a strong field of ten young agents from across the state. A panel of three judges marked the competitors on their diction, values, voice and manner, as well as their presence and unique style.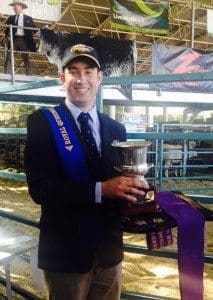 Twenty-four year old Jake (pictured) grew up in Woodenbong, northern NSW. His older brother Brad won the same competition in 2010. He started in the agency game at Landmark in Roma in 2009 under the guidance of Rod Turner, then transferring to Landmark's Emerald branch where he worked under manager, Matt Beard for two years. He then moved to Clermont and for the last three years has been a partner and director of successful private agency Hoch & Wilkinson.
This year's runner-up was Bryton Virgo, from Landmark Emerald. Next year Jake and Bryton will represent Queensland at the National Young Auctioneers Competition at Sydney Royal Easter Show, where they will compete against other state finalists for the National Young Auctioneer title.
Team Aussie prepares for Tri-Nations Butchers Challenge
Six of Australia's sharpest butchers will go head-to-head with trade professionals from the UK and New Zealand in a butchery battle to be held in New Zealand in September.
Now in its fifth year, the Tri-Nations Butchery Challenge is a serious competition of skills and knife-work. Independent judges award points based on butchery skill, workmanship, product innovation, overall finish, presentation, display and articulation – all elements that the global butchery industry believes are vital ingredients to the longevity and continued growth of independent butchers.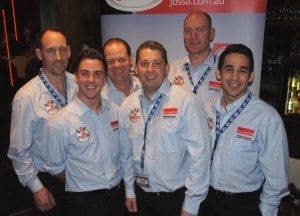 The Aussie team-members for the 2015 Challenge are team captain Michael James from Carina North Meats (QLD); Adam Stratton from Tender Value Meats (NSW); Paul Brady, Tender Gourmet Meats, Macquarie (NSW); Matthew Papandrea of Joe Papandrea Quality Meats (NSW); Tom Bouchier from Peter Bouchier Butchers of Distinction (VIC); and Ben Burrow, head butchery teacher at NSW TAFE. The team gets together for its final pre-challenge training session at Trevor Savill's Helensvale factory near the Gold Coast next Wednesday.
The competition over  a two-hour period, starts with a side of beef and a whole lamb carcase. Each team can provide their own signature seasonings, spices, marinades and garnishes to break down and present cuts that would be the pride of any modern butcher.
This year's competition will be held in Auckland, New Zealand from September 5 to 10. New Zealand took out the honours to become the 2014 TriNations Champions.
Hugh Wirth steps down after 43 years with RSPCA
Former national president of the RSPCA, Dr Hugh Wirth, is stepping back from official duties as president of the Victorian branch after 43 years in the chair.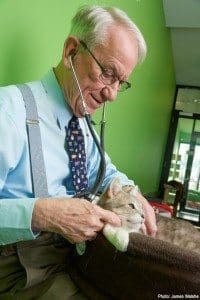 Dr Hugh Wirth has worked closely with livestock industries over development of animal welfare standards for production animals over many years, gaining the respect of beef sector stakeholders. He will also shortly vacate his role on the RSPCA Australia Board, where he sat for 35 years.
Dr Wirth's contribution to the RSPCA and animal welfare more broadly, has changed the face of the issue both here in Australia and globally, the RSPCA said in a statement issued last week.
He was instrumental in the establishment of RSPCA Australia in 1980, and the launch of the 'RSPCA-approved' farming scheme.
Australian connection through new Cargill Meat chief
US meat protein giant Cargill Meat Solutions has appointed John Keating as its new president, succeeding Ruth Kimmelshue, who will become a corporate vice president at parent Cargill Inc's Minneapolis headquarters. Mr Keating, who took up his appointment on August 1, will retain his current position as president of Cargill's beef business. He joined Cargill in 1988 as a beef production trainee, progressing through various positions Cargill over the years.
Beef Central's older readers will remember him as an effective communicator and strategic thinker during his period as general manager of Cargill Beef Australia in the late 1990s. At the time Cargill's Australian beef operations (run independently, well before the subsequent joint venture with Teys Australia) included Jindalee feedlot and Wagga processing facility.
Young butcher will sharpen skills on European visit
Young Queensland retail butcher Byron Allsopp has won the opportunity to travel to Europe to work alongside the continent's finest butchers for up to two years.
Byron, who works at Wilsonton Meats on Brisbane's northside, was awarded the gold medal for retail butchery at the 2014 WorldSkills Australia National Competition, as well as earning last year's Queensland Overseas Foundation Scholarship, which provides the opportunity to develop his trade skills in a country of his choice.
He headed to Europe at the end of last month, where his first stop is with the Bradwell Butchery in the UK county of Norfolk. He will spend several months with Bradwell before gaining experience with other Q Guild butchers across the UK.
"I feel very passionate about helping this young man, who has travelled half way around the world to further his knowledge in the butchery trade," said Andrew Edmonds of Bradwell Butchery.
The QOF Scholarship Program assists high-achieving 18-30 year old trainees, apprentices and vocational education and training graduates to travel and work overseas in their chosen vocation for up to two years. It funds travel-related expenses and an allowance and is worth up to $7500. Applications for the 2016 QOF Scholarship Program close on 31 October. Information and an online application form can be found here. 
AMPC chair walking for a great cause
In a fortnight's time, Australian Meat Processor Corporation chairman Stephen Kelly and three work colleagues will set off on a 100km walk to raise money and awareness for Oxfam Australia. Teams of four entering the event have 48 hours to walk or run the rugged 100km trail. His team hopes to complete the course in 28 hours, travelling through the night.
Stephen's "Over the Hill Again" team is hoping to raise over $5000 to help some of the world's poorest people. "Our fundraising enables Oxfam to continue its work delivering projects that support orphans and people affected by HIV and AIDS in Southern Africa, that educate people in Laos on efficient farming techniques and that improve Indigenous health and wellbeing in regional Australia," he said in a note to colleagues.   People wishing to sponsor Stephen's team walk can click this link.
New agribusiness head for Colliers
Colliers International has appointed rural property veteran Shane McIntyre, previously with Elders, to head up its national agribusiness and rural division. Mr McIntyre has 40 years of experience in the rural sector, many of those spent as national real estate manager at Elders. He is regarded as an expert in the sector.
"Shane is one of Australia's most recognised faces in major rural property transactions and will bring unparalleled skills, experience and leadership to our existing team as we continue to expand our business in this sector," said Will Doherty, national executive responsible for rural and agribusiness at Colliers.
"He has acted for many of the country's most prominent individuals, families, corporate entities and state and federal governments during his 40-year career and has been associated with the transaction of many of the most significant properties within Victoria and NSW," Mr Doherty said.
Mr McIntyre will be based in Colliers International's Melbourne office.
Processor's microbiologist wins award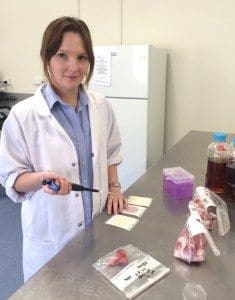 Northern Co-operative Meat Co's microbiologist Jessica Tunnage has been recognised for her passion and commitment to food safety testing.
National Association of Testing Authority (NATA) accreditation requires NCMC to have its own microbiologist. Rather than recruit outside existing staff, NCMC was able to upskill Jessica through the six-year microbiologist course in just four years. Jessica started at NCMC as a trainee through the local TAFE into NCMC's boning room, and has worked up her way to now be the plant's Laboratory Manager. Her ongoing passion and commitment to delivering confidence in the provision of health and social care has been recognised on World Accreditation Day 2015, with her winning entry in the NATA competition.
Some of her submission's key messages:
"The welfare of our population – especially our compromised population – is something that cannot be undermined or underestimated. As a nation, we are renowned for our Australian 'mateship': the ingrained nature of Australians to look out for one another. With regards to the testing services provided for health and social care, the quality of the information we give those who need it is crucial. The accreditation process, from application to approval and subsequent maintenance of the accreditation, teaches all of those involved how important it is to ensure their workplace is operating to the highest standard. There are individuals and families relying on accurate information; one test result can be life changing."
BDO accountancy appoints new national Food and Agribusiness leader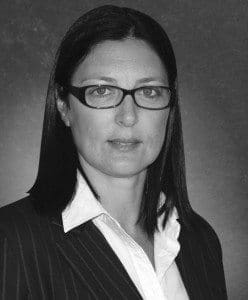 Melbourne-based partner in accountancy firm BDO, Anne Lockwood, has been named the company's new national leader for Food and Agribusiness. Ms Lockwood will lead BDO's team of agribusiness specialists, providing audit, tax and advisory services to clients across the country. BDO national chair Helen Argiris said Ms Lockwood's 22 years' of industry experience made her ideal for the role.
"Anne has a wealth of experience, deep technical skill and solid understanding of the current challenges and opportunities facing the agricultural and food sectors," Ms Argiris said. Her appointment follows the departure of BDO's national agribusiness lead partner David Krause, who has taken an in-house CFO role with Kalfresh, a leading Queensland vegetable producer.
Investing in next gen generation of ag leaders
Victorian vet science student Caitlyn Daffey has been awarded a 2015 Horizon Scholarship, supported by MLA.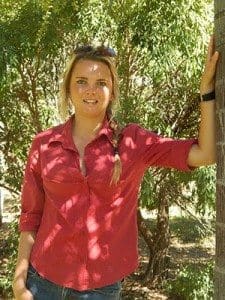 The scholarship, an initiative of the Rural Industries Research and Development Corporation in partnership with industry sponsors, provides $5000 per year for the duration of a student's undergraduate university degree, encouraging young people across Australia to pursue fields of study in agriculture.
Born and bred in Ballarat, Caitlyn is studying a Bachelor of Vet Science at James Cook University in Toowoomba. She said the Horizon Scholarship would help her give back to rural communities after graduation by providing mentoring and other support throughout her degree.
"I would love to be able to assist farmers in improving their stock yields and also overcome welfare and disease issues present in agricultural industries," Caitlyn said. "I believe the program will allow me to do this through financial support, but also with opportunities from mentoring and development workshops.
"I fell in love with the outback, and rural Australia really has become a true 'place of the heart' for me, so after graduating I would ideally like to find work in a remote community."
MLA managing director Richard Norton said it was important that the next generation of ag leaders could meet the modern challenges presented by the livestock sector, by being armed with the knowledge and tools to further grow on farm productivity in a sustainable way.
"We see the Horizon Scholarship as a way to provide students with important learning opportunities in practical work placements where they can gain firsthand experience in modern agricultural practices, access to industry leaders and professional development that will help on the pathway to their future careers," he said.
Caitlyn is one of 14 undergraduates with a passion for agriculture that have received a RIRDC Horizon Scholarship this year.
Australian elected vice-chair of International Plant Protection body
Australia's world-class expertise in plant health issues and standard-setting has been acknowledged with the election of senior Department of Agriculture official Lois Ransom as vice-chair of the governing body of the International Plant Protection Convention.
Agriculture minister Barnaby Joyce said Ms Ransom's election recognised the valuable contribution Australian expertise and engagement made to this important international forum.
"Our involvement in the IPPC is important in supporting international trade in plant products, while also protecting our industries and the Australian community from the spread or introduction of plant pests and diseases," Minister Joyce said. "This helps us maintain our enviable biosecurity status, underpinning our reputation as a reliable supplier of clean, green agricultural exports, as well as our unique environment and biodiversity."
Following Ms Ransom's election as vice-chair of the IPPC, Australia will assume the chair in 2016.
NSW Farmers award scholarships
NSW Farmers has awarded $20,000 in scholarships to five students seeking to advance careers in food and fibre production.
State Primary Industries Minister Niall Blair presented the scholarships at the NSW Farmers' annual conference in Sydney. Winners came from Narromine, Boorowa, Armidale, Coonabarabran and Wee Waa.
This year's recipients were studying education, physiotherapy, ag economics and business management. The scholarships recognise the achievement of students across a broad range of subjects and the different ways in which they are able to contribute to rural communities through their chosen field.
This year's scholarship recipients are:
Billy Browning (Narromine): Bachelor of Agricultural Economics – Sydney U
Charlie Coles (Boorowa): Bachelor of Agriculture/Business – UNE
Phoebe Wood (Armidale): Bachelor of Education (Primary) – UNE
Craig McGlashan (Coonabarabran): Bachelor of Agriculture/Business – UNE
Alice Grellman (Wee Waa): Physiotherapy (Honours) – U of Queensland.
Send your significant industry personnel movements, milestones or achievements for inclusion in this occasional column to: cath@beefcentral.com