Beef Central publishes an occasional list of recent significant appointments occurring across the red meat supply chain, both private sector and government. Details for submissions for future listings are provided at the bottom of this article….
Changes at the top for WA's Harvey Beef

Harvey Beef, Western Australia's largest beef processor, has a new operational head, following the retirement of chief executive officer, Mike Jackson.
Taking up the role of acting CEO from this month is experienced meat industry executive, John McKillop.
Mr McKillop will fill the role on a temporary basis until Harvey Beef's parent company, Harmony Capital, makes a permanent appointment. That process might take three to six months, Harmony chairman John Nicholls told Beef Central.
"We're in no particular hurry to make an appointment – we have a strong management team in place including COO Michael Hughes and others," Mr Nicholls said.
Mr McKillop has filled a number of senior management and board positions across the Australian beef supply chain over the past 15 years. He was commercial and southern group manager for Stanbroke Pastoral Co before joining Elders in 2004 as general manager for strategy and business development, including responsibility for the company's meat division.
He later spent four years as managing director of Clyde Agriculture from 2007. Last November he was elected to the board of Meat & Livestock Australia, and also sits on the boards of Dairy Australia and CS Agriculture, the new owner of Cubbie Station. He also served a term as a foundation director of Harvey Beef, representing the Elders company's interests.
Mike Jackson, a highly respected plant development and operations manager, retires after running Harvey Beef for the past four years. He will relocate to Queensland to join his family, where he previously managed the Valley Beef (later to become Stanbroke Beef) export plant in the Brisbane Valley.
Harvey Beef operates a large state-of-the-art processing plant 140km south of Perth. It also operates the Harvey Industries boning facility in Fremantle.
UNE students receive scholarships
The Keith Entwistle UNE Scholarships for 2013 were presented at the University of New England's scholarship presentation ceremony held recently.
The scholarships are funded by Agricultural Business Research Institute to students studying at UNE.
The two scholarships are named in memory of Keith Entwistle AM, a former ABRI director and great champion of education for rural and regional students.
The recipient of the Country Scholarship for 2013 was Kate Reid, a first-year student in the Bachelor of Animal Science Degree. Kate commenced her degree after attending Fairholme College in Toowoomba.
The recipient of the Honours Scholarship for 2013 was Jordan Hogg, a final year Bachelor of Rural Science student. Her Honours project is titled, "An economic assessment of non-compliance in grassfed cattle in South Australia."
The scholarships, each worth $6000 for three years, are for undergraduate and honours students respectively, studying at UNE in Rural Science, Agriculture, Animal Science or Agribusiness. The Honours scholarship is for students whose theses relate to beef cattle or genetics.
Victorian farmers benefit from new livestock production advisor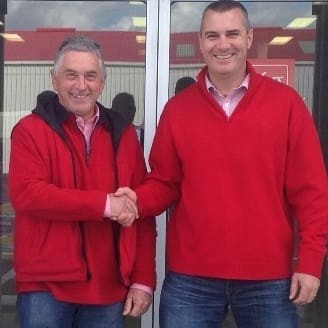 Elders is strengthening its livestock production services for producers across Victoria with the addition of new senior livestock production advisor, Gary Hallam.
Mr Hallam comes to Elders after 43 years with the Department of Primary Industries, and is renowned for his technical knowledge and production advice.
"Gary has a wealth of experience working with livestock producers, providing advice on farm planning, pest and disease management, cost of production, nutrition, and drought management," Elders national livestock production manager Robbie Neale said.
Elders' livestock production advisors assist primary producers to achieve increased on-farm productivity through simple and achievable advice.
"Gary and our team of livestock production advisors help producers to get more kilograms of meat from the same number of stock," Mr Neale said.
He said Mr Hallam would enhance an already strong livestock production team, giving clients across South Australia, Victoria, Riverina and Tasmania access to an Australia-wide network of industry best practice production support.
Based out of the Elders Horsham branch, Mr Hallam is now servicing clients across Victoria, from Mildura to Ballarat, and Kaniva to Bendigo.
"With the right advice and knowledge, the opportunities for primary producers to increase their productivity and profitability are enormous," he said.
JBS SA strengthens board
JBS SA, parent company of JBS Australia, has announced a new inductee to its board of directors. Accepting a board post recently was Tarek Farahat, currently president of the Latin American operations of global consumer products manufacturer, Proctor & Gamble. He also holds the presidency of the global Cash & Carry retail channel.
Mr Farahat started at P&G in 1989 as assistant brand manager for the Arabian Peninsula before progressing through various regional and global responsibilities in Switzerland, France, Germany, Venezuela and Brazil. He is renowned for his leadership qualities and is results driven, most recently demonstrated by the growth of P&G in Brazil.
A number of his achievements are used as reference material in courses at the University of Harvard in the US. Mr Farahat is also a director of the Brazil Arab Chamber of Commerce.
He will chair JBS's new Innovation and Marketing board committee, analysing and recommending strategies in the innovation and marketing department related to the consumer products category of the company, not only in Brazil but also globally.
New director for AGBU

Armidale's Animal Genetics and Breeding Unit (AGBU) has a new director, following the appointment of Dr Rob Banks, who replaces Dr Hans Graser, who retired at the end of last year.
AGBU, based at the University of New England, is responsible for the research and development behind Breedplan, the industry's objective genetic improvement program.
Dr Phil Wright, NSW DPI's chief scientific officer, said Dr Banks had an excellent reputation in Australia's cattle and sheep industries as a genetic innovator.
"His technical and communication skills will ensure AGBU continues to be the leading group for genetic evaluation in Australia and internationally," Dr Wright said.
Dr Banks, who spent 25 years as a senior R&D manager with Meat & Livestock Australia, said he looked forward to ensuring that Australia's livestock industries took full advantage of the genomics revolution.
"There will be significant challenges around ensuring that seedstock breeders, commercial producers and the community as a whole can obtain the full benefits of genomics R&D, and this area will be a key focus for me," he said.
A PhD graduate of UNE, Dr Banks has a long history in the genetic improvement of Australia's extensive livestock industries.
In the late 1980s he led the development of the genetic evaluation system for the Australian Meat Sheep industry.
Send your significant industry personnel movements for inclusion in this occasional column to: cath@beefcentral.com Key details should include who's been appointed; their job title and job description; who they have replaced (where applicable); where they worked previously; qualifications and past experience.