Beef Central publishes an occasional summary of appointments, departures and achievements occurring across the red meat and livestock supply chain. Send details for entries to admin@beefcentral.com
New chair for consumer watchdog ACCC
MLA MD takes mobile meat processing board role
Aussie takes on role as Global Roundtable for Sustainable Beef president
High profile agribusiness lawyer moves on
Bill Cornell awarded Angus Australia honour
MLA appoints new OS business development staff
A new national project for Beef Central's Al Rayner
Internal shift for MLA program manager
Rabo appoints new head of food and agri research
New chair for consumer watchdog ACCC
Respected competition lawyer Gina Cass-Gottlieb has this week started her term as chair of the Australian Competition and Consumer Commission, taking over the reins from highly respected Rod Sims, who has served in the position for the past 11 years.
Ms Cass-Gottlieb will become the first female chair of the ACCC since it was established as an independent statutory authority in 1995.
She has 25 years' experience across complex competition matters, and has been a member of the Reserve Bank of Australia Payment Systems Board that is the regulator of access to payment systems, and the Financial Regulator Assessment Authority.
"Gina is exceptionally well qualified and her broad experience across many industries will be an asset to the agency's work," ACCC chief executive officer Scott Gregson said.
Rod Sims started as ACCC chair in August 2011, and over his tenure successfully pursued much larger penalties for competition and consumer law breaches and undertook leading-edge digital platform reports and regulation.
"It has been an honour to be the chair of the ACCC, and I wish Gina all the best in her new role. I hope she will find the job as rewarding as I did," Mr Sims said.
"We look forward to a smooth transition given Gina's familiarity with our work and people, as well as the considered handover provided by Rod," CEO Scott Gregson said.
"The ACCC is a world-leading regulator with a high performing, capable and diverse team that is committed to the safety, interests and welfare of consumers and the maintenance of effective competition across the Australian economy," Ms Cass-Gottlieb said.
"This work provides important benefits to Australians. I start the role today fully aware of and ready for the responsibility that comes with leading the ACCC."
MLA MD takes mobile meat processing board role
Meat & Livestock Australia managing director Jason Strong has joined the board of mobile abattoir business service provider, Provenir.
Provenir was founded on a mobile slaughtering facility, designed to reduce pre-slaughter stress by processing cattle on-farm. Cattle are taken to dressed carcase stage, before being transported, chilled, to conventional boning and packaging facilities.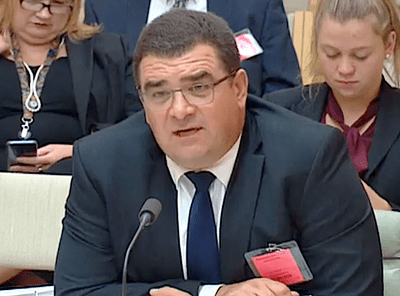 The company has since diversified, now also operating a home-delivery retail beef business serving customers in Melbourne and Sydney, and recently launching into the production of ready-to-heat meals, called Chef Series, produced out of a facility at Avalon. The value-added products are available online or via selected retailers.
"Jason Strong is a well-recognised and respected industry leader with extensive skills in business management and industry transformation, including administration, supply chain development, meat science, carcase grading, genetics and marketing as well as on-farm experience," Provenir said.
"It's exciting to be involved with Provenir," Mr Strong said. "The Australian red meat sector is in fantastic shape with both local and global demand and appreciation for our products. Innovation and connecting consumers to where their food comes from is key to our ongoing success and both of these are at the core of Provenir. I am looking forward to being part of the journey," he said.
The Provenir project has been heavily supported through agtech grants over the past three years.
Aussie takes on role as Global Roundtable for Sustainable Beef president
Ian McConnel has risen from a family cattle producing background near Esk and early career as an agricultural scientist and Queensland departmental beef extension officer to serving as a global leader of sustainability initiatives across the beef industry.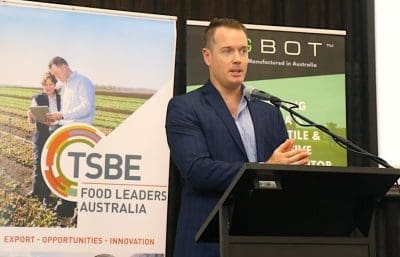 Mr McConnell is the director of sustainability for the international business unit of US beef giant, Tyson Foods, one of the world's largest protein companies, and last month was elected president of the Global Roundtable for Sustainable Beef. Before joining Tyson, he spent a decade as the World Wildlife Fund's global lead for livestock, supporting sustainable development for the beef industry across 22 countries.
As reported earlier, Mr McConnell addressed TSBE's Protein 2022 Conference in Dalby last week. He said Tyson had recently completed "a huge amount of consumer research" looking at how to create value out of the sustainable systems its farmers are putting in place.
The GRSB set the following three targets last year:
Reduce the global warming impact of beef by 30pc by 2030,
Provide cattle with a good quality of life and an environment in which they can thrive,
Ensure the beef value chain is a net positive contributor to nature (See more on the GRSB website here).
High profile agribusiness lawyer moves on
High profile Brisbane agribusiness lawyer Trent Thorne has moved to a new law firm.
After 17 years with McCullough Robertson, Mr Thorne resigned recently to become a partner of Hamilton Locke Lawyers, joining former colleague, Brett Heading.
At Hamilton Locke, he will continue his focus on providing advice to the corporate and private agribusiness community in relation to dispute resolution, regulatory, commercial, IP & technology, succession/estate planning and property-related matters.
The expanding agribusiness team at Hamilton Locke also includes ex-McCullough Robertson lawyers Pete Williams and Fran Becker, who will be working part of the time remotely from her cattle property near Roma.
Hamilton Locke is a new face on the Australian legal scene, but is quickly making its presence felt in the Queensland market under the leadership of veteran lawyer, Brett Heading, who has diversified agribusiness interests in the South Burnett. The firm has offices in Brisbane, Sydney, Melbourne and Perth with 200 staff nationally, and it is currently the fastest growing law firm in Australia.
Mr Thorne was admitted as a Life Member of the Rural Press Club of Queensland (the first non-journalist to achieve such an honour) last Thursday, having served as president for the past four years. He also remains busy on the corporate front, sitting on the boards of Beef Australia and the AAM Investment Group.
Bill Cornell awarded Angus Australia's highest honour
Frederick William (Bill) Cornell was awarded Honorary Life Membership of Angus Australia during a presentation at the ABS Beef Conference in Tamworth last week.
Mr Cornell was nominated in recognition of his contribution to the Australian Angus breed over the past 40 years in the areas of adoption and promotion of scientific advancements to assist breeders, technical development, youth development, stud breeding, pioneering commercial Al, advisory and board positions at state and federal levels and mentoring countless breeders.
Over the past 30 years, Mr Cornell has cemented himself as a leading promoter of Angus genetics globally through his roles at ARB, Alta and most notably in his role as Beef Product Manager for ABS Australia since 2005. Last year at the 2021 Annual NHIA Herd Improvement Dinner, he received the Laurie Wells award, recognising meritorious service to the Herd Improvement Industry for more than 40 years.
He had a passion in the driving of the Angus Youth Program in its formative years. He established St Pauls Angus, and eventually St Pauls Genetics, playing an integral role in opening the global genetics channels and providing a leap in global genetic accessibility and distribution to the Australian Angus sector.
Mr Cornell became a member of the NSW State Angus Committee, and in 1995 was elected to the Council of Angus Australia, on which he served until 1998. As a Councillor, Mr Cornell contributed strongly to the development of the inaugural Angus Australia Strategic Plan and the new and revised Angus Australia Regulations. His knowledge and passion for the breed, its bloodlines, major American Angus Association contacts, technologies and key Angus beef markets made him a valuable contributor to Council policy and strategy.
In 1995, Bill was a part of the committee which developed and ran the Annual Angus Youth Roundup and assisted with instigating the Trans Tasman and re establishing the Michigan State University Scholarship. He also served time as chairman of the Angus National Show and Sale Committee.
MLA appoints new OS business development staff
South-East Asia and the Middle East have gained prominence in recent years as critical export destinations for Australian red meat. In response, MLA has recently appointed three new business development managers (BDMs), based in Saudi Arabia, Vietnam and Thailand, to capture the emerging opportunities in these markets.
MLA has been working towards establishing a presence in the Saudi market for some time, to take advantage of the rapidly evolving social, economic and cultural scene. It has a long history of agricultural trade with Australia as our largest beef market in the Middle East.
However, the demographics are changing, and the young, literate and highly-connected Saudi population is increasingly seeking out high-end food and restaurant options.
Jad Hedwane has been appointed as MLA's new BDM for Saudi Arabia. Jad's background is in sales and marketing, and he has a passion for meat. Professionally, he spent three years on high-end Australian meat brands and, on a personal level, he is a keen cook who enjoys exploring new recipes.
Jad says there is strong loyalty to Australian beef and lamb among Saudi consumers.
"They always ask for Australian meat to cook at home, so they can feel like they're using something special," he said. "They see it as a luxury product."
He sees great opportunities in some of the innovative projects that are underway, especially in the Red Sea and Western regions, and in Riyadh.
Two other countries showing great promise for Australian producers are Vietnam and Thailand. With a growing middle class, red meat consumption is increasing, so MLA, with the support of the Federal government, has embarked on a project to grow the industry's presence in the market.
Huong Tran, BDM Vietnam, comes to MLA with 10 years' experience in sales and marketing for distribution companies. She sees the potential for Australian red meat to capitalise on the positive perception among Vietnamese people of Australian products.
"Compared to the other countries, we should have a very strong competitive advantage here, because Vietnamese people love Australian products," Huong said. "They see them as very natural, so there is potential for Australia to build up the brand as premium and high quality."
"There is also a trend is now for people to purchase online, so e-commerce is an approach we can use through social media platforms. I think now the demand for the Australian red meat will just increase."
Juthamas (Cat) Kaewnoi is MLA's new BDM based in Thailand. Cat comes from sales and trade marketing functions within multinationals Fonterra and Unilever. While she is new to red meat (her background is in dairy), she recognises the huge opportunities the Thai market presents, despite some cultural challenges.
"Beef is a staple in Thai cuisine all over Thailand," Cat said.
"Consumers enjoy eating beef, particularly because of Japanese cuisine trends, and also the taste of the fat content of Wagyu. They are taking sukiyaki, teppanyaki and barbeque, and fashioning them into Thai-style dishes. Beef is trendy and much loved by the entire Thai family, so high-quality beef is in very high demand."
A new national project for Beef Central's Al Rayner
Beef Central's genetics columnist Alastair Rayner has taken on a new part-time contract role with Cibo Labs, to work as the National Extension & Adoption Manager for the National Feedbase Monitoring Project.
A partnership between Cibo Labs & MLA (click here to view earlier story), the project is focussed on developing and making access to satellite images of pasture growth for every Property Identity Code (PIC) holder in the country. The images are updated weekly, and work on a 30 day rolling average, which will offer individual land managers the chance to see what their property feedbags is doing.
The intention will be for producers who have a NLIS/LPA account to be able to access their property through the MyMLA portal.  Their information will be secure and visible only to them.
"There are many people already using the Cibo Labs PastureKey product, and are able to take their updates down to paddock updates," Mr Rayner said. "They can link this to farm management software such as AgriWebb and there are already some operations using the CERES tags as well as the paddock info to see what their mobs are doing. I think this is an exciting project, and I see a lot of value for my clients," he said.
Mr Rayner will continue with his other beef herd management consultancy work and his weekly column with Beef Central.
Internal shift for MLA program manager
Hayley Robinson has taken on a new role within Meat & Livestock Australia, starting this month as program manager for research & insights with the Integrity Systems Company.
In this role Hayley will work to find solutions to continue to support the red meat industry to be leaders in traceability and supply chain integrity into the future.
Previously she worked for two years as MLA's program manager for regional consultation to identify, prioritise and recommend investment into research, development and adoption programs.
Prior to that she worked as Meat Standards Australia operations manager and spent two years between 2015 and 2017 as supply chain & logistics coordinator with the Bryansk Meat Co in the Bryansk Region of the Russian Federation.
Rabo appoints new head of food and agri research
Rabobank last month announced the appointment of Stefan Vogel as general manager of its food and agribusiness research division, RaboResearch, in Australia and New Zealand.
Mr Vogel takes on the role after more than seven years with Rabobank in London, where he held two concurrent global positions with the bank – Head of Agri Commodity Markets Research and Global Grains and Oilseeds Sector Strategist. In his new Sydney-based position, Mr Vogel leads the Australian and NZ arm of the agribusiness bank's global food and agricultural research division, RaboResearch.
RaboResearch comprises a team of ten specialist agri commodities analysts, who are part of a network of 75 research analysts worldwide focussed on providing comprehensive, leading-edge food and agribusiness research for the bank's clients.
Announcing the appointment, Rabobank Australia & New Zealand regional manager Peter Knoblanche said Mr Vogel brought a wealth of knowledge and experience in the global food and agricultural industries to his new role.
"The bank is fortunate to be able to benefit from Stefan's international perspective, combined with a strong background in leading teams to consistently deliver valuable, business-focussed sector and commodity research for clients around the world," he said.
"In his new role, he will work to support and strengthen the Australian and New Zealand RaboResearch team as they provide market-leading knowledge and insights to our rural and wholesale clients in the region."
Mr Vogel – who takes over his new role from Tim Hunt, who left the bank last year – has close to 20 years' experience working in the international food, agribusiness and trade industries. Prior to joining Rabobank, he worked for more than a decade in strategy and market research positions with international agribusiness Archer Daniels Midland, including in the US as Director Market Research & Business Analytics and in Germany as Head of Economics Department.