Beef Central publishes an occasional summary of appointments, departures and achievements occurring across the red meat and livestock supply chain. Send details for entries to admin@beefcentral.com
Admired QLD processing veteran Pat Nolan passes away
AMPC board elevates Chris Taylor to CEO role
Top chef joins Casino Food Co-op to drive innovation
New manager for MLA Middle East/North Africa region
New faces on National Wild Dog Management Committee
Young guns driving lamb genetics to new levels
Admired QLD processing veteran Pat Nolan passes away
Much admired southern Queensland processing industry identity Pat Nolan, the founder of the successful Nolan Meats business, passed away Monday.
A proud, lifetime Gympie resident and businessman, Mr Nolan was born in Gympie on 1 October 1929. He passed away peacefully, surrounded by his family, in the hometown in which he was born, loved, lived and promoted.
Pat used to often proudly quote one of his late mentors Herb Abdy, saying, "There is nothing flat about Gympie" referring not just to the terrain, but the calibre of people claiming links to it. Pat put his life's work into the meat retailing trade and meat processing. He and his Marie, who pre-deceased him were the founders of iconic Queensland business Nolan Meats Pty Ltd.
As a young lad, Pat worked with his father in a small joinery shop before leaving school and then briefly on a Mary Valley banana plantation, before taking up an apprenticeship at a Gympie butcher shop in 1945.
Here he found his passion, and consequently the foundation of his business life. After completing his apprenticeship, he worked for several butchers in Gympie, developing quite a reputation as a great butcher with all the wit and personality that saw his customers follow him from shop to shop.
In 1957, aged just 28, he was offered a partnership by butcher Eric Herbert at his Duke Street shop. Finances were tight, so Pat offered the deeds to his partly-built home as collateral to assist in the purchase. It was all he had. It wasn't long before he reached that 'now or never' moment and decided to go out on his own creating Pat Nolan Butchery, at 83 Mary Street Gympie in February 1958.
Being the visionary and innovator that he was, in 1963 he purchased a small slaughter-yard outside town on East Deep Creek Road, so he could slaughter his own cattle for his shop. This was not uncommon in those days, as the Gympie district boasted about 14 small slaughtering establishments around that time.
Always driven by the consumer and the desire to please the customer, he also started an intensive piggery on the slaughter-yard site to supply locally grown pork to his busy butcher shop.
Over the years, and under the guidance in recent times of his three sons Tony, Michael and Terry, Nolan Meats has grown into a regional Australian business powerhouse, employing 500 staff and sending grain-finished boxed beef across eastern Australia and around the world.
His son Terry said, "Pat had this thing, right up until his last days, where he would say, 'Did you get that locally?' It wouldn't matter whether it was a bricklayer to assist in building, a fabricator to bend some steel, fuel to fill a truck; he wanted to support locals first. He liked to patronize businesses where the owners had their name above the door and the owners or family worked in the business."
As further opportunities arose, Pat purchased two more butcher shops in Gympie and ironically one of those was the very shop in Duke St that he started out in as a partner.
Apart from his noted appreciation for hard work, he was a thinker and an innovator, spending many late nights in his workshop trying make a new bit of equipment from an idea he had gleaned from somewhere and wanted to just, 'better it'.
He tried to pass this innovative spirit on to his family and the many trainees or apprentices he coached by his little sayings with the favourite one being, "There is no such word as can't." This would commonly follow on from, "use a bit of bloody gumption" or "come on – get in amongst it and you won't be so far away." He gave everything his full commitment once he started a project.
For all his success, Pat was marked by his humble nature and always happy to be the man in the background. In the era when staff Christmas parties were celebrated in the work place, one of the key customers was chatting to Pat and questioned how he managed to keep all three sons interested in the business and combine their different skills.
Pat simply replied, "I stand behind the shed." Physically, he was behind the shed welding some new contraption, but metaphorically always there if he was needed to bounce an idea off.
While his strong Catholic faith was central to his values and family life, being part of the social and business community was also very important to Pat. He dedicated many hours of community service to the Gympie Rotary Club over his 50 years of membership. Likewise, he always had time for his mates and anyone who wanted a chat over a beer at the RSL Club, local pub or Gympie Turf Club.  No one was surprised when later that night he would encourage those surrounding to sing an Irish tune with him; no musical accompaniment required.
Pat's health hadn't been the best since the passing of the love of his life, Marie, in September 2018. He spent his last days in aged care. He would always look forward to and cherish the visits from his six children Michael, Clare, Tony, Terry, Mary and Helen and his grandchildren.
As frail as his body was towards the end, his mind was still alert and he would always want to go for a drive to check on the pasture, the cattle, a look at the meat processing facility or feedlot and commonly point out something that was out of place or had changed since last visit.
In a lighted-hearted moment some years ago, Pat was questioned if there was to be an inscription on his tombstone, what wording he would like. He thought for a moment and then said just three words, "He tried hard."
People who new Pat would probably agree with that choice of words. He tried hard; he gave his best, in a life well lived.
A Requiem Mass will be celebrated at St Patrick's Catholic Church, Church St Gympie on Tuesday 6 April at 1pm. Due to COVID restrictions, mourners are asked to register their interest in attending at pat@nolan.com.au
AMPC board elevates Chris Taylor to CEO role
The Board of the Australian Meat Processor Corporation has announced the promotion of Chris Taylor to the position of chief executive officer.
The appointment reflects the success that Mr Taylor has had in strengthening the operations through results and value to levy payer members of AMPC over the past 18 months.
Mr Taylor, who joined AMPC in 2016 as finance executive, was appointed executive general manager in October 2019, replacing Peter Rizzo.
AMPC chairman John Berry said Chris had performed well leading the AMPC team since 2019 including a strategic reset and refocus of the organisation. His key achievements have included driving commercially focused co-innovation between AMPC and its members, and building stronger relationships with the industry's advocacy body, the Australian Meat Industry Council, the Federal Government, and Meat & Livestock Australia.
"In light of his commitment and efforts the board felt it appropriate that his title be changed to reflect his achievements and increasing responsibilities," Mr Berry said.
"Red meat processors are a critical part of the red meat supply chain and we look forward to seeing how Chris and the team continue to help us improve our competitiveness through focussed and relevant research, innovation and strategic policy research."
Prior to joining AMPC, Mr Taylor spent seven years with resources giant Glencore. He is a Chartered Accountant and graduate of the Australian Institute of Company Directors (AICD) Company Directors course, and currently serves as a Director of the National Meat Industry Training Advisory Council (MINTRAC).
AMPC is one of 15 rural and research development organisations focused on investing in strategic programs to deliver benefits for red meat processors and the Australian community. Its programs are funded by processor levy payers, private contributions, and the Australian Government.
Top chef joins Casino Food Co-op to drive innovation
Talented international chef and value-added product developer, David Carew, has joined the team at the Casino Food Co-op in the role of business development manager.
Mr Carew will be well known to many Beef Central readers, having worked as executive chef and supply chain specialist with Meat & Livestock Australia for some years.
He joins the Northern Cooperative Meat Co's Casino Co-op team after returning from an eight-year hiatus working in Asia.
He first worked in the meat industry with Midco, a former meat processing plant and co-operative near Macksville Northern NSW where his background in food saw him earn multiple industry innovation awards.
David was the further processing manager for the famous Midco Black, arguably Australia's first branded beef product to hit the food service markets in the 1990's, that was to become the benchmark for quality and consistency at that time.
He went on to build further processing facilities in Australia and overseas and from his base in Singapore, has worked extensively throughout Asia in recent years in retail and food service markets.
"We're excited to have David join our company and look forward to him adding his diverse expertise and experience to our team," said The Casino Food Co-op chief executive, Simon Stahl.
"David is excited about being back in Australia and is looking forward to applying his skill set and learnings from Asia," he said.
NCMC was recently rebranded as Casino Food Co-op in a bid to differentiate its offer and service to the red meat supply chain. In the last couple of years the business has grown retail and food service sales in both the domestic and international markets. This growth will be pivotal to strategically developing its core business while providing an array of opportunities to its stakeholders. This year the company launched its plans to build a $5 million extension to the existing building with a purpose-built further processing plant. The company will endeavour to provide a service operation to retail and provide its many stakeholders and customers with further processing capabilities.
New manager for MLA Middle East/North Africa region
Sam Gill has been appointed to the position of Meat & Livestock Australia's regional manager for the Middle East & North Africa (MENA) region, having performed the role on an interim basis for the last few months.
After joining MLA in 2004, Mr Gill held a number of roles across the industry service delivery company, principally in beef and sheep genetics and later, digital strategy and business development. He moved into the International Markets team in October 2017 as the business development manager based in Dubai.
Since then, he has developed and delivered the MENA annual market implementation plan, managed external agencies to support and deliver consumer marketing and business development activities across MENA region, as well as developing relationships across trade, food service, retail and consumer sectors with more than 60 accounts in eight  different countries.
One of Mr Gill's many highlights was developing and launching Ramadan Lamburger with the Wendy's quick service restaurant chain in the Middle East.
New faces on National Wild Dog Management Committee
The National Wild Dog Management Coordination Committee, chaired by producer representative Geoff Power from South Australia, plays an important role directing wild dog management policy and research priorities. The committee includes representatives from peak livestock industry groups, the Australian Government's Department of Agriculture, state primary industry departments, leading ecologists and producers.
This month, the committee welcomes three new members: Sarika Pandya representing Cattle Council of Australia, Mike Darby, National Farmers Federation and John Rolfe, NSW Farmers.
Geoff Power welcomed the new members and said the committee looks forward to their valued contribution. "We are fortunate to have such a broad cross-section of highly skilled representatives, many of whom are leaders in their fields," he said.
Mr Power also highlighted the contributions of outgoing committee members: Justin Toohey, representing CCA, Craig Mitchell from NSW Farmers, and Adrienne Ryan, NFF.
"We thank them for their time and their contribution to maintaining wild dog management as a key priority for land managers and biodiversity protection," he said.
John Rolfe – As a sheep and cattle farmer from Nerriga in south east NSW, John has a first-hand understanding of pest animals and the problems they pose to farmers, the rural community and Australia's biosecurity. He has been active in wild dog control groups around the south east for many years and is the farmer representative on the South Coast Wild Dog Management Plan and President of the Nerriga Wild Dog Association.
Mike Darby – Mike joined the NFF in 2020 as the general manager of Rural Affairs and has held several senior policy positions across the agricultural sector, specialising in industry policy, research and trade analysis. He brings a comprehensive knowledge about Australian and international agriculture to his role on the committee.
Sarika Pandya – Sarika is the Animal Health, Welfare and Biosecurity Officer at Cattle Council of Australia. She joined CCA this year from Animal Health Australia where she developed experience in emergency disease preparedness and response. Her interest in agriculture was sparked while completing a Bachelor of Veterinary Bioscience from Sydney University. Prior to working in the agricultural industry, Sarika worked at the Australian Centre for Wildlife Genomics and at the Taronga Zoo Wildlife Hospital.
Young guns driving lamb genetics to new levels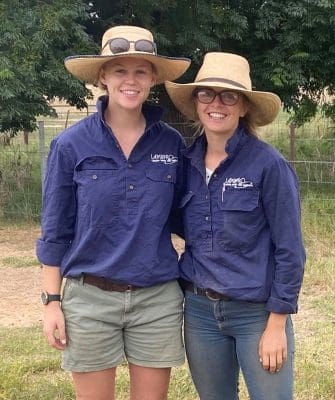 Every now and then along comes a story that really breaks the mould in a positive way. Think of some of Australia's must influential stud breeders and chances are the stereotypical image of an older male stud master (replete with tweed coat!) will first come to mind.
But that is indeed far from the case at the Bull family's Lambpro business headquartered at Holbrook in southern New South Wales. In news we learned this week Rozzie McKenna, the recent winner of the Zanda McDonald award, has just been promoted to Operations Manager, while Georgia Cluff, who was previously a supervisor at Riverlea Pork before joining Lambpro, has been promoted to Breeding Manager, coordinating the joining and recording of over 11,000 seedstock lambs this season. That's 11,000.
If readers don't know much about Lambpro, as those numbers confirm, it is one of, if not the, biggest sheep seedstock businesses in Australia (you can read some more background here). In effect the two highly educated women in their 20s are now among the most influential stud breeders in the country. Lambpro principal Tom Bull said the promotions were both very well deserved and in his view reflect just how quickly the stud sheep industry has changed. Exciting times indeed.