Beef Central publishes an occasional summary of appointments, departures and achievements occurring across the red meat and livestock supply chain. Send details for entries to admin@beefcentral.com
New-look board for Sustainability Steering Group
JBS appoints global CEO
Leading geneticist recognised
New directors for Animal Health Australia
Safety award to CQ's Piggott family
Ag graduate wins coveted international study award
2018 Farrer Memorial Medal
New-look board for Sustainability Steering Group
Five new members have been appointed to the Sustainability Steering Group (SSG), to drive implementation of the Australian Beef Sustainability Framework.
Red Meat Advisory Council chair Don Mackay said the new members of the expanded SSG brought a range of skills and experience to the group, representing different sectors and geographic regions of the beef industry.
The new members join newly-appointed SSG chair, Tess Herbert, the immediate past president of the Australian Lot Feeders Association.
More than 40 applicants applied for the positions under the expressions of interest process. Mr Mackay said the high number and calibre of the applicants demonstrated increasing industry awareness and support for the Australian Beef Sustainability Framework.
"The ABSF shows customers, consumers, governments and investors that we're committed to continuously improve how we care for animals, natural resources and the people who work in the industry and who consume our beef," Mr Mackay said. He said the new SSG members had knowledge of the Framework themes of animal welfare, economic resilience, environmental stewardship, and people and the community.
The incoming SSG members include:
Carl Duncan: Group manager resource efficiency at Teys Australia
Melinee Leather: Central Qld beef producer and previous chair of CCA's animal health & welfare & biosecurity committee
Stephen Moore: General manager corporate and commercial at North Australian Pastoral Co
Trevor Moore: Group systems and compliance manager at the Northern Co-operative Meat Co
Jenny O'Sullivan: Victorian beef producer, agritourism operator and chair of the Southeast Victoria and Tasmania regional committee of the Southern Australia Meat Research Council
The new SSG are responsible for progressing the Framework, including addressing data gaps; refining some sustainability indicators; delivering the next Framework annual update in May 2019; and communications related to the Framework and continuing to provide advice to RMAC on sustainability matters.
Mr Mackay thanked former SSG chair Bryce Camm and outgoing SSG members Jim Cudmore and Tony Hegarty for their commitment to progressing the Framework. The new members join existing SSG members Greg Campbell, Susan McDonald, Kim McDougall and Dr Michael Maxwell.
JBS appoints global CEO
Global meat processor JBS has appointed Gilberto Tomazoni as the company's global chief executive officer. He replaces JBS's founder, José Batista Sobrinho, who earlier stepped back into the role after his sons Wesley and Joesley Batista were imprisoned by Brazilian authorities over bribery and corruption allegations.
Mr Tomazoni has been an executive at JBS since 2013 and has more than 35 years' experience in senior positions in the global food industry. For the past year he has been the company's chief operating officer, during which time he was directly involved in JBS's global business strategy.
"Mr Tomazoni lives the company's culture and has a deep knowledge of our business worldwide," Jose Batista said. "As chief operating officer, he led JBS operations with great success and, from now on, will lead the company in a new phase of its development," he said.
"Together with an outstanding team of 230,000 employees around the world, I will be dedicated to consolidating JBS as a global food company, recognised for its unique business model and the quality, safety and innovation of its products and brands," Mr Tomazoni said in a statement.
"My commitment is with our company's reputation and the integrity of our relationships. And, through a relentless attention to transparency, governance and compliance, I want JBS to become a global benchmark," he said.
José Batista Sobrinho was the first president of JBS, a company he founded in 1953, and remains a member of the company's board of directors, a position he has held for more than 10 years.
Mr Tomazoni joined JBS as global president of the poultry business in 2013, after an earlier management career in the food and ingredient businesses in Brazil. He subsequently led the establishment of JBS's Seara Alimentos division as CEO. In 2015, he was named president of JBS's global operations and, since 2017, has served as the company's global chief operating officer.
Leading geneticist recognised
Leading cattle industry geneticist Prof Ben Hayes has been named in the world's top one percent of most influential researchers for agricultural sciences in 2018.
The 2018 Highly Cited Researchers list identifies influential researchers, as determined by their peers around the globe – those who have consistently won recognition in the form of high citation counts over a decade.
Professor Hayes is the co-inventor of genomic selection and has extensive research experience in genetic improvement of livestock, crops, pasture and aquaculture species. His current focus is on integration of genomic information into breeding programs, including the Northern Beef Genomics Project.
Placement on the Highly Cited Researchers list is recognised as a significant achievement. This year's list continues to recognise researchers whose citation records position them in the very highest strata of influence and impact and includes 17 Nobel laureates.
New directors for Animal Health Australia
Two returning directors and one fresh face have joined the board of Animal Health Australia (AHA).
Directors Paula Fitzgerald and Sharon Starick have returned to the board for another term, joined by new board member Catherine Cooper. Ms Cooper has demonstrated a passion and longstanding commitment to the agriculture, agribusiness and aquaculture sectors, combined with experience and a thorough understanding of the role played by directors. She has held a number of positions with regards to fisheries management, as well as a position with Australian Eggs and Beston Global Foods, which own dairy production assets.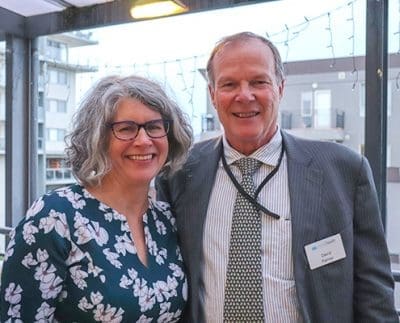 The three candidates were endorsed by AHA's members – consisting of the Australian Government, state and territory governments and national livestock industries – at the company's recent annual general meeting, following recommendations made by an independent selection committee.
AHA chairman, Peter Milne said Ms Cooper brought with her a wealth of experience as a non-executive director across agriculture, agribusiness and aquaculture.
Also during the AGM, AHA farewelled David Palmer (pictured above right with CEO Kathleen Plowman), who has sat on the board since 2011.
"Mr Palmer has been a great supporter of the livestock industry and significant contributor to agriculture. He has been a valued part of AHA for many years," Mr Milne said.
Safety award to CQ's Piggott family
As outlined in this earlier Beef Central story, the Piggott family from Christmas Creek Cattle Co in Central Queensland recently earned a state-wide business award for workplace health and safety.
Bradley and Kerryn Piggott earned the Queensland Government's Safe Work and Return to Work award for 'Best solution to an identified work health and safety issue'. The Piggotts were acknowledged for their innovation in utilising a some large culverts to move cattle across a busy highway that bisects their property, near Rolleston.
Ag graduate wins coveted international study award
An article on Beef Central about the BBM Youth Support Awards prompted 21-year-old ag science graduate Annabelle Butler to apply for the international award – and she won.
Last month at Parliament House, Sydney, Brisbane student Annabelle Butler was recognised with the international award. A recent graduate with a dual degree in Applied Science (majoring in Animal Production) and Agribusiness, Annabelle stood out among the applicants for the scholarship through clear career development goals, a keen eye for industry trends and commitment to her community.
She is one of five awardees in the category of agriculture to receive an $8000 award from not-for-profit organisation BBM Youth Support to travel overseas and gain international industry experience in their chosen field.
"BBM Youth Support Awards give future industry leaders the opportunity to work, study and grow both professionally and personally through international work experience," says Melanie Stray, CEO of BBM Youth Support.
The BBM judging panel recognised Annabelle as an extraordinary young professional with ambition and industry leadership potential well beyond what one would expect from young people their age.
"I aspire to manage a large-scale beef enterprise with focus on low stress stock handling. The BBM Youth Support Award is an opportunity for me to develop personally and professionally," Annabelle said. "I want to further my understanding on low stress stock handling and the potential of breeding cattle for temperament, while learning about the best wholesale supply chain practices in the US," she said.
The BBM Youth Support Award is designed to be a self-directed learning experience to give young people a chance to not only improve their professional development, but to grow in confidence and build their own aspiration for the future. Awardees bring this knowledge back to inspire others in their community to build a better future for Australia.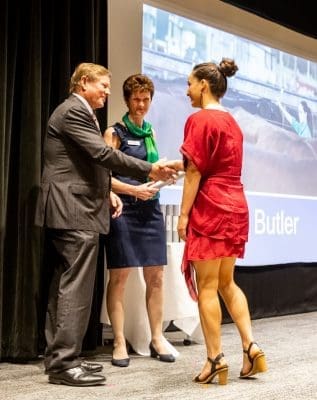 BBM Youth Support CEO Melanie Stray said these kind of development opportunities were all too rare for young people in Australia.
"We believe that successful young people create more opportunities for themselves and others, and we know that these award experiences help young people grow both personally and professionally," she said.
The BBM awards have been running since 1983, with the growing alumni of recipients having brought back skills and new perspectives to Australia, inspiring other young people to go out and fulfil their potential.
"This ripple effect will help Australia have a better future, and I'm proud to be a part of this," Ms Stray said.
BBM Youth Support offers awards in agriculture, horticulture, trades and the performing arts. To learn more visit bbm.asn.au
2018 Farrer Memorial Medal awarded to Dr Reg Lance
The 2018 Farrer Memorial Medal has been awarded to Dr Reg Lance, in recognition of his work in barley breeding and genetics.
NSW DPI deputy director general for agriculture, Kate Lorimer-Ward, presented the prestigious medal on behalf of the Trustees of the Farrer Memorial Trust.
"I congratulate Dr Lance, a worthy recipient in recognition of his dedication and contribution to research in feed and malting barley breeding and genetics," she said.
Dr Lance's career has covered all aspects of improvements in yield, agronomic performance, feed and malting quality, plant pathology, and adaptation to abiotic stresses. His career has spanned continents, universities and government departments, including US and Denmark, University of Western Australia, Murdoch University, University of Adelaide and University of Queensland.
This has included supervising or co-supervising nine PhD students, further contributing to the research within this area of agriculture.
The Farrer Memorial Medal is awarded annually to commemorate William James Farrer, Australia's leading wheat breeder, in recognition of distinguished service in agricultural science and contribution to Australia's cropping industries.
As part of the Award, the medallist delivers the Farrer Memorial Oration. Dr Lance's oration, titled "Another Man's Life with Barley", touched on barley breeding and varieties, current research and future directions.