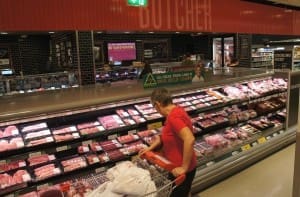 The response by major supermarket retailers to Australia's free trade agreement with China and proposed changes to competition policy in Australia make interesting reading when placed side-by-side, and highlight the contradictions in the messages they attempt to convey to the general public.
On the one hand the retailers argue that they do not have excessive market power and hence that changes to competition policy are unwarranted, yet on the other hand they are prepared to boast to consumers that they will hold down food prices, despite the extra demand created by the Australia-China Free Trade Agreement. Perhaps someone should remind them that you can't have it both ways.
Australia's major supermarket retailers have long argued that there is no need for changes to Australia's competition policy, and that even though just two companies hold in excess of 70pc of the market and are amongst the largest supermarket retailers in the world by turnover (despite Australia only having 23 million people), any changes to competition policy in Australia would reduce competition and impose extra costs on consumers.
These arguments have been amplified in recent times, with both major retailers ramping up their corporate communications resources and making repeated warnings about the extra costs that consumers will face if competition laws are changed. (see here and here).
Yet at the same time, one of the major retailers has come out and made the claim that the extra demand for food products that is anticipated to arise from the Australia-China Free Trade Agreement will not result in an increase in food prices in Australia, because "we wont be lifting prices". The implications of this statement – if it is a statement of fact rather than a boast to consumers – is that the major retailers can unilaterally determine the prices they pay their suppliers and ultimately farmers in Australia.
Effectively, the statement confirms that the retailers believe it is they who set food prices in Australia, rather than the normal market forces of supply and demand – and especially in the case of an open market like Australia – international supply and demand.
Ultimately, the retailers can't have it both ways. Either competition laws are working well in Australia, and food prices rise and fall depending on market forces such as supply and demand, or the major retailers have excessive market power and can use that to reduce the farmgate returns for Australian farmers.
If the latter reflects reality (as the retailers claim) then there is a strong argument to the effect that the potential economic growth of the Australian agriculture sector is being stifled by the major retailers to the disadvantage of all Australians and especially regional Australians, and that there is a real need for some moderation of the market power able to be exercised by these two organisations.
No doubt both retailers will continue to argue that competition law changes are not required, and that while the major retailers may hold market power, they do not misuse it. This is certainly the claim that they have regularly made over recent years – especially in response to claims they were abusing their market power in their commercial relations with their suppliers.
Interesting the retailers have tried to have it both ways on this issue of recent times as well, with the Coles Chairman stating to shareholders that "There is no doubt Coles has made some mistakes in the past. Since the investigation started Coles has taken many steps to seek to avoid similar problems in the future." This apology seems a little at odds with the claim that they have never, and would never misuse their market power!
This article was originally published on the Australian Farm Institute website. To view original article click here