NSW Farmers Biosecurity Chair Ian McColl has criticised politicians and pundits stoking outrage about foot and mouth disease, saying it is a serious issue that needs unity, not division.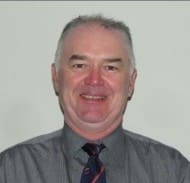 The Balinese outbreak of FMD – a highly-infectious disease that could cost Australia $80 billion – is rightly concerning, Mr McColl (righ) said, but he warned cheap politicking was counter-productive.
"I see some people out there using this outbreak as a weapon to further their own ends, and frankly it's pretty disappointing," Mr McColl said.
"Farmers have argued for stronger, sustainably-funded biosecurity systems for years – this isn't something that's just happened overnight.
"What Australia needs is all levels of government and all members of the community to come together and keep this disease out. Fanning the flames of fear will not help one little bit."
According to the World Organisation for Animal Health, FMD is endemic throughout much of Asia and in most parts of Africa and the Middle East. There is a risk that trade or travellers to any of these countries could bring FMD into Australia, Mr McColl said, which was why it was so important to have strict biosecurity controls at our border.
"Last week we saw FMD fragments detected that didn't come from Bali on a tourist's thongs, they came in meat products from Asia," Mr McColl said.
"Those people out there suggested we need to slam shut travel to Indonesia don't understand that would only give a false sense of security, which could actually increase the risk of FMD coming from elsewhere.
"We have strongly advocated for the federal government to boost screening and put foot baths at our airports, the state government has boosted biosecurity funding, now it's up to all of us to do the right thing and stop spreading fear and rumour."
BACKGROUND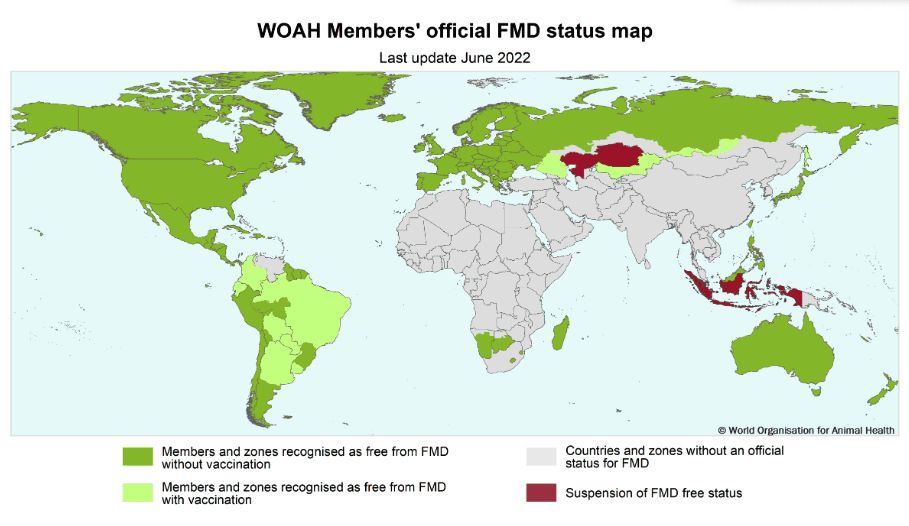 This map showing where FMD can be found around the world is available from the World Organisation for Animal Health can
be found at this link
Countries in grey are considered to have FMD
From World Organisation for Animal Health:
Foot and mouth disease (FMD) is a severe, highly contagious viral disease of livestock that has a significant economic impact.
The disease affects cattle, swine, sheep, goats and other cloven-hoofed ruminants.
FMD is characterised by fever and blister-like sores on the tongue and lips, in the mouth, on the teats and between the hooves.
The disease causes severe production losses, and while the majority of affected animals recover, the disease often leaves them weakened and debilitated.
It is a transboundary animal disease (TAD) that deeply affect the production of livestock and disrupting regional and international trade in animals and animal products.
The disease is estimated to circulate in 77 per cent of the global livestock population, in Africa, the Middle East and Asia, as well as in a limited area of South America.
Countries that are currently free of FMD without vaccination remain under constant threat of an incursion.
Seventy-five percent of the costs attributed to FMD prevention and control are incurred by low income and lower-middle income countries.
From NSW DPI:
The emergence and rapid spread of FMD in Indonesia has led to the implementation of heightened alert and screening activities at the Australian border by the Department of Agriculture, Fisheries and Forestry
Indonesia had been free from FMD since 1986 and the May 2022 detection brings the disease the closest it has been to Australia since that time
It is critical that all livestock owners know the signs of FMD, and check their animals for them regularly
If you suspect FMD in any animal in NSW, report it immediately to the Emergency Animal Disease Watch Hotline, 1800 675 888
Veterinarians undertaking FMD Field Investigations can submit samples to the NSW Animal and Plant Health Laboratories at DPI Elizabeth Macarthur Agricultural Institute for testing
It is recommended that people who have been in contact with FMD-infected animals or infected areas DO NOT visit Australian farms, livestock facilities, or handle livestock for at least seven days after returning to Australia.
It is critical that all livestock owners here in Australia know what FMD looks like, and that they check their animals regularly. If you suspect any signs of FMD it must be reported to the Emergency Animal Disease Watch Hotline on 1800 675 888 or a local veterinarian immediately.
Source: NSW Farmers