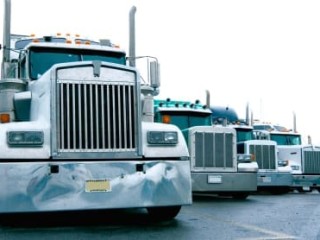 An in-depth examination into the feasibility of introducing a volumetric livestock loading scheme for New South Wales was announced by acting Premier Andrew Stoner today.
Speaking at the Northern Co-Operative Meat Company in Casino this morning, Mr Stoner said NSW was the only state in Australia without a volumetric livestock loading scheme, meaning its producers, livestock carriers, abattoirs, feedlots and saleyards had to pay higher freight costs compared to competitors in Queensland, Victoria and South Australia.
He said his Government was prepared to explore every option available to help increase the state's road freight productivity, including volumetric livestock loading.
."Successive city-centric state Labor Governments turned a blind eye to the migration of meat and livestock businesses out of NSW and failed to investigate how road freight policies affected the industry," Mr Stoner said.
According to the Northern CoOperative Meat Co, a 26-metre long B-double truck in Queensland could load approximately 66 to 72 head of cattle, while the same sized truck in NSW could load only 56 to 60 head.
That 15pc reduction in efficiency equated to about an extra 200 truck movements on NSW roads each year, Mr Stoner said.
"When it's considered that on average, a B-double truck loaded with cattle travelling from Central Queensland to Casino costs up to $3500 each trip, the negative impacts on freight costs and productivity for NSW businesses, and added 'wear-and-tear' on our roads quickly becomes apparent," he said.
The key industry body representing livestock and grain carriers using NSW roads, the Livestock and Bulk Carriers Association, applauded the announcement.
LBCA president and NSW carrier Barney Hayes said volumetric livestock loading was a must in NSW and the industry could not ask for the introduction of a more sensible and practical livestock transport reform from the NSW Government.
"For too long, the NSW meat and livestock sector has been in a state of decline, while other key and competing States have enjoyed the benefits of a livestock loading scheme and the resultant sector growth," he said.
"This reform would provide a genuine statewide rejuvenation of the meat and livestock sector, improving jobs and the economic viability of the supply chain including producers, transport operators, abattoirs, feedlots and saleyards," Mr Hayes said.
"The introduction of a livestock loading scheme will deliver strong environmental and safety benefits for local communities resulting in a net reduction in livestock truck movements. This means less noise, less road congestion and less pollution."
He said the LBCA along with NSW Farmers and the Australian Meat Industry Council had played a proactive role in urging the NSW Government to deliver the transport reform, promoting the adoption of a realistic livestock loading scheme to allow transporters to operate on an even playing field with other States, and to meet optimum animal welfare densities.
The LBCA is the peak industry body representing over 200 livestock and bulk carriers from all States in Australia who use NSW roads.