MEAT & Livestock Australia managing director Richard Norton will leave the red meat industry service delivery company in December to take up a senior management appointment with Elders.
He returns to his roots in the agency sector after serving for the past four years as the operational head of MLA.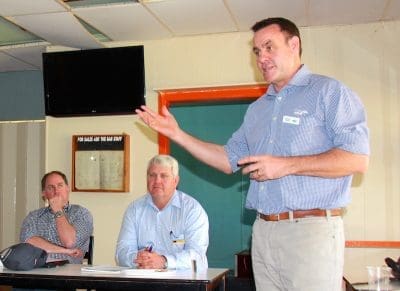 From January he takes up a newly created role as Elders' network general manager.
Acting chairman Alan Beckett said the MLA board was grateful to Mr Norton for the significant contribution he had made as managing director, not just to MLA, but to the entire Australian red meat and livestock industry.
"The Board and I thank Richard for the strong leadership he has provided for MLA and the industry and applaud him for the improvement he's made to the MLA business during his tenure," Mr Beckett said in a statement.
Rumours of Richard Norton's potential departure from MLA started circulating some months ago.
Beef Central made an inquiry about the prospect of his departure on 2 August. Mr Norton's response at the time was, "The MLA board have (sic) provided me with a contract to June 2020, but either party can terminate that agreement with three months' notice. MLA have not provided me with a termination notice and I have not provided them with a resignation notice."
Acting MLA chairman Alan Beckett said since his appointment in June 2014, Mr Norton had led major change, delivering greater transparency and accountability to MLA operations and a focus on commercial outcomes for levy payers.
"Richard has championed both the 'consumer as king' and the long-term prosperity of MLA's levy payers," Mr Beckett said. "He pursued the implementation of MLA's regional consultation model so more producers now have a say on MLA's research and development investment and drove major improvements to MLA's market information services."
"Richard provided industry leadership in spearheading the adoption of DEXA objective carcase measurement technology across the processing sector, and proposing a carbon neutral target for industry by 2030 to capture opportunities in our high value markets and to head off industry critics," Mr Beckett said.
"He unveiled a visionary plan to accelerate the digital future of Australia's red meat industry through the Value Chain Digital Strategy and was instrumental in the establishment of strategic partnerships in Livestock Productivity and Genetics."
"Richard's travelled the length and breadth of our country attending hundreds and hundreds of events and meetings to speak with producers, and been part of multiple Australian delegations to overseas customer destinations in pursuit of opportunity for the red meat industry."
While Mr Norton has been widely-credited with being an agent for change in the red meat industry over the past four years, he has also attracted criticism from some stakeholders for stepping outside his charter.
His 2016 industry annual general meeting announcement about installation of  DEXA scanning technology in 90 AusMeat accredited abattoirs across Australia at a cost of up to $150 million took some stakeholders by surprise, with prominent meat processors claiming a lack of prior consultation over the proposal.
In December 2016, The Australian Meat Industry Council wrote to MLA chair Michelle Allan outlining its reasons not supporting the Project 150 proposal in its original form. AMIC listed a series of "conceptual, methodological, and policy-related deficiencies" in Mr Norton's Project 150 plan.
Prior to joining MLA in 2014, Mr Norton's executive roles included positions in retail, manufacturing, logistics and warehousing with Woolworths, Coca Cola, Wesfarmers and Toll Holdings. He spent four years between 2010 and 2013 as head of livestock and international trade and then managing director of Landmark, and later worked for Ruralco under John Maher.
In an MLA statement, Mr Norton said the decision to leave the industry service delivery company was extremely difficult, but he did so knowing that the company had an outstanding leadership team and professional staff that worked tirelessly for the Australian red meat industry across the world every day.
"The Australian red meat industry should be proud of what it has achieved and proud of the team of globally competent staff within its service company MLA," he said.
"MLA plays an important role for so many different individuals and businesses and it has always been important we demonstrate our value to the entire livestock supply chain."
MLA has engaged a recruitment firm and will commence a recruitment process this week to ensure a smooth leadership transition in coming months.
Elders network operations role from January
Elders yesterday issued a statement to the ASX flagging Mr Norton's appointment as its general manager, network, starting in January.
His appointment is subject to 'fitness and propriety testing' under Elders' Fit and Proper Policy.
In his new role Mr Norton will join Elders executive committee, reporting directly to managing director and chief executive, Mark Allison.
In his role, he will be responsible for overseeing all aspects of Elders Australian network operations, driving growth to achieve organic and acquisition targets, and working closely with key product and support management to develop and deliver agreed strategy in line with Elders' Eight Point Plan.
Mr Allison said, the appointment was timely, as Elders continued implementing its growth initiatives.
"Richard's extensive knowledge and experience of global agricultural retail supply chains as well as agricultural marketing and production systems will bring a renewed focus to securing opportunities that arise within the sector," Mr Allison said.
Other staff, board changes at Elders
Elders yesterday also announced the departure of Greg Dunne, who held the position of Zone General Manager North for the agency company. Mr Dunne will leave the business after 19 years' service on 30 September.
"Greg has been a key member of the executive leadership team and led the business through some challenging times," Mr Allison said.
Elders also told the ASX yesterday that respected agribusiness identity Mike Carroll will join the Elders board as a non-executive director.
A former high-profile agribanker and beef producer, Mr Carroll has strong directorship experience in the listed company environment. His current director positions are at Select Harvests Ltd and investment funds manager Rural Funds Management. His former directorships included Meat & Livestock Australia, Tasmanian salmon farmer Tassal and Warrnambool Cheese & Butter Factory Co. Other former board roles included Queensland Sugar, Rural Finance Corporation of Victoria, the Australian Farm Institute, and the Geoffrey Gardiner Dairy Foundation.
Mr Carroll also holds current directorships with non-listed companies including Paraway Pastoral Co and Viridis Ag, and chairs the Australian Rural Leadership Foundation.
Elders chairman Hutch Ranck said Mr Carroll shared a long-standing passion for agriculture and brought relevant industry experience, which would greatly contribute to Elders' ongoing performance, particularly as the company continued its growth initiatives.
"He comes from a multi-generational farming family and has a deep understanding of both producer and customer needs which is a highly valuable skill set, and one that is shared by some of his fellow directors. In addition to the core agricultural experience, Michael also possesses solid financial skills having served part of his executive career in the financial services sector. This combination of skills and experience further strengthens the current talent that comprises the board and places it in a firm position to embark on future opportunities and achievement of the company's strategic goals," Mr Ranck said.