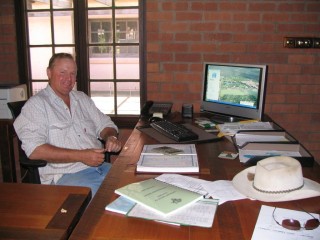 The Northern Territory Cattleman's Association has backed agriculture minister Barnaby Joyce's push for a Senate Inquiry into cattle levy arrangements, believing the move will provide a much-needed opportunity to subject existing levy and structural arrangements to independent review.
Almost two years ago the Northern Territory Cattleman's Association passed a resolution calling for an independent review of cattle industry structures.
Since that time the Cattle Council has managed its own restructure. The process has involved consultation with producers and input from broader industry stakeholders through writing groups and reference groups, with Cattle Council maintaining full control over the final decision making process.
NTCA president David Warriner said the NTCA has been wanting a 'non-CCA influenced review' for almost two years and welcomes the opportunity a Senate Inquiry may provide to do that.
The Northern Territory Cattlemen's Association view is that Cattle Council of Australia must be financially secure, its members must be fully paid up, and that all levy payers should have a say, regardless of whether they are part of a State Farm Organisation.
He said the NTCA supported the concept of direct memberships to Cattle Council as a means of generating positive income for the organisation. Overtime the NTCA wants to see the council move towards a structure where all councillors are independently elected.
Any new approach had to incorporate a continued funding stream to allow that transition to occur, Mr Warriner said. Strict rules over the use of statutory funding meant that using proceeds from the cattle transaction levy to fund Cattle Council were not as simple as some groups were suggesting.
"The levy cannot be used or even be seen or smell like being used to lobby," Mr Warriner said.
"There are segments in that constituency that wish to see the dismantling of MLA and CCA and hope somebody turns up to deliver a better new structure.
"Too risky. All endeavours need to be made to rectify what we have so that CCA is independently elected, eventually and as quickly as possibly, and adequately and legally funded."
Mr Warriner notes that a major problem with the existing structure are SFOs which continue to have a say on CCA but have not paid their required membership fees for years.
The Cattle Council's final restructure model selected at the end of the two year restructure process will see a new pathway for producers to join the organisation as direct members introduced, and its board reduced to 10 seats, divided between 8 SFO-appointed councillors and 2 popularly elected councillors.
Mr Warriner said the NTCA felt that the industry had not been engaged adequately since this pathway was defined and chosen by Cattle Council, which could impact on its success.
Northern producers could 'go it alone'
In a clear warning the elements of the industry are losing patience with the long and drawn out restructure process to date, and the continued division that stalks the council's chosen structure, Mr Warriner said some groups may consider following their own path.
"If there is not a reasonable outcome from the coming meetings we could easily see a splitting of northern and southern cattle producers," he said.
"Industry bodies have a cancer. Memberships to SFOs have declined due to declining value proposition. SFOs therefore cannot afford (or won't because others don't) to pay to commodity councils like CCA due to once again declining value proposition, or whatever, and then CCA may or may not pay NFF membership because it can't afford it. And NFF then runs out of money.
"Industry bodies are in a vortex and on the brink. Every farmer needs to be involved in representation in order to leverage the fact that we produce food for this nation and 30 million others.
"Or massive opportunities will be lost as we are reactive rather than proactive."