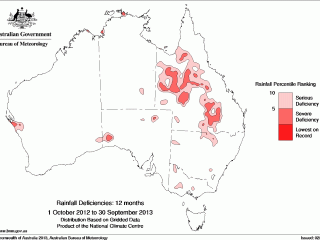 The month of September brought some improvement to seasonal conditions across southern Australia but a further deterioration in Queensland and central Australia.
The Bureau of Meteorology's latest national drought statement shows that below average monthly totals were experienced across most of South Australia, parts of the Northern Territory, large areas of Queensland from the Gulf to the south-east corner, parts of north eastern and western New South Wales and small areas of north eastern and south western Victoria.
Areas to receive above average rainfall during the month included most of Western Australia, excluding the northern interior.
Taking a longer term perspective, rainfall deficits for the 12 months from October 2012 to September 2013 have seen slight improvement across southern Australia, where only small areas of serious deficiencies remain.
In contrast, the very dry September has seen an increase in deficiencies across across Queensland.
Serious to severe deficiencies (lowest 10pc to 5pc of records) remain across much of western Queensland and in a broad band inland of the coastal ranges, extending from the Gulf of Carpentaria to just across the New South Wales border.
Across the most severely affected regions, total rainfall has been 40 to 80pc below the long-term (1961–1990) average for the 12-month period.
The rainfall percentages map shows large areas of eastern central Australia, Queensland inland of the coastal ranges, northern and western New South Wales and the Nullarbor Plain have received less than 65pc of long-term average rainfall for the past 18 months.
Weekly soil moisture levels in the upper soil layer have decreased dramatically across much of Queensland, the south of the Northern Territory, South Australia and western New South Wales compared to the weekly values one month ago and are now are very much below average across large areas.
Recent rainfall has seen soil moisture increase to near-average across central New South Wales and to above average across Southwest Western Australia while in the Pilbara and northern Gascoyne and well as eastern New South Wales soil moisture continues to be below average.
Soil moisture has declined to near-average across much of Tasmania but remains above average across the north of the state, while in Victoria soil moisture has also declined and is below average across much of the state.
In the deeper layer, weekly soil moisture generally shows a similar pattern to that of last month, with some decrease across the southeast.
Values are very much above average for a large area of Western Australia between the eastern Pilbara/western Kimberley and the top of the Eucla District.
Soil moisture is somewhat above average across the Southeast Coastal and Goldfields districts of Western Australia and small areas of South Australia, western and central New South Wales and Queensland, excluding the far north, Darling Downs and Maranoa, where soil moisture is average to below average.
Soil moisture is also below average across the eastern Top End, the South West Land Division of Western Australia (excluding the southwest, where values are near average), the Nullarbor Plain, east coast Tasmania, much of Victoria and eastern New South Wales inland of the ranges.
Click here to view the full drought statement for September 2013 on the BOM site