Up, up, up for Macca's sales
While most food service segments worldwide are struggling under the weight of a listless global economy, McDonald's Corporation last week announced global comparable sales growth of 7.4pc in November. Broken down by region, the numbers included 6.5pc increase in the US, 6.5pc up in Europe, and 8.1pc up in the Asia/Pacific, Middle East and Africa regions. "We're listening to our customers and delivering what they expect from McDonald's by optimising our menu, modernizing the customer experience and broadening accessibility to our brand," said McDonald's chief executive Jim Skinner. Sales growth in Europe was driven by strong performance in the UK, France, Russia and Germany, where economies are strongest. Throughout Europe, an expanding variety of premium and mid-tier products and 're-imaged' restaurants drove the segment's comparable sales increase for the month. Growth in the Asia/Pacific region was strongest in Japan and China, both serviced with ground beef out of Australia.
Premiumisation strategy for Hungry Jack's
In local burger chain news, BurgerBusiness.com reported that Hungry Jack's had announced via Twitter that it will pull its Angus burgers off the menu to make room for new, more sophisticated items. Under its new 'Better Tastes Menu' Hungry Jack's has launched four 'Premium Choices' burger options, clearly intended to match rival McDonald's upscale 'M Selections' menu. The BBQ Bacon Angus XT and Swiss Mushroom Angus XT burgers are promoted in TV ads as having thicker beef patties. The move continues a brand makeover that Hungry Jack's began in October by adding organic-beef burger patties and by tweaking its long-standing slogan from "The burgers are better at Hungry Jack's" to "Hungry Jack's makes it better." BurgerBusiness.com says McDonald's 'M Selections' menu is more extensive, but it had a head start. It began in 2009 with the Grand Angus and Mighty Angus burgers but has since been broadened to include chicken and breakfast items.
Changes to Brazil's cattle traceability system
After making countless adjustments to its national cattle traceability system known as SISBOV since 2002, Brazil's Agriculture Ministry has announced it will turn the system over to the private sector by the end of this year. The reorganisation aims at streamlining SISBOV and cutting through the tangle of interrelated public sector certification and compliance requirements. The latest changes to SISBOV will reduce the requirements down to two, namely that the animal must be located on a registered property for 90-days prior to processing as required by the EU and secondly that the animal must remain on a single registered property for the previous 40-days in compliance with quarantine requirements. Getting the EU to accept the simplified system will be a challenge, sources say.
Last call for EU carcase competition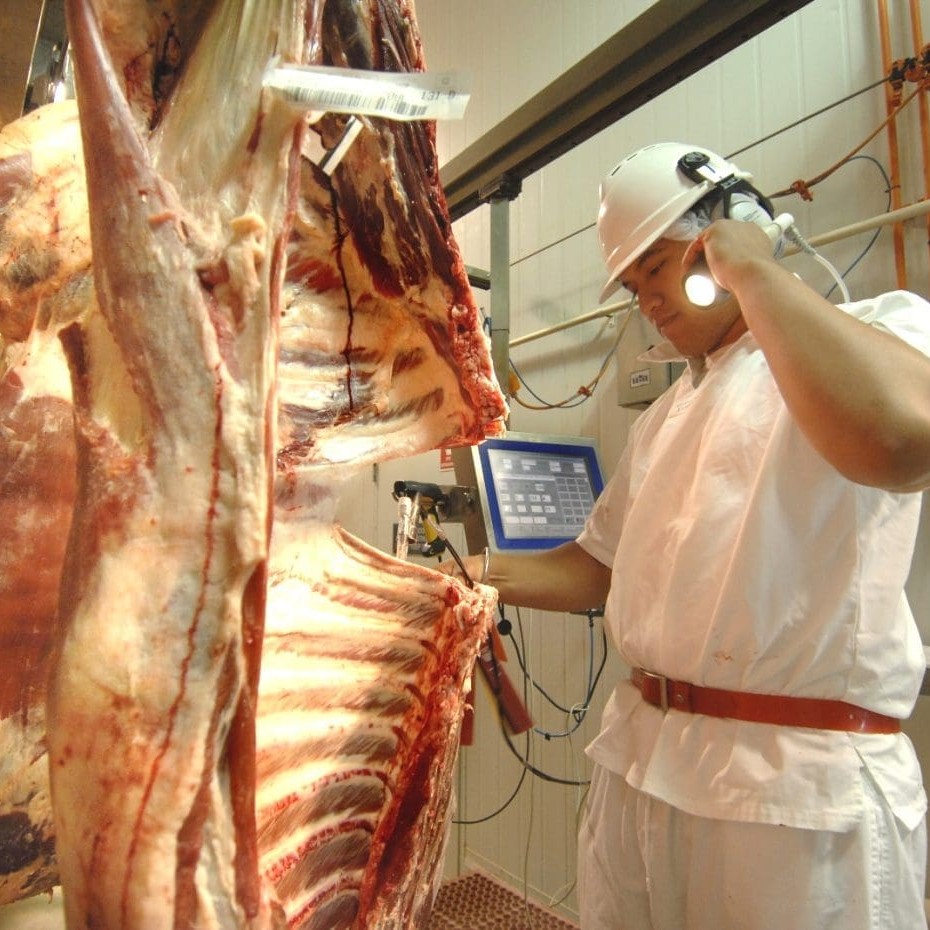 EU-accredited cattle producers across the eastern states have less than a fortnight to nominate for next year's inaugural Pacific Beef EU Carcase Competition, being staged as part of the Primex Casino field days. Entries close on Friday December 23 for next year's EU grainfed class, the first for this new grainfed market to be held in Australia. The overall competition boasts $10,000 in trophies and prizes, making it one of the richest carcase competitions in Australia. Once entry is completed, first vaccination prior to feedlot entry is due by January 2, with entry into the dedicated EU feeding pens at Geoff Willett's Maydan feedlot near Warwick by January 13. A separate 70-day grainfed class will be processed at Casino during the week of March 26, with the EU Grainfed cattle processed during the week starting May 28. The final results briefing and prize distribution will take place during the Primex field days at Casino on June 15. The contact point for further details is info@primex.com.au
Foreign investment in Indo beef?
Indonesian current affairs website TEMPO Interactive suggested last week that Korea and Brazil have set their sights on Indonesia and are planning to invest in the country's livestock sector. Agriculture Minister Suswono was reported as saying the Indonesian government was listing potential land to develop cattle farming operations outside Java, including the Provence of West Papua. Indonesia hopes to reduce its reliance on cattle and beef imports by 10 percent in 2012.
Govt rules out 'traffic light' labelling
After an intense few weeks of lobbying the Federal Government has ruled out 'traffic light' labelling for food products in Australia. The recommendations to switch to the 'Traffic Light' system was made under the Food labelling review carried out by former Australian Health Minister, Dr Neal Blewett, but had been strongly opposed by large sections of the food industry. 'Traffic Light' labelling uses green, amber and red symbols on the front of the pack to show at a glance the relative levels of fat, saturated fat, sugar and sodium in a food product and has been argued-for by Australian health groups. The Government however has said that it will issue new rules that will improve back-of-pack labelling to give consumers more information on fat, sugar and sodium content in foods.
Brazilian beef demand boom?
Large Brazilian meat processor Minerva expects to close 2011 with net revenue totalling A$2.15 billion, and foresees a boom in domestic demand for beef in 2012, according to company executives. Chief executive CEO Fernando Galletti de Queiroz said the company saw evidence that it has gained market share domestically and overseas this year. Through the third quarter, the Brazilian market accounted for 46 percent of Minerva's revenue, and exports 54pc. A goal for 2012 was to balance that 50/50. Beef exports should continue growing in 2012, Mr Queiroz said, particularly in developing markets like the Middle East, Asia and Eastern Europe. New markets like sub-Saharan Africa and South America also showed growth potential. "We see a narrowing of the consumption gap between the developed and developing countries," he said. Domestically, Minerva has tried to capture as much demand as possible in Brazil's growing small and medium retailer markets, with more than 25,000 customers in that segment now. It wants to become a 'one-stop shop' for them in delivering a variety of meat and food products.
Country of Origin Labelling
Country of Origin Labelling (COOL) in Australia is now likely to be extended to unpackaged beef, sheepmeat and chicken. Until now these unpackaged meats had been exempt from the requirement to label them 'Product of Australia' due to the small quantity of imports from New Zealand and Vanuatu. Food Standards Australia New Zealand (FSANZ) however has now recommended extending the labelling laws to unpackaged beef, after changes in 2010 to Australian quarantine laws meant potentially that imports from countries with a history of BSE will be allowed. The Authority rejected voluntary labelling as unlikely to lead to universal adoption of COOL. The new standard is due to start in July, 2012.
British supermarkets launch Wagyu program
British supermarket chain Asda has started selling locally-produced Wagyu beef following a three-year breeding program. The F1 beef produced from Wagyu bulls and Holstein cows has been selling at selected Asda stores for £23 (A$35.50) per kilogram for sirloin cuts, against about £180/kg for fullblood Wagyu in London's top-class stores, Asda said. The crossbred Wagyu beef being sold by Asda is less fatty and marbled than fullblood Wagyu beef, the company said, which many health-conscious Britons might have found off-putting. "The reaction from customers has been splendid. One central London restaurant owner came in yesterday and purchased 500 pounds worth," butcher Angie Jessup, from Asda's Battersea store in south London, said. As it is expensive to produce purebred Wagyu, Asda decided to team up with farmers and produce their own cross-breeds to reduce costs and bring the benefits of the meat to a wider clientele. Initially, about ten cattle a week from a herd of 1500 will be used to supply five supermarkets with a range of cuts, to gauge support. Consumer enthusiasm has not been universal, however. A chef recently reviewed the meat for The Times, describing it as "unremarkable," adding that a nearby Japanese restaurant would have "chucked it out."
Study looks at WA meat plant
The second stage of a pre-feasibility study into a northern Western Australian beef abattoir has been released. The study by consultants Hyder Consulting and Meateng, was jointly-funded by the WA Department of Agriculture and Food and Rural Industries Research and Development Corporation. Executive director of livestock industries Kevin Chennell said the report undertook a preliminary investigation of structural changes in WA's northern rangelands industry required to withstand any future 'shocks' to the live export trade. This included research into developing processing options for the northern herd and the feasibility of a processing operation at Broome. The study took into consideration the views of major Australian processors. Dr Chennell said findings included the need for enhanced irrigated fodder production in the north to underpin the backgrounding of stock for processing. It also noted that that any proposed Darwin abattoir development would impact on potential for a Kimberley facility. The report made it clear that abattoir viability could not be looked at in isolation; a whole-of-supply chain approach was required and there was a need to address issues such as pastoral reform and diversification. It also acknowledged the significant work underway with WA pastoral lease reform and planned to investigate water availability that would support large-scale irrigation developments in northern WA. The full Stage Two report can be viewed on the department's website at www.agric.wa.gov.au under publications.

North west NSW on flood alert
The NSW Department of Primary Industries is urging farmers on the Culgoa, Bokhara and Narran Rivers to prepare for moderate flooding in the coming weeks following heavy falls in Queensland. Moderate to major flood waters from Queensland are expected to extend into NSW causing minor to moderate flooding later this month and extend through to January 2012. NSW DPI Regional Director, Greg Markwick, said farmers need to act early to avoid livestock losses and impacts on farming operations."Graziers on the floodplains need to ensure that livestock and farm infrastructure are moved to higher ground well before the floodwaters arrive," Mr Markwick said."At this time of the year, projected river peaks can often be made worse by local heavy falls and storms. It's critical farmers have contingency plans in place and stock are moved to the best refuge points. "Farmers should also prepare for periods of isolation by ensuring adequate feed for stock and domestic animals is on hand. The latest river level information is available at: www.bom.gov.au/nsw/flood/ For advice, farmers should contact the Darling Livestock Health and Pest Authority on 02 6839 2047 or their local NSW DPI office. Farmers requiring emergency assistance should contact the SES on 132 500