Canadian Govt's $10m stake in waste-to-energy project
Cargill Beef US plans to invest about A$34 million on a waste-to-energy project at its Canadian beef processing facility near High River in Alberta. As part of its initiative to help meat processors reduce their environmental footprint, the Canadian government will provide about $10m of the funds.
The program will use existing technology to make the High River facility the most sustainable and environmentally-friendly beef processing plant in the world, Cargill Beef president John Keating said in a statement. The project is the first of its type in North America and the largest single waste-to-energy project Cargill has undertaken.
Once it's in operation, the system will eliminate 21,000 tonnes of fossil fuel emissions annually, in addition to mitigating the 4000 head-a-day facility's electric energy requirements by producing 1.4 megawatts of power. Combined with existing methane gas capture that prevents release of methane into the atmosphere, and its subsequent use as fuel for the plant, 75 to 80pc of the facility's energy needs will come from renewable sources.
Australian hay to Japanese cattle farmers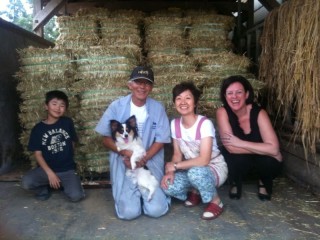 Supplies of Australian-donated hay have this month started to arrive in Japanese prefectures worst affected by recent Tsunami events. The provision of hay for use by local stock is part of MLA's 'Together with Japan' program of support for the Japanese beef industry. The hay was donated by Australian farmers to assist their colleagues in the Tohoku region. Japanese farmers from Fukushima and Iwate prefectures visiting Australia in May identified hay as a valuable form of support for local beef producers hard-hit by the earlier natural disaster events in Japan. MLA Japan region manager Melanie Brock arranged for Australian hay to be shipped and was on-hand to deliver the first consignments to the farmers in need in the Soma district in Fukushima. "In challenging times like these, it's important that we stand shoulder-to-shoulder with our farming colleagues in Japan," Ms Brock said. "Farmers in Australia have been greatly moved by the challenges facing farmers in the Tohoku region since the March 11 earthquake and tsunami, and as a group wanted to provide more than just words of support. Providing hay to help farmers feed their cattle is the very least we could do, especially now that Japanese farmers are facing even more difficult challenges through radiation concerns since we originally talked in May," she said.

$7200 average for benchmark Angus sale
Te Mania Angus, one of Eastern Australia's early spring season benchmark bull sales, produced a record sale average of $7200 at its northern sale at Walgett, NSW last week. The sale recorded a total clearance of 96 bulls, with a top price $17,000. Last year, 126 bulls averaged $4520. This year's average is the highest Te Mania Angus has recorded for either its northern or southern annual sales. Buyers came from Queensland, Victoria and NSW.
Strong Q3 result for Tyson
TYSON Foods, the largest meat and poultry company in the US, appears to be outperforming its North American competitorts, reporting continued strong pork profits and larger than expected beef profits in its fiscal 2011 third quarter. Tyson reported net income of A$178m. Tyson's beef segment had operating income of A$131m in the quarter, versus $165m a year earlier. This is about an A$75 per head margin, say analysts. Sales are A$3.4billion versus $3.05b. Sales volume was down 1.7pc but average sales price was up 13.5pc, Tyson said. Cattle costs were up 17-18pc from the year before. The company had maintained strong operating income by maximising its revenues relative to the rising live cattle markets, partially attributable to strong export sales, it said. This was offset by an increase in operating costs. This partly reflects production of more value-added products, said chief operating officer Jim Lochner. Its percentage of such products continues to increase, he told Cattle Buyers Weekly on Friday. For example, Tyson is producing more portion-controlled flatiron steaks and is doing a lot with briskets. It also has a number of new pre-cooked items in product development. More sub-primals will go through the grinder as demand for ground beef continues to grow, Mr Lochner said.
Tyson expects its beef, pork and prepared foods businesses to perform similarly in the fourth quarter, but anticipates a loss in chicken before improving in early 2012 due to better market conditions.