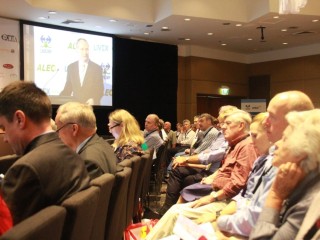 Around 11am last Thursday, the cattle industry restructure debate took something of a surprising twist.
As the Cattle Council of Australia was meeting in Canberra to put the finishing touches to a restructure plan two years in the making, another meeting about 2000km further north was about to potentially change the course of the entire process.
At its AGM in Canberra, the council's 20 or so State Farm Organisation (SFO) appointed councillors signed off on a new model they have chosen to better represent all Australian cattle producers.
The cental plank of the new structure is a direct membership pathway which will allow individual producers to join Cattle Council for an annual fee of $110 including GST. That will give every producer in Australia the opportunity, if they wish, to join the national body, to provide input into its policies and to stand for election to its board.
However, while the council was signing off on that restructure plan, expected to be formally adopted via a telephone hookup of councillors in two weeks' time, another meeting in Townsville was hearing that not all producers share the council's enthusiasm for its chosen makeover.
Townsville meeting
After addressing a live export conference at Jupiter's Casino in Townsville, Australia's federal agriculture minister Barnaby Joyce met outside the conference with a private delegation that included several cattle producers, two northern livestock agents and a livestock transporter.
He heard that while the Cattle Council of Australia restructure process had started out with a spirit of inclusiveness and cooperation, it had ended two years later with many producers feeling just as disenfranchised with the national representative body as they were the process began.
The reason for this, the Minister was told, lay largely with the continued dominance of State Farm Organisation-appointed councillors on the council's new board. SFO's had a membership base representing less than 20pc of all cattle producers, yet under the new structure would still control 8 of the 10 seats in the restructured council.
In contrast, the 80pc of producers not-aligned to SFOs will be represented by just two popularly elected councillors on the new board.
(A key issue here for Cattle Council is funding. SFOs contribute around $430,000 in annual membership fees to the council, or about one third of its entire budget (the rest comes mainly from Red Meat Industry Fund proceeds and service agreements with MLA). SFOs expect a dominant say on the board in return for their financial contribution. Cattle Council's view is that the onus is now on individual producers is to increase their say on the board by joining up and paying direct membership fees. When the revenue from direct-paying members begins to match the revenue contributed by SFOs – for example it would take 4300 fee-paying individual members to match the current $430,000 contribution of SFOs – then (presumably) the level of representation for direct members on the board would be adjusted to match that of SFO-appointed councillors.)
The minister was also told that Cattle Council was the only cattle industry organisation that had the power to exert influence over Meat & Livestock Australia by virtue of a memorandum of understanding, but its independence had been compromised because it now relied upon direct levy payments from MLA to fund its operations going forward.
That the Cattle Council did not allow other groups to participate in the final vote as to which structure it would adopt, but did allow cash-strapped SFOs that are well behind on their membership fees to have a say, was a further bone of contention.
Participants in the meeting also expressed the view that Cattle Council should be directly funded from the cattle transaction levy so it can be adequately and autonomously resourced, provide more effective and professional oversight of MLA and to eliminate its current financial reliance on both SFOs and MLA.
Some groups want CCA to have full control of the $56m generated in grassfed levies annually, and tender R&D and marketing projects out to MLA and other service providers as required. Others believe CCA should receive a direct portion of levy funds, say $3-$4m for example, to ensure it is professionally resourced and able to apply more scrutiny to MLA, with the balance then going to MLA to oversee R&D and marketing expenditure under that higher level of CCA oversight. (The CCA has stated that it believes too many legislative hurdles stand in the way of statutory levy funds being released to an advocacy group to make the direct funding of CCA via the levy a viable proposition, in the short term at least.)
Tipping point
It appears that, having heard concerns about levies and representative structures expressed by cattle producers for 'a number of years', last Thursday's meeting effectively served as a tipping point for Mr Joyce. Having heard one complaint too many, he decided it was time to act.
He told last Thursday's meeting that he saw a Senate Inquiry as the best and fairest way to let all sides argue their case.
Within hours, word of a possible Senate Inquiry was spreading to the highest levels of the industry, prompting frantic phone calls and behind the scenes attempts to ascertain its likely scope and focus.
On Friday afternoon Cattle Council president Andrew Ogilvie told Beef Central he had heard talk the idea 'may have gone cold', but, either way, he said Cattle Council was more than willing to engage if an inquiry eventuated.
However when Beef Central spoke to the minister's office around 4pm, it was clear Mr Joyce was committed to seeing the process through.
In confirming the minister's plans, a spokesperson told Beef Central the Minister was taking no position on how industry levy or representative structures should take shape, but simply believed a Senate Inquiry would provide a fair and transparent way, at arms length from Government, to enable all sides to lay their cards on the table.
Key questions
Will a Senate Inquiry eventuate? It's unlikely the minister would have publicly requested a Senate Inquiry without having first tested if political support for the plan exists. Based on that assumption it would seem likely the request will be passed when it goes before the Senate (likely to be at some point over the next four weeks) and an inquiry will proceed in the new year.
What can it achieve? At the end of day a senate committee has no power to make decisions, rather it can only make recommendations for the Government of the day to consider adopting.
Mr Joyce has specifically asked the Senate to conduct an inquiry into the "collection and disbursement" of levies in the cattle industry. The scope of the inquiry, should it proceed, will also be limited by the terms of reference.
However it would seem the inquiry will provide sufficient scope to consider questions such as whether grassed producers have sufficient control over how their compulsory levies are spent under existing industry arrangements, and whether existing representative structures are providing effective national representation.
More twists and turns to come
Cattle Council of Australia was applauded two years ago for its efforts to successfully bring the various warring factions of the industry together to work cooperatively on developing a new structure to provide more effective representation for all grassfed cattle producers.
It was inevitable that several groups were never going to be happy with the final result and that total industry unity was an impossible goal for the restructure process to achieve.
However issues such as the dominance of SFO's in Cattle Council's new structure, and its continued reliance on funding from SFOs and MLA, continue to serve as burrs under the saddle blanket and work against the council's push to win widespread support.
As every agricultural sector has witnessed over time, feelings of disunity and division can grow like a cancer and undermine any chance of an industry moving forward.
Mr Joyce clearly wasn't prepared to leave long-simmering disharmony threatening a new phase of industry restructure without at least giving all sides the opportunity to state their case and receive a fair and thorough hearing.
"It is vital the beef industry has the right systems and structures in place to capture the opportunities in the coming decades in Asia and elsewhere," the Minister said in a press statement confirming his plan to ask for a Senate Inquiry on Monday.
"Australia is a major player in the global beef trade, but as with anything, there is always room for improvement.
"I want to ensure that the best possible arrangements are in place for the benefit of the whole industry."
Two years in the making, the Cattle Council restructure process has been a long and slow journey to date, but there could be a few more twists and turns to come before the final destination is reached.