THE advent of the Meat Standards Australia's carcase index system has driving ever-stronger development and uptake of branded beef programs across the Australian meat industry, an international meat science community audience heard last week.
As part of a celebration of MSA's 20-year anniversary this year, an MSA grading forum was held as part of the International Congress of Meat Science and Technology in Melbourne.
In its earlier form, MSA had been widely used simply as a 'pass/fail' system, where there was often three, four and five-star product in the same production run, the delegates were told.
But moving away from a static system like boning groups into MSA Optimisation through the use of a single index figure for each carcase, had been a catalyst for growth,  with more than 170 commercial brands now underpinned by MSA grading across Australia.
Meat scientist Dr Peter McGilchrist described the MSA index as the ultimate feedback and benchmarking tool that a meat industry could have.
"The index has been rapidly adopted by all sectors of the value chain, but there is still room for greater utilisation and analysis," he said.
Dr McGilchrist explained how the MSA index works, using a weighted average of 39 eating quality scores overlaid against a common cooking method to deliver a single number to indicate the overall quality of each carcase, which can be used at a national, regional, supply chain or individual producer level to benchmark eating quality.
"It's taken many years to work this out. It's about trying to distil all the numbers produced in the MSA carcase grading model (39 cuts x seven common cooking methods, delivering almost 170 eating quality numbers per carcase in the current MSA system) down to a single number, that means something to producers and customers," he said.
The main purpose was to provide a standard measure over time of carcase quality, Dr McGilchrist said.
"Individual data and data coming from processors was all being done in a different way, and we needed to standardise that across the industry.
"The index is an alternative to individual trait feedback. While those individual traits (marbling, ossification, rib fat, carcase weight, hump height, sex, use of HGP, ultimate pH and whether an animal had passed through saleyard or direct consignment) remain important, the index takes all of those carcase parameters into one number," Dr McGilchrist said.
"The index gives us a really sound basis of evaluation for on-farm genetic progress, and also management strategies between seasons and years. It allows individual producers or supply chains to go back through past supply history and track changes and improvement, and how to improve that quality in future."
Dr McGilchrist said all stakeholders along the supply chain – from producers to processors, retailers and brand owners – could benefit from the data. "It provides a really solid benchmarking tool for anyone who buys, sells or researchers cattle or carcases."
Every two years, the index also provided the basis for the Australian Beef Eating Quality Audit, which allowed the industry to have a look at how it was tracking, over time.
Over the past eight years, the general trend (impacted a little by drought through the middle period in the graph below) was an increase in index performance across Australia – by a factor of around one full point on the MSA index scale.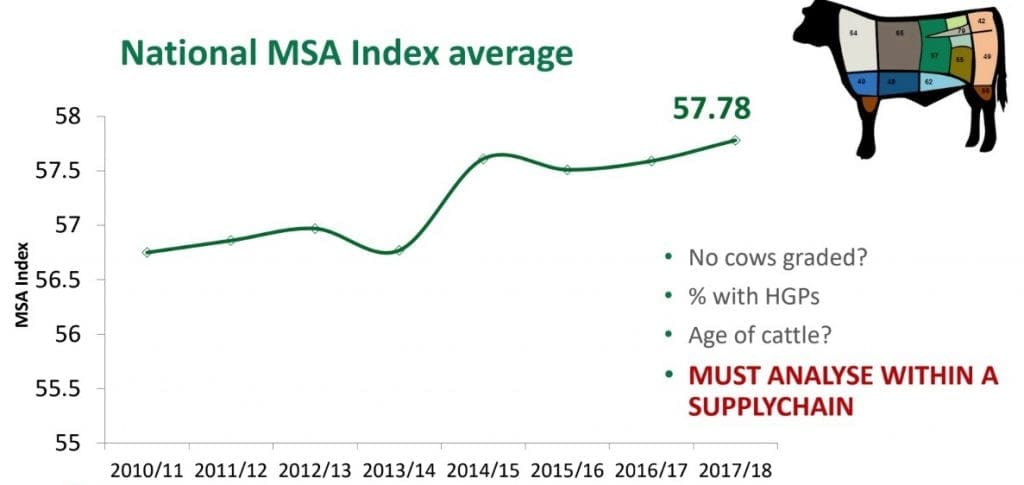 "As an industry, that's a great outcome, but looking at average national data is a bit risky. In reality, there is a real possibility to grade more cows under the MSA model. Of course, grading cows is not going to help this single national index number going forward, but it would allow us to value-add those older cows, extracting better eating quality out of them."
For this reason, he suggested it was best to analyse the MSA index within a supply chain, rather than in 'blanket form' across the nation, to pull the best information out of it.
Referencing a set of percentile bands for MSA Index at national level (see table), Dr McGilchrist pointed out that the bottom 1pc of the MSA index performers had actually lifted by about 0.26pc over the last financial year.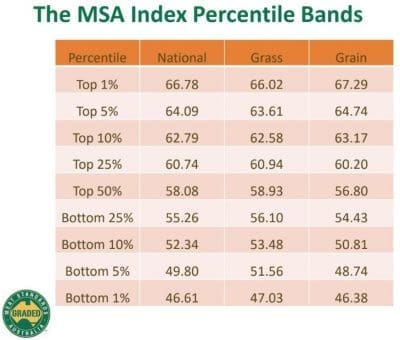 "So we are cutting that performance tail off – which is a really great story in itself. We have seen similar examples overseas in the Irish beef herd, where genetic improvement has helped remove tail-end performers in their industry."
Looking at distribution of quality over the years, ideally, the graph published here should slide to the right, and 'fatten' at the 'high-end' on the right hand side – and last year (2017-18) showed that happening, Dr McGilchrist said.
"We're definitely moving in the right direction, and the more information we can feed back down the line through our supply chains and individual producers the better we are going to get at achieving this."
Dr McGilchrist also showed how the MSA index could be used to benchmark across an individual supply chain. In one grassfed brand program example he showed, he used this graph, plotting the average MSA index performance of the supply chain's top 40 producers (ranked by volume).
"You can see, straight away, that there is actually big variation within those to 40 producers, presenting an opportunity for improvement," he said.
Looking at just one of those 40 largest suppliers, an index graph plotted across a yearly cycle showed a big drop-off in performance in the July August period each year. "Were they older cattle, poor performers or tail-enders? The supply chain can use that data to look at contributing factors, with a view to improvement."
Underpinning, segregation
Mark Inglis from JBS Australia gave a congress presentation emphasising how the MSA index had served to underpin his company's southern Australian brand programs, and allowed for greater use of segregation within brands.
He said in their earliest forms, years ago, JBS southern brands, like many others in the industry were more 'box lids' than 'brand programs.'
At the time, many in the industry were convinced that MSA boning groups were the 'way to go.'
"But today, we look back and think boning groups were archaic. Indexes are the only way to go- they are so easy for producers to comprehend, and so easy to explain to customers – and that's what we've done in creating the JBS Southern brands that we have.
He said under the original MSA boning group sorting system, customers were buying boxes of meat with three, four and sometimes five star product all in the same box, delivering different eating quality outcomes.
"No wonder we were creating confusion within the industry, and among consumers," he said.
"In hindsight, it was fairly archaic, but in the 20 years that MSA has unfolded, I think we've made some huge gains."
When he first joined JBS around 2010, the company was packing into around 20 brands through its Brooklyn plant near Melbourne.
"We started benchmarking and looking at our results, and in those days we were getting around 66pc compliance, between MSA and company specs. Imagine a Toyota Landcruiser being 66pc compliant – would they be in production today if they were? Certainly not."
JBS Southern decided to scrap most of its original large suite of brands, and instead, started a grassfed branding strategy based around eating quality, using its over-arching Great Southern Farm Assured brand program as the basis.
"We had a whole heap of data sitting there that had never been used. We went back into it, and looked for ways and means of differentiating our product out in the marketplace.
The first brands to emerge were Great Southern and King Island, which came out with an MSA index figure around 61.8 points. From that, JBS separated out its 'Pinnacle' product, averaging about 63 MSA index points, as a premium product.
What the key to their success was, and still is, is that the company split them based on eating quality and marbling score. Great Southern is a program below marbling score 2, while Pinnacle is above marbling score 2.
"Then we found that within the original Pinnacle brand, smart butchers themselves were actually grading-out the marbling score 4s and above, and capitalising on that product at the other end," Mr Inglis said.
After two years of data, JBS identified another opportunity to split out another super-premium grassfed brand, based on eating quality. The Little Joe brand averages MSA index scores around 65, carrying a marbling score of 4 and up – and sits within the top 1pc of all eating quality animals in Australia.
"We obviously don't get a lot of those marbling score 4s within the Great Southern program – but there's enough there, through production at three sites in NSW, Victoria and Tasmania – to be able to split it off and put it into its own brand. From the consumer's perspective, what they want is consistency, regardless of whether they are buying Great Southern or Little Joe."
Most recently, JBS has introduced its Hereford Boss brand, further extending its segmentation, sitting a couple of eating quality points below Great Southern.
So how does JBS maintain and build on outcomes from its suite of southern brands?
"The value of carcase feedback cannot be over-stated," Mr Inglis told the meat science congress.
"Every week, we benchmark all the producers that supply to us that week, based on all company spec and MSA index data.
"This year, our MSA ungrades are running at just 3.4pc. The first couple of years when the program first started, we were sitting on 18pc ungrades – almost one carcase in five was not making minimum MSA requirements," he said.
"We've been able to bring that figure down, gradually, over the past six or seven years, through education and sharing that information – sitting down with producers one-on-one, and holding regular producer days. Producers have responded with changing management practises on-farm, to get those dark-cutting and other non-compliance issues down."
"It makes sense: the more a producer can do to get dark cutting under control, the more money goes back into their pockets. And it puts more money in the processors' pockets also – from our perspective, we don't want dark-cutters, especially in the premium brands segments, like these."
From the customer perspective, Mr Inglis said it was much easier to explain to a grassfed branded beef customer in the US what an MSA index was, instead of a boning group.
"Nowdays, with the MSA index, we can sit down with a customer and point out on a graph where the meat they are buying sits, in relation to all other product being graded in Australia under MSA.
"It's a far easier system to use and understand," he said.