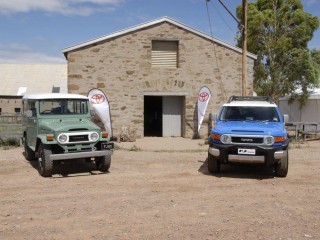 The vistas of the mighty Wilpena Pound with its cloud-scraping mountain tops and deep valleys and creek beds set in the awesome Flinders Ranges provided a fitting debut for Toyota to showcase its latest 4 x 4 'baby': the FJ Cruiser.
And the eagerly waiting pack of motoring journalists was not to be disappointed.
One scribe, on first glance, was overheard calling the FJ Cruiser: 'Cute'. I much prefer 'ballsy' as a descriptor because this in-your-face offering is hardly demure.
While its origins are based firmly on the legendary FJ 40 series of the early 1960s, this baby Toyota is something else again. Sure, it shares similarities in its squarish mesh grille frontal treatment; its upright windscreen, this time adorned with three wipers; its round headlights and flared mudguards. But that's about where any direct lineage connecting the two ends, as this latest offspring offers a suite of modern-day, state-of-the-art essentials.
Matching some of the Flinders Ranges' wonderful hues, the impressive line-up of FJ Cruisers assembled for the launch looked resplendent and very much at home in a palate of colours from the bold and delightful bright Hornet Yellow; the "can't miss you" Voodoo Blue (one of Toyota's 'Hero' colours as it likes to call them); plus a burgundy, black, silver- grey a welcome return to a darkish green. All were adorned with a white roof (a-la FJ 40). For the more conservative among us, there is an all-white option, giving nine colour variants in all.
As they stood, some wondered if it was a case of 'All show, and no go.' We didn't have to wait long for an answer. Paired off into our gleaming chariots, we soon were pacing along towards our first pit stop—the fabulous Arkaba Woolshed.
Off the blacktop and onto the dirt, our test vehicles were sure-footed on the snaking tracks, although it was here that I felt that that steering could do with more 'feel' built into it, as it took some concentration and minor corrections to keep it tracking through the loose red sand country. We wove our way through almost lush scenery, amidst ancient gums with their imposing shapes and awesome heights. Beautiful.
Over lunch, Toyota's chief engineer Akio Nishimura, the man responsible for engineering the FJ Cruisers, made a presentation, followed by chief designer Jin Kim—a passionate man who just enthuses over his 'baby'. Also speaking was Greg Gardner corporate manager product planning, Toyota Australia, who gave an insight into where the FJ Cruiser concept had come from.
A half-hour drive along more dirt tracks saw us arriving at Wilpena South, and into a more demanding 'loop road' where at last we were able to begin fully testing the credentials of the 'Cruiser. The exterior size is deceptive as the vehicle proves to be much smaller than what first impressions deliver. Indeed it seems to grow more compact the longer you are behind the wheel.
This track, strewn with rocks and boulders of varying sizes, proved challenging in parts, as high-range 4WD was brought down to second/low in some tighter and narrower regions. The famed Wilpena Pound Southern Loop road was starting to show up the 'Cruiser's strengths.
Set-up on a traditional ladder chassis, with independent front end and live rear axle, the 'Cruisers made short work of what would be fairly demanding to some lesser 4WDs.
On to the Wilpena Pound Resort—an oasis in the desert, offering a range of accommodation from luxury cabins through to well-equipped camping sites. A short walk takes visitors into the start of the Pound, where stunning sunsets and dawn awakenings await the keen photographer.
Dinner at the Wilpena Pound Woolshed is a stunning experience. Along with the smells of the lanoline from shearings past, if you pause awhile, lean up against one of the post rails, eyes closed, you can almost 'see' the gun shearers weaving their magic as one sheep after another disappears down the long chutes in the constant race against the clock and their fellow shearers.
Next morning sees us up early and eagerly awaiting our pairings for the journey to the Willow Springs Skytrek loops. A still working sheep station, with its marked walking trails and hill-climbing, it is also a mecca for the keen four wheeler. It was here that we really got to push the FJ Cruisers into the terrain their engineers and designers had in mind when they first previewed the design in early production form in 2005.
We weren't to be disappointed, as the first hillclimb saw us in second/low, carefully placing the Cruiser between narrowing rock gorges. Cresting a hill, it quickly became apparent that a drawback to the wide bonnet was indeed its almost '90-degree' angle from the windscreen style, making it difficult to see where the track descended. A more rakish bonnet—or certainly a higher driver position or provision to raise the driver's seat – would indeed be more helpful in seeing where one was intending to go in steep ascents/descents.
Mountain peak after mountain peak followed and while these were seriously steep, and yes, a diesel engine with its stump-pulling capabilities would have been arguably better, the 200kW of V6 petrol power combined with a very respectable 308Nm of torque, kept the FJ performing well. The sharp descents to the valley floor—often in first/low (low-low) range, kept all drivers on their mettle.
It was delightful also to see Toyota move away from the Prado's dash-mounted dial and button system to the more traditional and fitting second transfer case lever. As a long-time owner of 4WDs, I felt far more at home moving that lever through the various 4WD gates. High/four can be selected 'on the move' while a change to first/low means stopping the vehicle momentarily to engage. With this part-time system at least the operator doesn't have to jump out of the vehicle to engage the front hubs. Amen Toyota.
Sharp rocks threatened the wide 70 series profile tyres on their 17-inch rims, but the 224mm of ground clearance, approach/departure and break-over angles of: 36, 31 and 29 degrees respectively—all claimed by Toyota as 'best in their local 4WD range', played their part in keeping the beasts upright and away from serious panel or suspension damage.
Indeed, in our particular test group, there was only one flat tyre recorded, a remarkable feat given the unforgiving terrain and use of road-biased tyres rather than the more aggressive AT/HT rubber available from various manufacturers.
My own personal preference, were I seriously considering buying one of these, would be to fit a more aggressive patterned tyre. Sure this would mean sacrificing some road holding, but seriously, Toyota has sorted out their vehicles' suspension to such a degree, that I could live easily with any sort of tyre compromise.
While the original FJ Cruiser concept was designed very much with the American market in mind where lightness of steering and 'floating' are a way-of-life, Toyota has done a good job in tying everything down.
Verdict: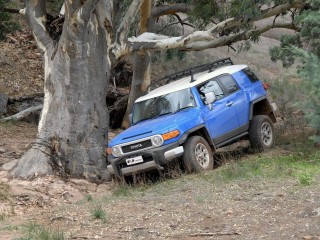 With its strong V6 200kW engine, there really wasn't any time that I felt the absence of a diesel—although as inferred earlier, lack of a diesel could somewhat restrict Toyota's sales to the bush and recreational markets.
Safety is excellent, with six airbags, switchable tractional control, ABS with electronic brake force distribution and brake assist, stability control, and locking rear diff. The FJ 'Cruiser doesn't have hill descent or 'off-road' ABS, but for this driver at least, I reckon not having those two aids only adds to the feeling that the driver has some input into how he/she wants to drive. Being far less robotic and sterile in this regard than many other brands and models out there (some of Toyotas included) makes this Cruiser a delight to drive.
Comfortable seating with wash-n-wear water-resistant cloth, tough rubber matting throughout, reasonable ingress to the rear pews through forward opening doors, and good air-conditioning all help the overall experience. That also applies to power front windows (the back windows are fixed, unfortunately), first-rate six-stack sound system with speakers seemingly everywhere including unique to this vehicle a centre mounted speaker in the roof lining to 'shower the occupants with sound'; Bluetooth and streaming, USB port, and MP3 player. Combine this with good three-quarter vision through the huge front windscreen and smallish A-pillars, and the driver soon starts to think: "This ain't a bad place to be."
A truly unique vehicle, presented in a truly unique part of Australia.

Things we liked:
Appearance, unique styling, adaptability, quality, long compliant suspension travel for soaking-up the bumps, five-speed auto tranny, low-low range allowing for good downhill retardation, affordability.
Things we would like improved:
A little more 'feel' to the steering; higher seating/lower bonnet; although fitted with four doors, ingress is not as easy as a conventional four-door — but that would detract from the overall appearance.
Specs panel:
Price: $44,990 plus on-roads. Met paint: $400 extra.
Body: four doors plus rear tailgate.
Engine: 4.0-litre V6 petrol.
Power: 200kW @5600rpm.
Torque: 380Nm @4400rpm.
Displacement: 3956 cu cm
Transmission: Five-speed automatic, two-speed transfer case.
Fuel consumption (claimed): 11.4litres/100km.
Fuel tank: 72 litres.
Length/width/height: 4670mm/1905mm/1830mm
Wheelbase: 2690mm.
Ground clearance: 224mm.
Seating: five.