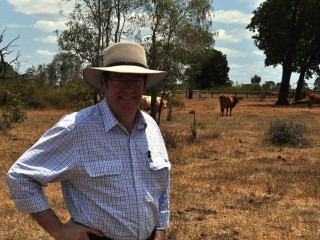 Queensland agriculture minister John McVeigh and his Northern Territory counterpart Willem Westra Van Holthe will fly to Indonesia this Sunday in a renewed push to rebuild relationships with the key market for northern cattle and beef.
Mr McVeigh, who attended a beef industry crisis summit in the Queensland gulf town of Richmond yesterday, said restoring market access was the most important thing that could be done to relieve the profitability crisis engulfing northern cattle producers.
Yesterday's forum was also attended by Federal Minister for Agriculture Joe Ludwig, who told the crowd of more than 400 producers he was not there to provide answers but to listen and to take their concerns back to Canberra.
Northern cattle industry representatives have blamed Mr Ludwig's controversial June 2011 decision to suspend Australia's live exports to Indonesia as the catalyst for the loss of market access and oversupply of cattle that is now putting immense pressure on drought-stricken paddocks and northern cattle prices.
Mr McVeigh criticised his Federal counterpart for his "non-committal" approach to yesterday's forum, and said he and territory counterpart Willem Westra Van Hostra would fly to Indonesia themselves to do what they could to rebuild Government to Government relationships with the major trading partner.
The state and territory agriculture ministers will meet directly with Indonesian minister for agriculture Suswono and Indonesian minister for trade Gita Wirjawan, and will also visit a feedlot, abattoir, wet market and supermarket.
He said the visit had been in the planning phase for the past few months, but he had decided to bring it forward after attending yesterday's beef crisis summit.
"Clearly Joe Ludwig and Federal Labor have no interest in getting the trade back to where it was before the ban," Mr McVeigh said.
"I'm determined to have a close relationship with the Indonesian Government with our live cattle trade.
"We have got to go now, our industry can't wait until September 14 (the 2013 Federal election)".
Mr McVeigh , who has visited north west Queensland three times in recent months, said it was clear the industry was in hard times, because of drought and the limited access to live cattle markets.
"At the end of the day what we can do as the state government, which the federal government should be doing but they're not going to, is building that relationship with Indonesia."
29 resolutions were passed at yesterday's summit – to view them click here
Beef Central has asked Minister Ludwig for his reaction to yesterday's meeting and will update this article with his comments when they are received.