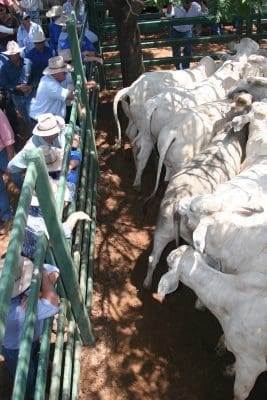 As the cattle industry awaits the ACCC's imminent final report and recommendations from its beef and cattle market study, some producer groups are ramping up calls for the introduction of mandatory price reporting.
In recent weeks the Australian Beef Association has called for the ACCC to be given greater powers to investigate cattle and beef market pricing, while a Victorian Farmers Federation branch this week sent a letter to Ag Minister Barnaby Joyce asking for Government legislation to lock in a mandatory price reporting system.
In its interim report released in October, the ACCC said it did not believe mandatory price reporting was necessary, provided the beef supply chain voluntarily moves to improve existing reporting levels.
In particular it wants Meat & Livestock Australia to standardise reporting for cattle types across different channels (ie saleyards and direct to works) and introduce reports that make it easier to compare prices over time, and wants MLA to work with agents and saleyard operators to improve data collection of direct to works sales and actual prices paid for Over the Hooks transactions.
On the specific topic of mandatory price reporting, the ACCC said it believed the arguments for and against were "finely balanced".
It said it did not believe mandatory reporting needed to be implemented at this time, and preferred that industry voluntarily improve its reporting systems, rather than have Government impose mandatory reporting through regulation.
However, it also sounded a clear a warning that if the industry failed to act, arguments in favour of mandatory reporting would "become more compelling over time".
Calls ramp up ahead of ACCC report
As the industry waits the ACCC's final report, which will take into account feedback received from industry to its interim report, some grower groups are pushing harder for the Government to step in and introduce mandatory reporting through legislation.
In a letter to Agriculture minister Barnaby Joyce, the Ovens Valley branch of the VFF has called for Government legislation to lock-in Mandatory Price Reporting, which it says is needed to provide clear and relevant information for beef producers and the industry.
The Minister is currently attending the G20 summit in Germany and is not expected to be available for comment on the issue until after his return mid-next week.
In the letter the group says it believes there has been resistance to moves to introduce mandatory price transparency from parts of the beef processing and retail sectors, and also suggests that MLA has not been transparent in its investigations of the issue and sees no role for mandatory price reporting in future (MLA has previously denied this, and has reiterated its position in a response to the VFF letter this week, which appears below this article).
At Cattle Council of Australia's request, MLA commissioned a number of private consultants to investigate the pros and cons of mandatory price reporting in Australia. A series of milestone reports were produced. The earlier reports indicated there would be benefits to mandatory price reporting in Australia's cattle and beef industry, but the Milestone 5 report was less supportive.
That the Milestone 5 report was released prominently, but the earlier, more-favourable reports were not publicly released as they were completed, has fed the views of those who believe the organisation is quietly working to derail the introduction of mandatory price reporting at the behest of processors and supermarkets (Again this is a point MLA emphatically denies, stating that any decision to proceed with or reject mandatory price reporting is up to industry and not MLA's decision to make.)
"We believe a compelling case for price transparency reform was made in Milestone reports 2, 3 and 4, however, Milestone 5 report backed away from the wide-ranging benefits clearly stated in earlier reports, while acknowledging that addressing information gaps and creating improved analysis would likely result in producer benefits which exceed the costs of MPR," branch secretary Loretta Carroll said.
"We call on Mr Joyce to support our call for legislation to establish a Mandatory Price Reporting system to change the culture that has become entrenched and is detrimental to the future of the industry."
Ms Carroll said mandatory price reporting would produce a better understanding and clearer picture of the beef supply chain costs. This would help foster closer relationships between producers and buyers, along with other significant benefits.
"It is widely known and accepted that in Australia's beef industry, there is little transparency for the seller," Ms Carroll said.
"The information available is historic and provides little intelligence to producers to aid in decision making, especially with regard to future investment in their business, and encouraging innovation.
"We want a strong, sustainable industry where everyone benefits, but we cannot continue on the same path as we have for more than 20 years.
"Government needs to play a role in legislating for a mandatory price reporting mechanism to change a culture that is unwilling to change and move forward on a path that is sustainable for everyone in the industry."
What would mandatory price reporting look like?
So, what form does the group believe mandatory price reporting should take and how would it see the information it provides used?
In response to that question, Ms Carroll said mandatory price reporting should involve reporting the actual price of cattle and products throughout the supply chain.
It would include:
the quantity of cattle purchased on live weight basis and quantity purchased on dressed weight.
a range of the estimated live weights, the quality grades, and applicable premiums and discounts as well as the terms of trade.
price and quality in each lot of boxed beef-cuts sold, information on the characteristics – domestic versus export sale and quality grade.
"It would have to be legislated to work effectively, providing a mechanism to require disclosure of the farm to wholesale, as well as wholesale to retail, which by all accounts improves competition."
She said this would provide clear price signals to the producer and others to inform their marketing and production decision making.
"It would also require a central market administrator to enforce and distribute the detail and protect against unfair marketing practices and ensure confidentiality for the processor and retailer.
"The US dashboards show weighted average prices for live weight and direct slaughter dressed weight, and the cut-out value of a dressed carcase on a given day and this provides a high degree of price transparency for the producer and other parties wanting information about the value chain.
"Good knowledge of profitability will encourage others to enter the processing sector and therefore increase competition and cattle prices for producers.
"Knowledge along the supply chain is also important information for those considering the viability of long term investment in any sector of the supply chain.
"It would need to provide current wholesale prices and volumes, including the beef cut-out value and total carcase sales which helps processors and end-users to anticipate possible gluts and shortages in specific products and fluctuations on slaughter levels."
She said it would assist with performance reporting, improve relationships within industry, provide better information for making financial decisions and for attracting investors into the sector, increase trust, would help producers to better meet processor specifications and customer needs, and areas of greatest demand in quick time.
"Benefits have been real, and in some cases, significant in the US market, which has the world's most transparent line-of-site in the world.
"Clear price signals would allow producers to look at ways to be more efficient and have confidence to add or replace infrastructure.
She said it was also important to note the mandatory price reporting requirements of listed public companies with respect to profitability and any issue that may effect profitability.
She said mandatory price reporting would safeguard farmers and consumers by providing timely information.
It would assist in allowing alternative marketing arrangements reducing risk and improving beef quality.
"The Milestone report claims in the US feedlots identified savings of $1 – $17 per head from improved capacity utilization and packers identified savings of .40c per head in reduced procurement costs."
And how the information would be used?
For example, if it showed processors were making significant margins and producers were being paid low prices for cattle, or if it showed processors were making significant losses and producers were being paid high prices, what would be the expectation of what would happen under those scenarios?
"In the Meat Industry Strategic plan 2020 on page 15 they say the adage "you can't manage what you can't measure" is no less applicable to a whole-of-industry strategic plan than it is to business."
"Increased price transparency would help us to measure."
"In the US participants believe it has taken the accusations out and built trust and credibility between all sectors.  If things were tough for processors it may enable producers to pressure government to reduce red tape high charges like work cover pay-roll tax etc."
MLA explains price transparency report process
Meat & Livestock Australia provided the following statement to Beef Central this week explaining why and how its recent Price Transparency project was conducted, and subsequent steps it has taken to increase transparency in information provided to the red meat industry:
The Price Transparency project was initiated by the Cattle Council of Australia (CCA) to consider options for increasing price transparency in light of concerns that a lack of price information along the beef value chain was affecting marketing and investment decisions in the industry.  The project also responded to Recommendation Seven of the Senate inquiry into industry structures and systems governing levies on grass-fed cattle.
MLA was engaged to manage the project, which was overseen by a project steering committee comprising representatives from CCA, the Department of Agriculture and Water Resources, industry and ABARES.
The project was divided into 5 progress sections – referred to as 'Milestones' – with each section designed to build on the last.  In summary, the goals of each section were to:
Engage contractors to execute the project
Review other systems available in other markets, including the US
Investigate price transparency at each stage of the Australian cattle supply chain
Use information from sections 2 and 3 to examine the theoretical benefits of improved transparency
Investigate the practicalities of implementing particular price transparency systems across the Australian cattle supply chain
Price transparency is a complex matter and, implemented to its fullest extent, has many implications for the beef industry. 
Given this, the price transparency project was designed to be considered in its entirety, rather than viewing the individual progress sections independently.
MLA would traditionally publish a report only on the completion of a project and projects are contracted on a milestone basis.  Given the interest in the 'An assessment of price transparency in the beef supply chain' project, progress reports on project milestones were also published. 
The final project report, milestone five, represents the conclusion of the research project and contains recommendations.
Milestone Four identified the potential benefits to producers from improving price transparency. Milestone Five recommends options to deliver greater price transparency at identified points along the Australian beef supply chain. For this reason Milestones Four and Five need to be considered together and were released in close succession.  While Milestones Four outlines in theory the benefits that full price transparency could provide, Milestone Five provides context, outlining critical factors like cost and practicalities surrounding implementation.
For example, one of the objectives of the project was to examine the US system of price reporting and the application of that to the Australian industry given there are key differences between both industries and systems.  The US industry is feedlot based, of which 80 per cent of product is sold on the US domestic market.  In contrast, the Australian cattle industry is predominantly export focussed, with our product sold to more than 100 international markets.
It's also important to note that Milestone five acknowledges that a reasonable amount of cattle and beef market information already exists in Australia but does suggest a range of further initiatives.
Subsequent to this report, MLA initiated a review of its market information services to ensure that it continues to enhance the provision of information for the red meat industry.
Over the past eighteen months, MLA has also made a range of enhancements to the market information service, including:
Five additional saleyards added to the National Livestock Reporting Service (NLRS) in 2015-16
Launch of the Western Young Cattle Indicator (WYCI) in July 2015
Launch of the Market Statistics Database in September, 2015
Quarterly projections updates – which assist industry by providing insights into future supply and demand forecasts.
Further changes are being progressively introduced and MLA will raise awareness of these improvements amongst industry participants.  MLA will also be launching a number of innovative online services for the red meat and livestock industry shortly, including myMLA, which incorporates upgraded prices and markets information and functionality.
MLA also recently outlined a plan for the Australian red meat industry to consider that would enable it to accelerate the adoption of Objective Carcase Measurement (OCM).  The plan would include the installation of DEXA (Dual Energy X-Ray Absorptiometry) technology as an objective carcase measurement tool into all AUS-MEAT registered slaughter facilities in Australia. 
If adopted, the initiative could pave the way for scientific measurement of saleable meat yield, future value based marketing and industry-wide productivity gains through processing automation, genetic improvement and data-based on-farm decision making. Longer term, the plan is also expected to reduce the industry's annual multi-million cost of grading.  
Under the plan, AUS-MEAT would be the whole-of-value-chain independent regulator. AUS-MEAT would calibrate the system, conduct the audits and will also provide a complaints resolution process.  Ensuring that the data generated from objective carcase measurement is accessible and easy for producers to use will further enhance the integrity of the grading system and also form the basis of MLA's digital strategy.
In developing the plan, MLA has listened carefully to calls from the industry for more transparency in the process of grading carcases at abattoirs and, more recently, has noted the ACCC's remarks around the integrity of the grading process.
The ACCC is expected to release its final report by the end of January.  
More on this issue to continue on Beef Central next week.