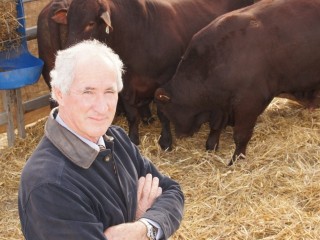 A six-month process is now well underway to find a replacement for Don Heatley, who will retire as chairman of Meat and Livestock Australia at the industry service delivery company's annual general meeting in November.
Nominations closed in early June for three available MLA board positions, attracting more than 130 applications from across the industry.
While that number might seem surprisingly large, it is 'about standard' for board appointments, sources close to the process told Beef Central.
Mr Heatley's decision to stand down after six years as chairman heralds a new era for MLA, with no single obvious stand-out candidate to fill the role from within existing board ranks.
Mr Heatley, who has sat on the MLA board since its inception in 1998, owns and operates three North Queensland properties carrying 14,000 head of cattle supplying the Japanese, US and live export markets. One senior industry stakeholder said that as a result of that history, significant 'skin in the game' might become a significant pre-requisite for any future chairman.
Four current boardmember names circulate in higher-level industry circles as perhaps holding aspirations to board chairmanship. Southern seedstock producer, Lucinda Corrigan is regarded as an effective and energetic board performer. Mike Carroll, who runs cattle in the south also has a strong track record in big business and finance through his banking background, is regarded as astute and well-rounded. Rob Anderson is a NSW beef producer with a strong track-record in NSW Farmers state agripolitics, but joined the board only last year.
Iain Mars is chief executive and director of Swift Australia, and is vastly experienced in the meat business and commerce across four continents.
Of the four, Iain Mars obviously has greatest depth of experience within board, commerce and international meat industry circles, and is arguably the most capable, but there would inevitably be a struggle in some industry stakeholders' minds to come to terms with the idea of an MLA chairman who also runs the nation's largest meat processing company.
There is nothing stopping a chairman being chosen from among new board recruits, however.
The choice of chairman rests entirely within the elected board, and the process traditionally happens at a board meeting the morning after the AGM (this year being held on November 17 in Longreach, Qld).
Strong candidates
Beef Central has seen a 'short list' list of about seven candidates for the available board positions, and it includes some impressive individuals, of both genders, and covering a wide variety of industry and commerce backgrounds.
Representatives of some of the nation's largest privateer beef producing families are standing, as well as candidates with less direct beef industry connections, but holding impeccable board and big-business connections. One of them lost-out narrowly in the last boardmember selection process due to 'industry politics', but is seen as a standout contender this time around.
The selection process from here
The process from here will see the board selection committee (three members directly-elected by producer members of MLA; three appointed by the producer peak councils; and three existing MLA directors not standing for election this year) firstly scrutinise the entire list of applicants, and will this week produce a refined list for interviews. Last time, that list included six candidates.
Interviews will start in early September with a final selection of three to be made shortly after that. The proposed directors are generally announced at the same time as other resolutions to be put to the AGM, usually around mid to late September.
This year the selection committee advertised for candidates with skills and experience in one or more of the following: strong corporate governance and strategy development expertise; extensive commercial experience in northern beef production and an understanding of the related industry issues; extensive commercial experience in sheepmeat production and an understanding of the related industry issues.
Given Mr Heatley's departure as the designate 'northern production' representative, it would seem inevitable that at least one new boardmember will cover-off on that role.
Mr Heatley and fellow director Peter Boyden are retiring by rotation and have indicated that they are not seeking re-election. The other director who is required to retire this year is (southern sheepmeat producer) Grant Burbidge, who has the option to re-stand. There is no current absentee position on the board – the board previously reduced its numbers to 10 directors from the previous 11.
Once the three candidates are chosen by the selection committee, MLA levy payers and members will either approve, or reject their appointment at the AGM. Directors must achieve a simple majority (50pc) of the vote. Records show that no prospective director has ever not achieved this level of support from members, although there is often considerable variation in level of support from members for the choices made by the selection committee.
In earlier communication to industry, Mr Heatley said the MLA board was this year seeking candidates with skills and experience from a range of areas to maintain the balance of expertise.
"The board is skills-based, covering production, marketing and research and development. Nominees will be subject to a thorough selection process, where the selection committee, assisted by an external board recruitment consultant, consider nominations based on skills, experience and industry knowledge," he said.
The primary role of the MLA board is to provide direction to the management of the company, ensuring that appropriate performance goals are set and achieved, risk is properly managed, and the interests of industry participants and other stakeholders are taken into account. This includes strategic development and review of governance, financial performance and risk management.
However the process unfolds from here, MLA is going to need a tough, well-disciplined and well-respected individual to take the company's strategic direction forward, in the face of the Tsunami that is brewing over industry management of recent issues – particularly relating to live export.