A Cambridge University lecturer has spoken out against a vote by students at the prestigious learning instutition, the world's third oldest surviving university, to move to an all-vegan menu.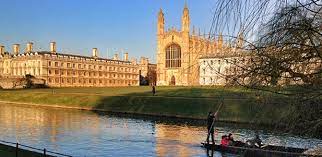 The Cambridge Student Union voted last week to 'initiate talks' about removing all animal products from its cafes and canteens, stating the move was needed to create a "sustainable and 100% plant-based" menu.
The decision came after lobbying from Cambridge's Plant Based Universities campaign, which is supported by Animal Rebellion, an offshoot of activist group Extinction Rebellion.
The group's resolution was backed by 72 percent of non-abstaining student representatives who voted.
The power to force Cambridge University to adopt a fully vegan status rests with the university, not the student union. It also does not apply to the university's 31 colleges.
However, writing in The Telegraph, Dr Chris Smith, a consultant virologist and lecturer at Queens' College, said he found the plan "worrying on any level".
He questioned whether a vegan menu would be better for the environment, and was sceptical of the true feeling among students, pointing to queues at on-campus outlets that serve meat.
He said his wife, who is a doctor, regularly sees young people who have "embraced faddy diets, including veganism".
"As a result, they end up tired, anaemic and underperforming. Is this the outcome we want at one of the world's best universities?," he wrote.
He also described the concept of a comprehensive vegan diet for all is a good and healthy idea as a "grossly unnatural diet" which was "most certainly not risk-free".
"Yes, the majority of us in the West probably do eat a bit too much meat, but many who launch themselves down the vegan dietary track unwittingly become deficient in a range of key vitamins and iron, potentially robbing their cognitive and physical performance."
He also suggested the Cambridge students examine the discoveries of Charles Darwin, "a former Cambridge meat-eating academic and founding father of evolution".
"The structures of our teeth, and those of our close animal relatives, speak volumes on this, telling us that we are adapted to consume a range of foodstuffs, including meat, and not just nuts, Quorn and quinoa."
Plant-based did not necessarily make a diet "green" he added.