AUSTRALIA'S livestock industries should be asked to initiate and pay for more of the nation's biosecurity effort, according to the man who formerly led the country's biosecurity response.
Former Inspector General of Biosecurity Rob Delane told a biosecurity conference in Brisbane this week that strong-performing sectors should take more responsibility for safeguarding Australia's agriculture.
"There certainly needs to be a different responsibility for who puts the money in, or the resources in," he said.
"There's been a strong trend towards everyone chasing the Commonwealth Government money rather than my view, which is that – particularly in industries that are now very mature, very strong financially and doing very well – that relatively small amounts of money can make a massive difference."
Citing livestock traceability technology, he said: "Why do we always look for government for innovation? Industry needs to take charge of this, including its funding, and then share to the biosecurity agencies the information they need."
Mr Delane spent 43 years in the public service and most recently served as Australia's Inspector General of Biosecurity under the national Biosecurity Act. He is a recipient of the Public Service Medal.
His address followed that of Lisa Sharp recently Chief executive officer with Herefords Australia, and now general manager of marketing and innovation with Stockyard Beef.
She noted that livestock traceability features, production assurance and vendor declarations were a hallmark of Australia's globally recognised red meat integrity system.
"But they've been around for about 20 years and are still primarily paper-based," she said, explaining there was a 'rapid need' to move paper-based data into digital formats.
"We know from all of our industry plans that the single biggest outside risk to the Australian red meat industry would be a biosecurity threat, particularly from an exotic animal disease," she said. "But it becomes harder and harder to quantify that risk and how that risk is changing – in the absence of that data, and connected data."
Also addressing this week's forum was Professor Tom Kompas, chief investigator at the Centre of Excellence for Biosecurity Risk Analysis at the University of Melbourne who argued that Australia's biosecurity spend should be based on rates of return.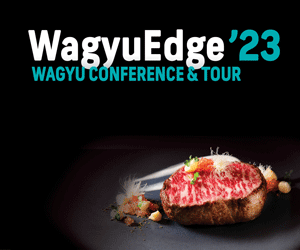 He explained: "There is a tendency in biosecurity circles to rank pests and diseases by risk measures –  the likelihood times the consequence – and then typically look from the top of the list to the bottom and throw money along the way. That's typical. But I think that's the wrong way to do it."
"What you care about is not the risk ranking, although that's important. What you care about is how much would this risk fall if we spent more money. What's the risk reduction? What's the rate of return?"
Prof Kompas suggested that Australia's biosecurity funding should be subject to a cost analysis. "It's not the benefit-to-cost ratio, it's the change in benefit and the change in cost that you care about; it's the rate of return."
"And when you look at things like that, it changes your whole view of how you allocate money. In some cases environmental plant pests have very high rates of return in small budgets, and in other cases, it varies."
"But my point is that we need to start doing that. We need to spend money in the best-possible way and don't spend money on things where you get no risk reduction."
This week's biosecurity seminar was followed by a full-day of industry discussion to help develop the Queensland Biosecurity Strategy for 2024-29.