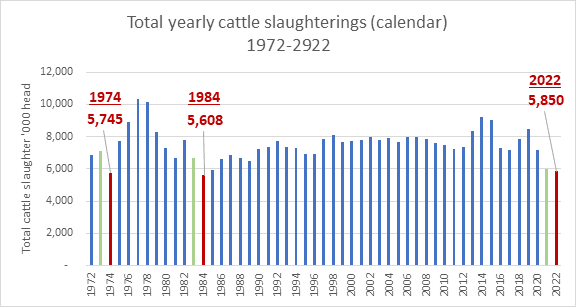 THE Australian Bureau of Statistics released its official livestock and production figures for the fourth quarter and full year 2022 on Thursday.
The result showed adult cattle slaughter reached 5.88 million head for the calendar year, its lowest level since 1984. When combined with the previous 2021 year, the 11.87 million kill total was an all-time record low over a two-year period, based on ABS data going back 50 years.
The data delivered a picture of how 2022 performed in slaughter, production and carcase weight terms for the red meat and livestock sector.
Compared to the ten-year average, beef production last year was down 15.7pc, representing 348,000 tonnes.
Despite cattle slaughter falling, record carcase weights helped underpin overall beef production. Comparatively, lamb production and sheep carcase weights reached record highs.
Cattle slaughter last year fell 2.8pc, or 171,400 head compared to 2021, to reach 5.85m head.
The last time the national beef slaughter was last this low, back in 1984, the national herd size was 21.16 million head.
Adjustments to output last year were seen across all states, with Queensland showing a 5.5pc fall in slaughter numbers (representing 157,000 head). This resulted in Queensland's national share of beef kill falling 1.3pc to 46.8pc year-on-year.
Victoria also experienced a drop in numbers with a 5.5pc (67,500 head) decline in the number of adult cattle processed. This led to a fall in market share for Victoria by 0.6pc to 20.2pc.
Western Australia was the state that increased its slaughter rates in 2022 with the opening and expansion of some processing plants. Last year WA slaughter throughput increased 13.8pc or 45,500 head.
Carcase weights across Australia for 2022 averaged 319kg, similar to 2021 levels. Carcase weight averaged 13pc (or 37kg) above the 20-year average and 6pc (19kg), above the five-year average.
Due to record high carcase weights, national overall beef production last year fell by only 0.77pc, or 14,400 tonnes.
Australia's cattle carcase weights peaked last March at 324kg, tailing off later in the year. This is partly explained by the fall of cattle on-feed in the September quarter due to sluggish global demand.
However the main reason was the challenges of finishing cattle due to an extremely wet winter, impacting both feedlot and grass performance. Victoria and NSW felt these effects the most, and as a result, their carcase weights fell the most to 303kg and 311kg respectively.
Thursday's data release showed that the female kill ratio (the proportion of females in the total adult cattle kill) across Australia for the October-December quarter sat at 41.7pc, and the yearly average at 42.7pc, pointing to a moderate rebuild.
The closer that figure gets to the 'breakeven' threshold of 46.2pc, the slower the rebuild, as the herd moves back into liquidation above this threshold.
The 2022 ABS herd size estimate issued last week was 24.42 million (using an Estimated Value of Agricultural Output minimum of $40,000). Meat & Livestock Australia's recent herd estimate was 27.583 million head.