More young people with a passion to understand the principles of regenerative agriculture are set to benefit from the legacy left by prominent young cattle industry leader Lachlan Hughes through the expansion of a foundation named in his honour.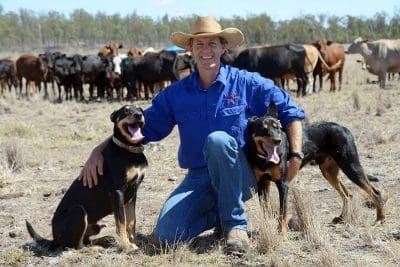 Lachlan was a respected innovator and leader in the Queensland cattle industry who recognised the role regenerative agricultural practices are able to play in rebuilding soils and revitalising sustainable productive capacity, agricultural operations and rural communities.
Lachlan lost his life in a farm accident aged just 36 but now a foundation established in his honour is helping other young industry members with a similar mindset to advance their knowledge and understanding.
This year the Lachlan Hughes Foundation is expanding the opportunities available by offering places for up to 10 people in a 12 month mentored, practical, regenerative agriculture focused training program.
Program coordinator Barb Bishop said Lachlan was really passionate about "doing things", reflected in the three maxims that underpin the program: "Invest in learning, create opportunity to do, and build capacity to influence".
Successful applicants will undertake four modules over the course of a year, incorporating personal development, project planning and design, understanding regenerative agriculture principles and practices and then presenting on their journey to an independent panel, who will ultimately select a Lachlan Hughes Foundation Program Award winner.
The winning recipient will receive the Tree of Life award and a study tour that relates directly to their individual project.
Applications are now open and close on December 16.
For more information and details on how to register, click on this link: www.lachlanhughesfoundation.org.au/apply