WHILE the waters of the Fitzroy River finally begin to withdraw, remote stations are still experiencing worsening conditions with flood waters moving down river.
"The effect of this flood will be felt long after the flood waters recede. The impact to future production losses, the financial burden on livestock businesses, rebuilding infrastructure, road access and the emotional and mental health of producers are just some of the challenges the industry will face for many years to come," said Kimberley Pilbara Cattlemen's Association (KPCA) CEO Mick Sheehy.
"The initial response was focused on ensuring life and property were safe and protected as best as possible. We are now moving into the second phase which is focussing on animal welfare, fodder drops, moving cattle where possible and getting food, fuel and emergency supplies out to stations. The third phase will be focussed on recovery, and that will be the biggest and the longest.
"The KPCA is taking a staged approach to providing support and connectivity to producers, as well as facilitating conversations with all levels of Government to ensure that there is a clear commitment on what the next 12 months look like, so that we have a plan to help
guide the industry to recovery."
Mr Sheehy said that there had been a resounding effort from local, state and federal agencies, as well as Kimberley producers, residents and businesses, but said that the next 12 months remain critical.
"At the moment, we have large sections of major roads closed or impassable, and connecting roads and internal roads are completely washed away or inaccessible. With our usual wet season rains still forecast, we need to make a plan for how we can best support our producers and how we restore access, as a number one priority," he said.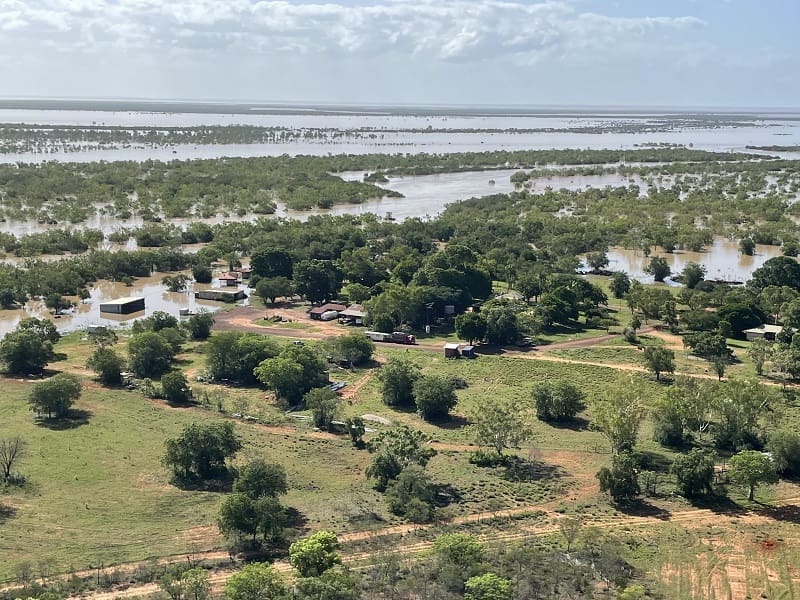 With major highways closed and the Fitzroy River Bridge down, travel between towns and communities is difficult, and many station operators are not even able to travel around their own properties. Internal unsealed roads, and access to gates, fencing and stock yards are
necessary to ensure livestock welfare on a daily basis, but are all under water for many Kimberley Stations.
KPCA Chairman and Yeeda Station Manager Jak Andrews explained that aerial travel via helicopter is the only means of trying to save livestock at this time.
"With water fronts of up to 40kms across, fast flowing current and the risk of crocodiles, helicopters are our only choice," he said.
"Cattle can float for short periods of time, but this is not sustainable for days on end. We can try to encourage cattle in the right direction as they battle the flowing waters, and will touch down and move on foot where it's safe, but the conditions are extremely difficult. We are up in the air every day at the moment. All we can do is try and save as many cattle as possible, but stock loss will be a reality. It's devastating for people in the industry. People will be hurting."
Pastoralists are well versed in wet-season preparation, with animal welfare of paramount importance. Herds are moved to higher ground and livestock feed kept in greater supply as a matter of course, but the unprecedented flood conditions have made it impossible for
Stations to keep all infrastructure and livestock out of harm's way.
KPCA Business Development Officer Lauren Bell has been working around the clock to assist with access to stock feed and aviation fuel, and helping to connect the Kimberley cattle community to immediate services, grants and other support, while CEO Mick Sheehy looks
towards the longer term recovery strategy, which will realistically run into the months and possibly years.
"For now we want to ensure we can support all cattle producers with access to feed and fuel, and we are working hard to do that, but we must also begin planning for a long, tough road to recovery," he said.
"It is important our communities and industries are not forgotten once the water recedes."
Source: Kimberley Pilbara Cattleman's Association
For more information on the Kimberley floods click here