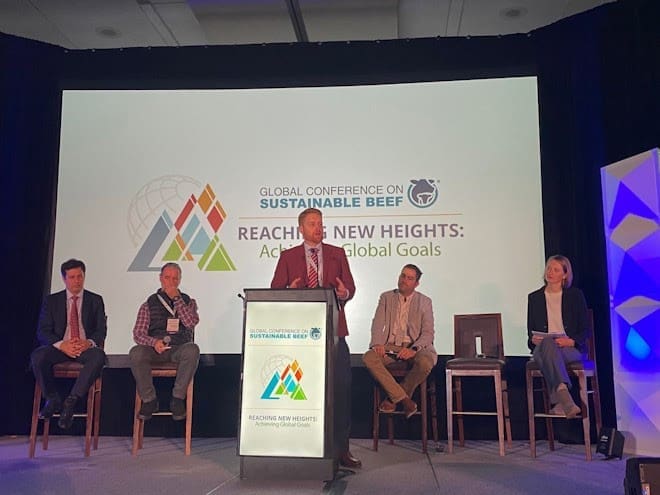 Marcelo Gonzalez (Paraguay Vice Minister of Agriculture), Marcelo Posonski (Proforest), Juan Jose Molina (El Hatico Nature Reserve) and Hillary Fenrich (National Wildlife Federation) listening to ABSF Sustainability Steering Group Chair, Mark Davie, at the Global Conference on Sustainable Beef.
THE critical role sustainable beef production must play in an equitable and healthy food system and the need for sustainability goal setting were two of the key take home messages for the Australian beef industry to emerge from last week's Global Conference on Sustainable Beef.
Hosted by the Global Roundtable for Sustainable Beef (GRSB) over four days in Denver, Colorado, the Conference brought together stakeholders from beef supply chains throughout the world to share new information and discuss priority and emerging themes.
Australian speakers at the event included Australian Beef Sustainability Framework (ABSF) Sustainability Steering Group (SSG) Chair, Mark Davie, and Meat & Livestock Australia Manager – Beef Sustainability, Jacob Betros, as well as GRSB President and Tyson Foods Director of Sustainability, Ian McConnel.
Mr Davie, a Central Queensland beef producer and director of Keppel Brand food manufacturers, said discussions throughout the Conference highlighted the need for the beef industry to prioritise engaging in genuine conversations with customers and consumers.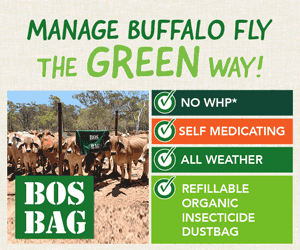 "For a long time, we have heard that beef just needs to better tell its story, but we know only about 50 percent of our target audiences are listening," Mr Davie said.
"What we need to do is move from talking about industry to engaging in two-way conversations, to not only share the good work being undertaken by Australian beef businesses but also to understand how we are being perceived and identify areas which require our investment, input and attention."
Mr Davie also pointed to the importance of goal setting in leading industry progress and engagement at both a regional and global level.
"There is a lot of focus from global supply chains on goal setting and development of sustainability metrics, however it is important that science-based targets are informed by the scientific research of the bio-region it is measuring," he said.
"Production and environments across the world is highly varied and sustainability goals must recognise these differences to deliver the best outcomes for the environment and productivity in unique geographic settings."
Mr McConnel reiterated the power of goal setting in the global sustainability discussion.
"Increasingly, the importance of livestock production to the food system is an emerging topic and the GRSB has been able to use its global goals as a platform to demonstrate our ambition and gain access to conversations that would otherwise not be open to us," he said.
"The Australian beef industry must now clearly state its ambitions around key sustainability topics to remain relevant and trusted."
With a diverse group of stakeholders represented over the four days, Mr McConnel said some key issues still required consensus across industry.
"Issues like deforestation and animal welfare still need questions answered but in discussion throughout the week it was evident there is alignment to achieving a net positive contribution to nature and ensuring a life worth living for animals," he said.
"It's been an important area of work for the GRSB to find that common ground and allow progress to continue without creating a binary definition of sustainability that rules some in, and some out.
Both Mr Davie and Mr McConnel referenced a quote delivered by Cameron Bruett, JBS Foods USA, during his address to conference delegates: "producing food is a privilege and doing it sustainably is an obligation".
"I think the ABSF and Australia are really well positioned in sustainability and are helping to lead the global work in the space. We need to continue investment in developing the right tools to measure progress and support an ongoing conversation with consumers," Mr Davie said.
"We also have a clear opportunity to help other regions, particularly those in the developing world such as Africa and South America, to advance sustainable beef production and feed more of the hungry and malnourished population. The role of beef in nutrition and in addressing food shortage was an important and recurring theme of the conference."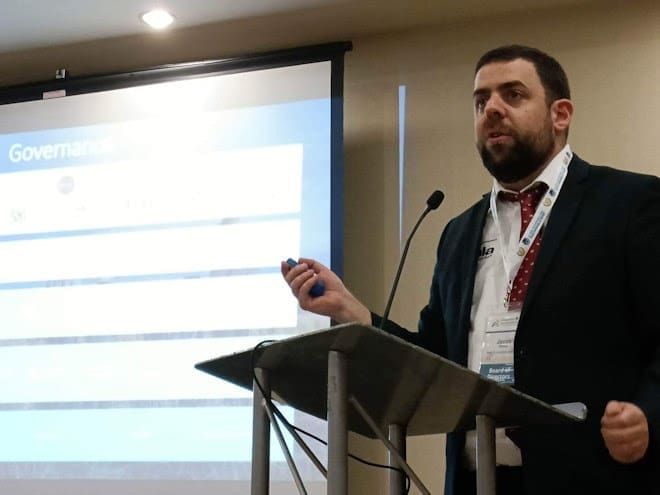 MLA Manager – Beef Sustainability, Jacob Betros, speaking at the Global Conference on Sustainable Beef in Denver, Colorado.
Source: Australian Beef Sustainability Framework